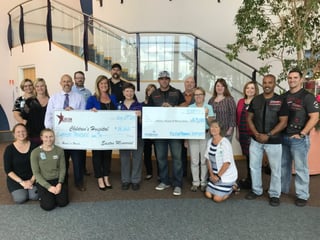 Michelle Loewenstein is a motorcycle-riding engineer who worked on naval destroyer weapons systems and became one of the few women in the world to service Siemens linear accelerators. Here, she talks about her life before Cassling and explains how she's spent the last decade honoring her son's memory by giving back to the community.
When Michelle Loewenstein was just ten years old, her father took her out on her first service call.
"The whole problem-solving element of my work came from my dad. He owned his own business in California, a refrigeration sales and service company. When I was ten, he took me on my first service call, and it was a broken icemaker. He let me have a look inside of the machine and said, 'Okay, look in here, tell me what's wrong.'
"There were pipes frozen, so I said, 'the pipes are frozen, it can't get water through to make ice.' He responded, 'you're right, that's it.' It was that first feeling of 'Aha – you've solved something!'
"It just stuck with me. It's such a gratifying feeling when you can go through steps and figure out why something isn't working properly, and come to solve it."
Originally, Michelle intended to follow her father into the family business but, after he passed away from cancer in 2002, a career change was in order. And Michelle's father probably never could have imagined that her original experience "out on the job" would turn into a wide-ranging career fixing all types of equipment, from diagnostic imaging products to the weapons systems on naval destroyers.
Today, Michelle is a Cassling Service Product Sales Executive, the liaison between scientists at Siemens Healthineers and Cassling's research customers, such as the University of Iowa Hospitals and Clinics. She worked her way to that position after spending years as the only female Field Service Engineer at Cassling. And even though she misses that 'aha' moment she described, there's one thing she doesn't miss.
"Do I miss carrying the toolbag? No."
The Journey to Cassling
Michelle started her field career working for the United States Navy, where she spent six years working on weapons systems with names like Tomahawk and Sea Sparrow. It was a love of electronics in general that led her to that position.
"I wish there was some really great story behind it, but it was just the best job in the advanced computers and electronics field at the time, so that's what I did."
From there, it wasn't much of a leap to apply her technical knowledge to different types of machinery, even those that aren't necessarily used in advanced warfare. When she became a Field Service Engineer at Cassling, she was surprised to learn the type of equipment she'd be working on.
"When I came to work for Cassling, I was told I'd be working on linear accelerators. I had no idea what that was or what the work was going to entail. I soon discovered they're very labor-intensive."
But rather than let that dissuade her, Michelle welcomed the challenge.
She learned the science behind linear accelerators and, in doing so, became one of only five women in the world who has conducted service on Siemens linear accelerators.
Turning Tragedy into Hope
Clearly, Michelle isn't one to shirk from a challenge. But in 2008, she faced a tragedy that would shake anyone to their core: the loss of her son, Easton.
"My son passed away when he was 18 months old at Children's Hospital & Medical Center [in Omaha, Nebraska]," said Michelle. "He had a genetic disorder, Hirschsprung's disease, which is a disease of the intestines. When he passed away, we donated his organs. This was really important to us. Knowing that he would help save the lives of others made dealing with his death a little easier."
Following Easton's passing, Michelle and her husband found a unique outlet to cope with their grief.
"My husband had motorcycles in the past but never while we were together," she said. "When my son passed away, we actually went out and bought a motorcycle the following week. That was our escape, to just get on and ride. You don't have to talk or think about anything, and we fell in love with it. Plus, the motorcycle community is really a tightknit group and they're all so willing to come out for charity events."
Knowing the caring nature of her riding friends and their openness to donate to charitable causes, Michelle and her husband came up with a way to continue honoring the memory of Easton while giving back to the facility where she and her family spent so much time.
"We thought, what can we do to give back to the community in his name, to keep his memory alive? And so we started the Easton Memorial Poker Run."
According to Michelle, a poker run is what you might expect—with actual playing cards—except it involves motorcycles.
"We have a route that we plan with five different stops. We ride our bikes between each one and draw a playing card at each stop. At the end, whoever has the best poker hand wins. It's a fun charity event that hundreds of people attend. After the run, we have raffles and live music where people who don't ride motorcycles can come and participate."
"To date," said Michelle, "and we've done it nine years now, we've donated $109,000 to the Hand in Hand program at Children's Hospital. Hand in Hand is a palliative care program that helps families from diagnosis to bereavement when kids don't have long life outcomes. We've been able to support them, and there are many people right here at CQuence who have volunteered year after year to help make this event successful!"
And it doesn't end there. Every year, Michelle and her husband take part in another fundraiser to help children in need.
"My husband is a firefighter, so every year we organize a toy drive through the fire department. The Firefighters donate money or toys and then the hospital gives us a census. We go and buy toys for each child that is currently in the hospital, we wrap them, and then the firefighters deliver them to every kid. We try to do that on my son's birthday on December 21."
Michelle has done so much for Cassling, for the imaging field, and for the families of children whose lives have been touched by Children's Hospital. But there's one thing she finds most rewarding about her experience.
"Keeping my son's memory alive is really important. Knowing that we're helping families who are dealing with the possibility of losing a child is the kind of feeling you can't make up. It's bittersweet."
As the ten-year anniversary of the Easton Memorial Poker Run approaches, Michelle is hoping to make this year's event the most successful one yet.
You can help make that a reality. This year's event takes place on June 2, and persons interested in taking part can visit the Facebook page at https://www.facebook.com/eastonloew/ or contact Michelle directly at mloewenstein@cassling.com.
This post originally appeared on the CQuence Health Group blog.