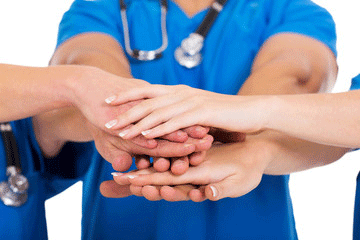 My fellow Nebraskans and I jumped from our seats and cheered as our team scored the winning point for the national championship. Nebraska women's volleyball team had lost three of its top players from the prior year and wasn't expected to make it to the top. Yet here they were.
Their motto on the path to victory?
"With each other, for each other."
This Husker team demonstrated what research has shown is critical for top team performance—a feeling of psychological safety. Google spent years trying to identify what made the best teams. Was it the brightest? The hardest working? The most diverse? Their data—and who has better data than Google?!—showed it was the teams where asking questions, admitting mistakes, sharing ideas and having failures can be done without fear.
So often, the talent on a team is not fully realized because we hold back. We get thoughts like:
If I ask this question, they'll think I don't know how to do my job.
If I make this suggestion, they'll think I'm stupid.
If I admit the error I made, I'll get in trouble and get fired.
If I give feedback, it will be held against me.
When psychological safety is present on a team, everything changes. People start asking questions, and answers follow. Communication improves. Mistakes get remedied the first time. People learn. Efficiencies increase. New ideas emerge. Relationships grow.
Before you know it, the team is not only reaching goals never thought possible, but it's having a good time doing it. Indeed, the Huskers' coach remarked how much "fun" his team had.
But what do you do if you the culture of your workplace is one where you feel frightened of speaking truthfully, asking for what you want, or acknowledging a failure? You have choices. You can accept the situation. You can leave the situation. Or you can do your part to lead your team to a change.
Here's a place to start.
Begin building trust on your team by showing your own vulnerability to those with whom the risk is not the greatest.
Ask more questions in meetings. Chances are others have the same inquiry.
Ask for support. Remind others we all need help from time to time.
Admit what you're not good at. Everyone has strengths and weaknesses.
Give apologies. Others will be reminded that no one is perfect.
See feedback as a gift and give it. Help others succeed by supporting their development.
There is risk in each one of these actions. If you call forth your courage and make small changes, you will build the muscle of vulnerability that builds trust on a team. You can inspire by your actions, being a leader, role model and perhaps even a coach for others.
Here's wishing your team a championship season in the year ahead!
To learn more, check out Susan Ann Koenig's webinar: "Being A Radically Great Team: What Google Learned About Building the Best Teams."