The healthcare industry is entering the next era of healthcare reform, which will center on hospital and health system leaders transforming the delivery system to meet two profound and lasting market evolutions: population health and consumerism.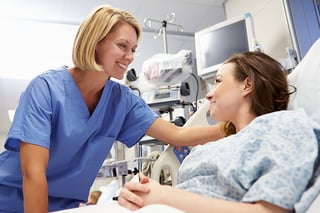 During Cassling's recent webinar, I had the pleasure of presenting The Advisory Board's "Healthcare State of the Union." During our discussion, I walked through this critical moment for hospitals and health systems, and what it means in terms of identifying and prioritizing a series of no-regrets investments that will support success toward both population heath and consumerism, including crafting a compelling risk-based contracting strategy for Medicare, as well as designing a blueprint to attract and retain consumers in an increasingly crowded and competitive marketplace.
However, despite these seismic shifts across the industry, let's also not forget that with a new administration firmly in place, and efforts by the Republican congress to repeal and replace the Affordable Care Act (ACA) well underway, health systems find themselves confronting newfound uncertainty. While the specific legislation that will drive the next era of reform has yet to be finalized, the timing and content of potential reforms are quickly coming into focus.
With the Republican sweep of the White House and Congress, reducing entitlement spending and federal oversight of Medicaid have emerged as new, fundamental goals. And as the GOP prepares to inject free-market principles, transparency and greater levels of consumer choice into the healthcare landscape, the birth of the consumer-driven healthcare market is poised to become a reality.
Preparing to navigate the realities of tomorrow's landscape must be the top strategic aim for any healthcare executive.
Of course, by the time this blog is posted, everything I said above might be old news or out of date! We've seen a remarkable series of swings in Congress with the battle for the American Health Care Act (AHCA), including a one-vote differential in the AHCA passing through the house, but as I tell all of our members, this battle is far from over. The Senate has indicated publicly that the House version is merely a framework, and they will be taking an entirely different lens to the bill that their colleagues in the house have sent their way.
But that's a discussion for another day. During my webinar with Cassling, there were a number of questions—about Medicare's risk-based payment programs, questions about the implications of the Trump Administration and the GOP's efforts at healthcare reform and more. I've included a few of those questions, and my commentary, that I thought were especially relevant:
Q: The Congressional Budget Office overshot the number of covered lives by 120% with the ACA. Given that, how much confidence do you have in their scoring of the AHCA?
A: Excellent question. It's one I get in nearly every presentation.
At the end of last year, about 10 million people were enrolled in the public exchanges. About a quarter of those were "young invincibles"—the young and healthy that, in theory, subsidize everyone else (e.g. they pay their premiums, but never use the healthcare system—much like me and my gym membership!).
Both total enrollment and the mix of younger, healthier patients are, as you noted, substantially lower than what the CBO originally predicted.
There are several reasons why, but probably one of the biggest is that employer coverage remains stronger than expected. CBO's prediction of 25 million enrollees included an assumption that many employers would drop coverage and shift their employees to an ACA exchange. That hasn't happened—at least not yet. Low unemployment and a fairly healthy economy took some pressure off employers to potentially drop coverage and shift their employees onto the public exchanges.
Q: Secretary Price appears to be "physician-friendly" as a physician himself. What sort of flexibility do you envision HHS providing as new programs come online over the next few years?
A: It's hard to say this early in his tenure, but given his well-documented push-back against mandatory physician payment reform in Medicare when he was in Congress (e.g. mandatory bundled payments), I would suspect that he will have a critical eye toward either expanding existing programs, or implementing new mandatory programs.
Click here to read part two of Stu's blog, where he'll discuss reducing health system costs, insurance coverage and costs in the exchanges, and MACRA's impact on physicians accepting Medicare patients.
---
Learn more about the state of healthcare in Stu's special presentation shared during Cassling's Investing in You webinar.