7 Tactics to Build Volume for Low-Dose CT Lung Cancer Screenings
Trend Report
Low-dose CT (LDCT) lung cancer screenings have the potential to transform patient lives and impact your CT service line volume and revenue. Now that Medicare and many private insurance groups cover LDCT scans for eligible patients, hospitals and imaging centers are revving up their lung cancer screening programs like never before.
Initial screening programs, however, have found that sourcing patient volume and earning physician referrals are among the greatest obstacles to success.
Fill out the form below for seven tactics to engage your key audiences—and grow your screening program.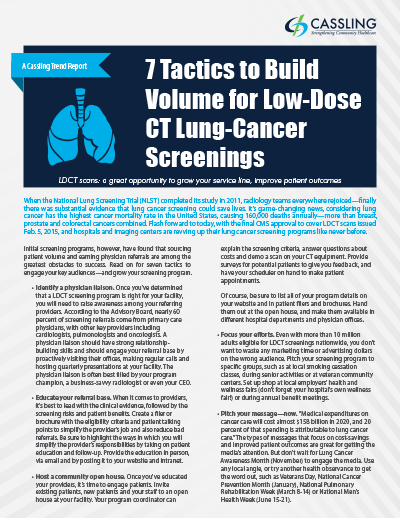 Download our trend report for tips to grow your low-dose CT lung cancer screening program. Topics include:
Engaging referring physicians
Promoting the program
Partnering with local employers
And more!