CHI Health St. Elizabeth Ecoline Helps Hospitals
Case Study
Minimally invasive procedures help improve outcomes with less risk to the patient, faster recovery and decreased cost. And in today's financially burdened environment, cost is always a consideration.
CHI Health St. Elizabeth, a 260-bed hospital in Lincoln, Nebraska, got everything it wanted—new technology, new capabilities, new procedures to offer patients and new workflows—all without paying the cost for new—because the hospital chose the refurbished Artis zee® biplane eco from Siemens.
Download our case study to learn how the hospital improved care and remains competitive with a refurbished interventional lab. Simply fill out the form below.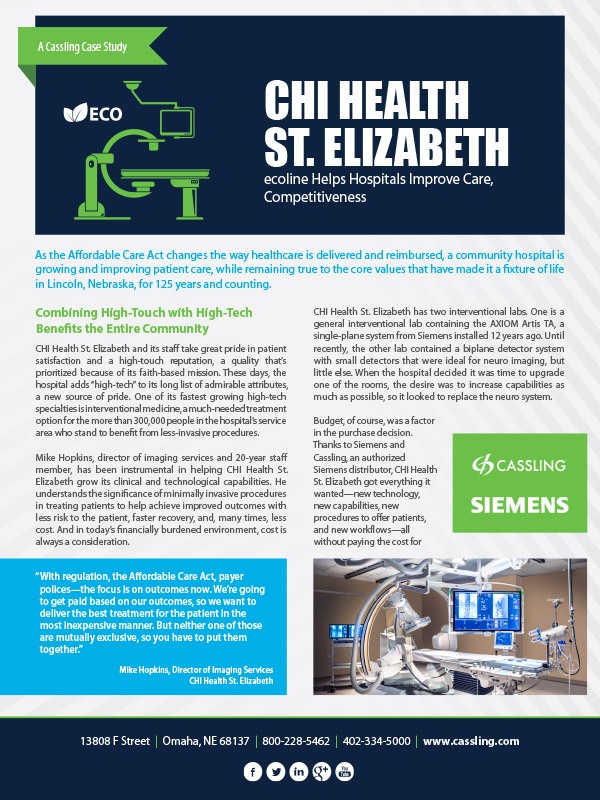 "Siemens' [Artis zee biplane] is head and shoulders above any other vendor in regard to the user interface and the ease of using the unit, being able to do things quickly, ergonomically and intuitively.

And then there's always the cost issue. That's why we decided to go refurbished. We needed to find a cost-effective way to get everything we wanted."

- Mike Hopkins, Director of Imaging Services, CHI Health St. Elizabeth