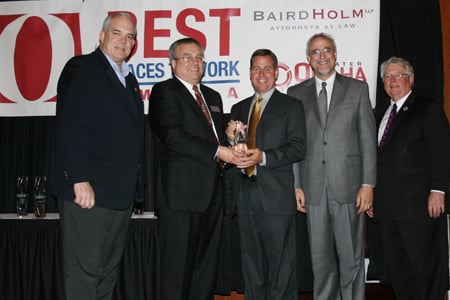 Cassling President and CEO Mike Cassling accepts the Best Places to Work Award at the awards luncheon held at the Qwest Center Omaha on May 5, 2011.
Omaha, Neb. (March 1, 2011) – The Greater Omaha Chamber of Commerce and Baird Hold Law recently announced Cassling as one of Omaha's Best Places to Work in 2011.
Based on employee feedback, Cassling proved to have satisfied, engaged and productive employees that create a positive work environment. "We are truly honored and proud to receive this award", said Mike Cassling, president and CEO. "Through creative programs and benefits, we strive to help our employees reach professional and personal goals through encouragement of a healthy lifestyle, continuing education and recognition of good work."
A fictional character, Captain Cassling, helps employees navigate their wellness with an annual wellness stipend, lunch-n-learns and incentives. Employees gain corporate, industry and personal growth knowledge through the Cassling University training program. Recognition is important at Cassling. Peers are able to recognize each other through the company's intranet site while managers can recognize their teams with Bob Bucks, named after the company's founder, which are redeemable for gifts.
Communication is paramount at Cassling. Employee, company and industry news is communicated in Cassling's intranet site and employee newsletter. In addition, each year a State of the Union meeting is held. At these meetings, Mike Cassling, president and CEO, and senior management communicate the company's goals for the upcoming year and obtain employee feedback.
About Cassling
Cassling is a full-line sales and service distributor for Siemens Healthcare. Founded in 1984 as Cassling Diagnostic Imaging, the company helps health-care organizations in Iowa, Kansas, Nebraska, South Dakota, North Dakota and select counties in Illinois and Missouri, strengthen health care in their communities. For more information, visit www.cassling.com
###