Cassling is here to support your team during this special week!
Recognize your radiology and imaging teams with our complimentary resources and modality-specific digital toolkits. Also included are educational resources to help educate your community about the importance of diagnostic imaging and your organization's commitment to high-quality patient care.
Complimentary materials include: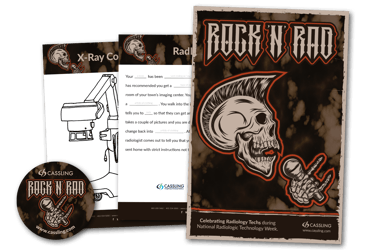 'Rock N Rad' poster
'Rock N Rad' stickers
RadLibs activity
Recognition card
Coloring pages
Social Media toolkit
and More!
Fill out the form to place your order!
>>Order by Oct. 21 to ensure delivery by Nov. 6
About Rad Tech Week
National Radiologic Technology Week® is observed annually to recognize the vital work of imaging professionals across the nation. The celebration takes place each November to commemorate the anniversary of the X-ray's discovery by Wilhelm Conrad Roentgen on Nov. 8, 1895.