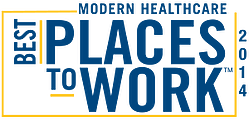 Omaha, Neb. (Oct. 24, 2014) – CQuence Health Group—the parent company of Cassling—has been ranked a "Best Place to Work in Healthcare 2014" earning seventh nationwide, and third best among health-care suppliers, by Modern Healthcare magazine and Best Companies Group. The rankings were announced during Modern Healthcare's "Best Places to Work in Healthcare" awards gala in Chicago on Oct. 23, where CQuence proudly accepted this prestigious award.

This nationwide award program recognizes the top 100 employers in the health-care industry that empower employees to provide patients and customers with the best possible care, products and services. The committee selects recipients based on an in-depth review of each company's procedures, benefits and employee feedback.
"We are honored that Modern Healthcare has once again recognized CQuence Health Group and our progressive culture," said Mike Cassling, president and CEO of CQuence. "Thank you, first and foremost, to our employees. They are the key to our success. We strive to help our staff achieve professional and personal growth and well-being through innovative programs and by recognizing their success."
CQuence provides a dynamic culture that focuses on growth of both the company and its exceptional employees. This is the second year in a row that CQuence has been named one of the 100 "Best Places to Work in Healthcare" by Modern Healthcare magazine and Best Companies Group.
To learn why employees believe CQuence is one of the best places to work, watch this video.
About CQuence Health Group
Based in Omaha, Neb., CQuence Health Group is the parent company to a growing portfolio of health-care organizations. While all of its companies are diverse, they share the common goal of taking care of the patient through diagnostic equipment, care coordination software and other health-care products and services.
CQuence and its partner companies are dedicated to improving patients' lives and outcomes. This goal is engrained in its company culture of accountability, engagement, wellness and social responsibility.
CQuence's current partner companies are Cassling, a full-line Siemens dealer and advanced partner, and Ensocare, which provides care coordination solutions that help manage patient care transitions, reduce length of stay and decrease readmissions.
To see the entire list of "Best Places to Work in Healthcare," award recipients and their rankings, visit ModernHealthcare.com.
###