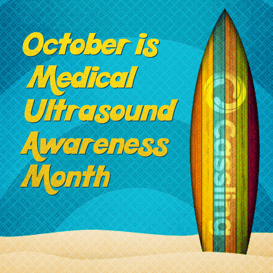 Each year, Cassling is honored to connect diagnostic imaging teams with free resources to celebrate their sonographers during Medical Ultrasound Awareness Month.

We've been doing this for a number of years, and every year we pick a new theme, artwork and slogan. In years past, we've featured everything from a take on Rosie the Riveter being "Sonography Strong" to spinning some records with Good Vibrations, and many more.

One piece of feedback we consistently receive is that hospital and health system leaders want even more opportunities to recognize the important work of their teams. This year, we're excited to announce that we're able to just do that, by unveiling a new store where you can order a variety of items featuring this year's theme!
Plus: a continuing education webinar with free CE credits recognized by the American Registry for Diagnostic Medical Sonography, and more resources than ever to help you recognize the team behind the transducer.

Read on for the full scoop!

Brave the Wave

This year, we're helping you Brave the Wave to educate patients and other healthcare providers about the importance of sonography.

Healthcare providers in the states covered by Cassling will once again be able to order FREE posters and stickers that feature the Brave the Wave beach theme. We're also keeping the fun going with a variety of digital resources:

Try your hand at a word search, pass out some coloring sheets to your team, or have fun with our new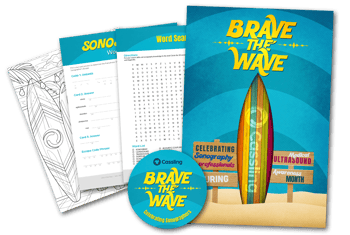 Sonoscapes game, which tasks you with solving a series of riddles to uncover a secret phrase!
Our flier on the history of ultrasound will put your team's knowledge to the test and help everyone in your organization understand the important milestones that went into creating the field we know today.

We want to make sure that during the celebration this October and throughout the year, we never lose sight of the fact that this event is about recognizing the hard work of sonography professionals. To that end, we're providing a social media toolkit that lets you easily put your own unique spin on Medical Ultrasound Awareness Month while incorporating the Brave the Wave theme that's such an integral part of this year's event.


Plus, we're letting you make things even more personal (in a good way!) by providing materials that help you highlight the work of your sonography team, enabling them to share their unique stories with the rest of your organization.


Check out the free materials here to get started!


Education to Support Sonography Best Practices


Our Investing In You continuing education program gives free CE credits to imaging professionals throughout the year, and we always try to do something special for Medical Ultrasound Awareness Month.


This year is no different, and we have a topic that will help sonographers remain on the cutting-edge of their profession.


"Hemodynamics: Unlocking the Meaning of Spectral Doppler Waveforms" promises to demystify arterial and venous Doppler waveforms, and it's doing so by helping you build a hemodynamic framework based on foundational information in physiology. The webinar, hosted by Miriam Teft, MBA, RDMS, RVT, from Grand Valley State University, will draw from the language outlined in the Society for Vascular Medicine's and Society for Vascular Ultrasound's 2020 consensus statement.


This webinar will take place on Thursday, October 19, and Friday, October 20, at two different times to allow as many people as possible to attend at their convenience. We hope you'll gather your sonography team and make an event out of it (and if you do, everyone in your crew who attends will get their 1.0 CE credit; fill out the form at the links below and follow the steps to learn how).


Register for the webinar at these links:


Hemodynamics Webinar | October 19, 12 PM CDT
Hemodynamics Webinar | October 20, 2 PM CDT

Life's a Beach; Let's Shop

What's a day at the beach without sunglasses, mugs, and koozies to hold all the beverages you brought along?

For the first time ever, you can order this year's Medical Ultrasound Awareness Month artwork on a variety of items. Get some for yourself or treat your team.

Items available for order include:
T-shirts in Metro Blue or Daisy Yellow
Sunglasses
Koozies
Tumblers, water bottles and mugs
Lunch totes (equally perfect for picnics at the beach or the department break room)
Badge reels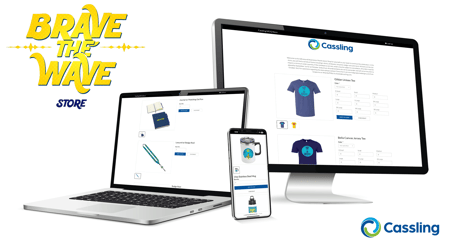 Or, if you simply can't get enough of our free posters and stickers, you can add even more to your order for a small fee.

All items include free shipping and are tax-free except for residents of Kentucky, Missouri or Kansas.

Get started here to see everything we have to offer, and if you do make a purchase, we'd love it if you showed off your swag on social media. Tag us across Facebook, Instagram and LinkedIn so we can see all the ways you and your sonography team go above and beyond to recognize ultrasound and take care of patients.

Thank You For Being You

We want to thank you for everything you do for healthcare. Sonographers are some of the most caring, compassionate providers in the field, and your expertise and sensitivity to the needs of patients has made a difference to those going through some of both the toughest and most joyous moments of their lives.

Thank you for everything, and to close, enjoy this Spotify playlist that will make you feel like you're out braving the waves. Cheers!