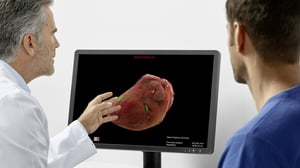 AI-based software assistant enables automated enhanced visualization of CT images of the lungs, heart, and aorta
Permits automated structured reporting for radiology examinations
During the 104th Scientific Assembly and Annual Meeting of the Radiological Society of North America (RSNA), Nov. 25-30 at Chicago's McCormick Place, Siemens Healthineers presents its first intelligent software assistant for radiology, The AI-Rad Companion Chest CT,¹ which brings artificial intelligence to computed tomography (CT). Using CT images of the chest, the software can differentiate between various structures in that region of the body, highlight them individually, and mark and measure potential abnormalities in the lungs, heart, aorta, and coronary arteries. AI-Rad Companion Chest CT automatically translates its findings into structured reports.
Featuring underlying algorithms that were trained by Siemens Healthineers scientists on extensive clinical datasets, AI-Rad Companion Chest CT is designed to help radiologists interpret images via automation for potentially reduced time spent on results documentation. Siemens Healthineers plans additional intelligent assistants for the AI-Rad Companion platform.
"One goal we have for our intelligent software assistants is that they'll help healthcare providers overcome the challenge of rising patient numbers coupled with shortfalls in staff," says Yan Beynon, Head of Digital Services at Siemens Healthineers. "Artificial intelligence won't replace radiologists. It is designed to help relieve them of routine manual imaging workflow tasks and may potentially increase the efficiency and quality of diagnostic imaging processes."
While chest images display a wide variety of information, radiologists mainly assess these images with regard to the primary indication. The algorithms in AI-Rad Companion Chest CT are able to provide segmentation, measurement, and highlighting to support quantitative and qualitative analysis. The intelligent assistant generates standardized, reproducible, and quantitative reports based on the AI-supported analysis.
AI-Rad Companion Chest CT supports a variety of tasks. Those tasks include automated identification, localization, labeling, and measurement of lung lesions, as well as automated quantification of the total calcium volume in the coronary arteries.
A cloud-based solution, AI-Rad Companion Chest CT uses certified, secure teamplay² infrastructure. The software integrates seamlessly into existing clinical workflows and conforms to Digital Imaging and Communications in Medicine (DICOM) standards. The images and supporting information can be made available automatically in the picture archiving and communication system (PACS).
AI-Rad Companion Chest CT can analyze image data from all CT manufacturers.
¹ AI-Rad Companion Chest CT is 510(k) pending. It is not for sale in the U.S. Its future availability cannot be guaranteed.
² teamplay is not yet commercially available in all countries. Due to regulatory reasons, its future availability cannot be guaranteed. Please contact your local Siemens organization for further details.

---
Contact for Journalists

Jeff Bell
Siemens Healthineers
Phone: (484) 868-8346; Email: jeffrey.t.bell@siemens-healthineers.com
Siemens Healthineers enables healthcare providers worldwide to increase value by empowering them on their journey towards expanding precision medicine, transforming care delivery, improving patient experience and digitalizing healthcare. A leader in medical technology, Siemens Healthineers is constantly innovating its portfolio of products and services in its core areas of diagnostic and therapeutic imaging and in laboratory diagnostics and molecular medicine. Siemens Healthineers is also actively developing its digital health services and enterprise services.
In fiscal 2018, which ended on September 30, 2018, Siemens Healthineers generated revenue of €13.4 billion and adjusted profit of €2.3 billion and has about 50,000 employees worldwide. Further information is available at www.siemens-healthineers.com.
Meet the Author
Cassling strengthens community healthcare through customer-centric imaging and therapeutic technology, services and solutions. From critical access hospitals and diagnostic imaging centers to large health systems and IDNs, Cassling is committed to helping healthcare organizations improve access and outcomes, create efficiencies and lower costs.