Advanced Technology Puts Patients in Control and Improves Clinical Outcomes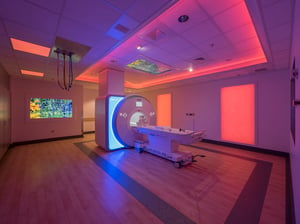 (Omaha, Neb., September 15, 2015) – Cassling, a leading dealer of diagnostic medical equipment, announced today that is now offering Sentient Suite environments that integrate lighting, video and audio to create custom healthcare environments. The Sentient solutions put patients at ease while they are undergoing procedures such as Magnetic Resonance Imaging (MRI) and Computerized Tomography (CT) scans, and have been proven to improve healthcare clinical outcomes and patient satisfaction.
Sentient products, including large video image displays, illuminated image ceilings, video projectors and cameras, sound systems, LED lighting systems, and touch control systems, are unique because they can be built into the architecture of imaging rooms and the equipment is safe to use around the large magnets at the center of MRI equipment. Hospitals and healthcare facilities can select any combination of Sentient products to work within their facility design.

Cassling President and CEO Mike Cassling said, "Cassling is excited to offer custom-engineered Sentient products to our customers because of the way they can transform and improve the healthcare experience for patients. We're committed to offering our customers cutting-edge technology so they can provide the best care for their patients." Cassling noted that the Sentient products can be installed into existing facilities housing existing MRI, PET and nuclear medicine detector equipment, as well as incorporated into the design of new facilities.

Boys Town National Research Hospital in Omaha, Neb. included a Patient Caring Suite designed by Sentient while planning the space where their new, state-of-the-art 70 cm 3T MRI system would be placed. The MAGNETOM Skyra scanner, a product of Siemens Healthcare and distributed by Cassling, offers a full range of applications and technologies to address different customer needs ranging from the clinical routine to research. To learn more about how Boys Town National Research Hospital transformed its MRI suite into a soothing space for patient care and research, visit http://www.cassling.com/sentient
CONTACT: Cris Hay-Merchant, Senior Marketing Strategist
402-334-5000 ext. 1173
chay@cquencehealth.com
---
About Cassling
Cassling is an Advanced Partner and authorized sales and service dealer for Siemens Healthineers. Founded in 1984 and headquartered in Omaha, Neb, we are committed to offering comprehensive support to our customers—including world-renowned imaging equipment, 24/7 service, project management, marketing, continuing education and everything in between.

We help organizations of every size, from critical access hospitals and diagnostic imaging centers to large health systems and IDNs, to increase efficiency, decrease costs and enhance patient care. Learn more.
About Sentient
Sentient creates products to give patients the control to personalize and improve their healthcare experience. For more than 30 years, Sentient and its parent company have developed specialty products for MRI suites. Today, through its Sentient Suite solutions, the company offers a variety of custom environmental products and works with caregivers, designers and architects to bring the comforting power of personalized experiences to every patient.
Meet the Author
Cassling strengthens community healthcare through customer-centric imaging and therapeutic technology, services and solutions. From critical access hospitals and diagnostic imaging centers to large health systems and IDNs, Cassling is committed to helping healthcare organizations improve access and outcomes, create efficiencies and lower costs.