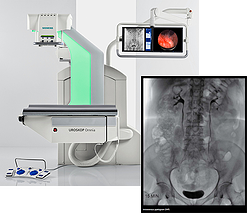 Omaha, Neb. (Oct 6, 2014) – Cassling today announced the signing of an additional five-year strategic alliance agreement with Siemens Medical Solutions USA, Inc. to be its exclusive sales agent for surgery and urology in 11 additional states. Effective immediately, Cassling will represent the Siemens Healthcare family of mobile surgical C-arms and urology systems to hospitals, as well as surgery, pain, orthopedic and urology centers in Arizona, California, Colorado, Idaho, Montana, Nevada, New Mexico, Oregon, Utah, Washington and Wyoming.
Cassling has been the strategic Siemens Healthcare local sales agent and service provider in the Midwest since 2001, earning a reputation for superior customer service and support.
"Siemens has a proven, long-standing relationship with Cassling and we look forward to expanding our alliance into additional geographies. Cassling shares our values and brings a high level of commitment to our health care customers," said Aaron Hudy, senior vice president of Siemens Clinical Products Division.
The expansion into X-ray product solutions in the Western U.S. is the third extension of Cassling's original agreement with Siemens Healthcare.
Mike Cassling, CEO of Cassling, remarked, "We believe the continual expansion of our relationship speaks volumes about our healthcare experience and dedication to the customers we serve and ultimately the patient."
"Without a doubt, building relationships and delivering superior customer service have been the cornerstones of Cassling for the past 30 years," Cassling said. "We are proud to represent Siemens, a company recognized for its groundbreaking advances impacting the quality of patient care. Some notable advances include Siemens' low dose innovations, their ability to obtain the entire KUB in one image instead of two and their full view flat panel C-arm which has proven critical for patients undergoing abdominal aortic aneurysm procedures."
To learn more about Cassling's and Siemens' surgery products, click here.
---
About Cassling
Cassling is an Advanced Partner and authorized sales and service dealer for Siemens Healthineers. Founded in 1984 and headquartered in Omaha, Neb, we are committed to offering comprehensive support to our customers—including world-renowned imaging equipment, 24/7 service, project management, marketing, continuing education and everything in between.

We help organizations of every size, from critical access hospitals and diagnostic imaging centers to large health systems and IDNs, to increase efficiency, decrease costs and enhance patient care. Learn more.
Meet the Author
Cassling strengthens community healthcare through customer-centric imaging and therapeutic technology, services and solutions. From critical access hospitals and diagnostic imaging centers to large health systems and IDNs, Cassling is committed to helping healthcare organizations improve access and outcomes, create efficiencies and lower costs.