---

1.5 Tesla, 60-cm MRI system offers innovative applications to improve competitiveness and potentially address profitability

System includes standardized, automated workflows for nearly 75 percent of MRI exams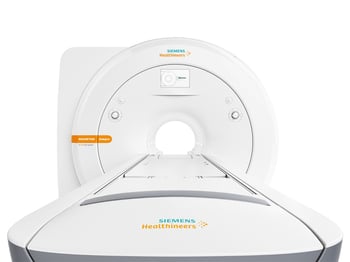 Siemens Healthineers has announced that the Food and Drug Administration (FDA) has cleared the MAGNETOM Sempra, a highly efficient, 60-cm 1.5 Tesla (1.5T) magnetic resonance imaging (MRI) system.
The MAGNETOM Sempra is distinguished by its low operating costs, innovative technologies, and full-coverage service contract, which help radiology practices and groups, as well as small- and medium-sized hospitals, operate profitably despite rising industry cost pressures.
Additionally, the system's standardized workflows are designed to help facilities achieve consistent, user- and patient-independent levels of quality. With products and solutions such as the MAGNETOM Sempra, as well as a new name that underlines the company's pioneering spirit and engineering expertise, Siemens Healthineers – the separately managed healthcare business of Siemens AG – is helping to enable healthcare providers worldwide to meet current challenges and excel in their respective environments.
"Siemens Healthineers is pleased to offer the MAGNETOM Sempra, an MRI system designed to address the needs of radiology practices, smaller hospitals, and other providers in delivering high-quality patient care in a cost-effective manner," said Murat Gungor, Vice President of Magnetic Resonance at Siemens Healthineers North America. "As with the other MRI systems in our portfolio, the MAGNETOM Sempra can help providers increase productivity and address profitability while delivering a highly positive patient experience."
Consistent results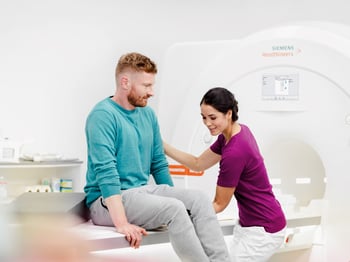 With Day optimizing throughput (Dot) workflow engines, the MAGNETOM Sempra enables the user to adjust to each clinical case and to the condition of each patient while simultaneously maintaining exam standardization. The system comes equipped with three Dot engines to automate and streamline workflow for brain, spine, and large joint procedures. These Dot engines cover roughly three-quarters of the average exam volume and help users increase productivity in addition to avoiding unnecessary and costly repeat scans.
Reduced artifacts and noise
The MAGNETOM Sempra includes applications that enable facilities to respond to competitive pressure and adapt to changing market demands. For example, facilities can scan in the presence of MRI-safe metallic implants1 with improved visualization of surrounding soft tissue, including hip and knee implants. The system's software platform includes the company's established Quiet Suite technology, which can reduce sound pressure by up to 97 percent in brain and musculoskeletal exams while delivering high-quality images. Quiet Suite technology can benefit anxious patients and offer a more positive exam experience.
Financial reliability
With its equipped Dot engines, the MAGNETOM Sempra enables users to perform exams in just 10 minutes – including a brain exam, from patient positioning to exam completion – using time - and image-optimized protocols that cover most commonly scanned body parts. To reduce overall operating costs, the MAGNETOM Sempra offers Eco-Power technology, which monitors and controls the magnet-cooling helium to reduce energy consumption by up to 30 percent compared to the system's normal mode. Zero Helium boil-off technology, a supplementary feature, prevents helium evaporation, so operators can avoid expensive helium refills and resultant downtime.
¹ The MRI restrictions (if any) of the metal implant must be considered prior to patient undergoing MRI exam. MR imaging of patients with metallic implants brings specific risks. However, certain implants are approved by the governing regulatory bodies to be MR conditionally safe. For such implants, the previously mentioned warning may not be applicable. Please contact the implant manufacturer for the specific conditional information. The conditions for MR safety are the responsibility of the implant manufacturer, not of Siemens.
For further information on the MAGNETOM Sempra, please see www.usa.siemens.com/sempra
---
Siemens contact for journalists: Jeff Bell, Siemens Healthcare; Phone: 610-448-6348; E-mail: jeffrey.t.bell@siemens-healthineers.com
Siemens Healthineers is the separately managed healthcare business of Siemens AG enabling healthcare providers worldwide to meet their current challenges and to excel in their respective environments. A leader in medical technology, Siemens Healthineers is constantly innovating its portfolio of products and services in its core areas of diagnostic and therapeutic imaging and in laboratory diagnostics and molecular medicine. Siemens Healthineers is also actively developing its digital health services and enterprise services. To help customers succeed in today's dynamic healthcare marketplace, Siemens Healthineers is championing new business models that maximize opportunity and minimize risk for healthcare providers. In fiscal 2016, which ended on September 30, 2016, Siemens Healthineers generated revenue of €13.5 billion and profit of over €2.3 billion and has about 46,000 employees worldwide. Further information is available at www.siemens.com/healthineers
Meet the Author
Cassling strengthens community healthcare through customer-centric imaging and therapeutic technology, services and solutions. From critical access hospitals and diagnostic imaging centers to large health systems and IDNs, Cassling is committed to helping healthcare organizations improve access and outcomes, create efficiencies and lower costs.