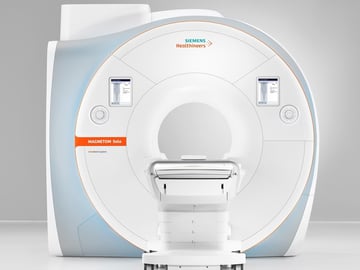 (Oct. 9, 2018) — The Food and Drug Administration (FDA) has cleared the MAGNETOM Sola, a 1.5 Tesla magnetic resonance imaging (MRI) scanner from Siemens Healthineers that brings groundbreaking BioMatrix technology to the 1.5T market. This technology addresses patient anatomical and physiological differences, as well as differences in how users set up and conduct MRI exams, to increase productivity and decrease rescans for improved efficiency and patient satisfaction. With the MAGNETOM Sola, Siemens Healthineers is expanding precision medicine and transforming the delivery of patient care.
The MAGNETOM Sola helps healthcare providers perform a full range of routine and complex MRI exams while accelerating workflow and delivering consistent results across all patient types. BioMatrix Sensors save setup time and inform the correct exam strategy. Respiratory Sensors in the patient table eliminate the need for navigators with respiratory-triggered sequences. A new Kinetic Sensor, an in-bore camera system, enables technologists to visually monitor the patient's face. BioMatrix Tuners improve the quality and reproducibility of head, neck, and spine imaging using distortion-mitigating software and hardware. BioMatrix Interfaces utilize artificial intelligence and body models to expedite patient positioning and deliver consistent, reproducible results.
The scanner architecture offers extremely high performance in an open, 70-cm bore. Larger body regions can be covered in one step with a full 50x50x50 cm field of view. Ultra-lightweight, anatomy-adaptive coils improve patient comfort while delivering high signal-to-noise ratio with up to 204 RF channels.
New software enables faster scanning to benefit patients and the facility. Multi-Slice TSE reduces routine musculoskeletal scan times by up to 46 percent. Compressed Sensing not only makes cardiac and dynamic liver exams faster but also enables imaging of patients who cannot reliably hold their breath.
Combined with Dot workflow engines and Tim 4G technology, the software accelerates scanning from positioning to post-processing with continual quality control of image data. The result is increased productivity and consistency across patients and exams.
"With the MAGNETOM Sola, we provide the 1.5T market with the latest MRI advancements designed to overcome the challenges of imaging diverse patient populations," said Jane Kilkenney, Vice President of Magnetic Resonance, Siemens Healthineers North America. "By delivering unmatched levels of automation and personalization that address patient and user variability, we enable customers to achieve high-quality imaging – consistently and efficiently – across all patients and procedures."
A cardiovascular edition of the MAGNETOM Sola – which includes high-performance hardware and software such as Compressed Sensing Cardiac Cine, MyoMaps, and the Cardiac Dot engine – is also available.
View original article on Siemens Healthineers website.
---
Contact for Journalists

Jeff Bell
Siemens Healthineers
Phone: (610) 448-6348; Email: jeffery.t.bell@siemens-healthineers.com
Siemens Healthineers is the separately managed healthcare business of Siemens AG enabling healthcare providers worldwide to achieve better outcomes at lower costs by empowering them on their journey towards expanding precision medicine, transforming care delivery, improving patient experience and digitalizing healthcare. A leader in medical technology, Siemens Healthineers is constantly innovating its portfolio of products and services in its core areas of diagnostic and therapeutic imaging and in laboratory diagnostics and molecular medicine. Siemens Healthineers is also actively developing its digital health services and enterprise services.

In fiscal 2017, which ended on September 30, 2017, Siemens Healthineers generated revenue of €13.8 billion and profit of €2.5 billion and has about 48,000 employees worldwide. Further information is available at www.siemens.com/healthineers.
Meet the Author
Cassling strengthens community healthcare through customer-centric imaging and therapeutic technology, services and solutions. From critical access hospitals and diagnostic imaging centers to large health systems and IDNs, Cassling is committed to helping healthcare organizations improve access and outcomes, create efficiencies and lower costs.