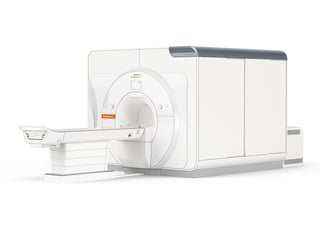 Translate 7T research power into clinical care with MAGNETOM Terra.
The world's first 7 Tesla (7T) MRI, the MAGNETOM Terra system from Siemens Healthineers, has been cleared for clinical imaging by the Food and Drug Administration (FDA).
It possesses a unique Dual Mode feature, which permits the user to switch for the first time ever between an investigational "Research Mode" and a 510(k)-cleared "Clinical Mode" for imaging, while keeping research data and clinical images safe on separate databases, respectively.
Possessing these and other unique features and capabilities, the MAGNETOM Terra can be leveraged by healthcare institutions to grow their professional and academic reputations, attract and retain premier talent, secure highly coveted research grants, and maintain their competitive edge.
The system is built on Siemens Healthineers' rich history as a leading provider of MRI to the global research community. According to Cassling President Kyle Salem, PhD, the MAGNETOM Terra is "yet another proof point of Siemens' technological leadership" in MRI.
"Bringing a 7T system to the clinical world will open up the door for both translational research and new clinical applications," Salem said. "We, at Cassling, are honored to be able to help Siemens advance MRI, once again."
Christoph Zindel, MD, Senior Vice President and Head of Magnetic Resonance at Siemens Healthineers, said that the MAGNETOM Terra 7T scanner is the first MRI field strength above 3T to be cleared for clinical imaging in nearly 20 years. "Armed with the MAGNETOM Terra's ultra-high-field strength, clinicians may be able to achieve new, unforeseen levels of patient care and clinical advancements through improved visualization of a wide variety of neurological disease states," Zindel said.
Features and Benefits
The MAGNETOM Terra is constructed from top to bottom by Siemens Healthineers – the first time every major component of a 7T scanner has been manufactured entirely by one equipment vendor. Addressing concerns regarding helium availability, the MAGNETOM Terra has a Zero Helium boil-off feature that reduces evaporation in both standby and operational modes. And the scanner's brand-new magnet, which is 50 percent lighter than any 7T magnet produced to date, can be shipped cold via airfreight and integrated more easily into clinical environments, even on upper floors.
Visit Siemens.com to learn more.


---
Siemens contact for journalists: Jeff Bell, Siemens Healthineers; Phone: 610-448-6348; E-mail: jeffrey.t.bell@siemens-healthineers.com
Siemens Healthineers is the separately managed healthcare business of Siemens AG enabling healthcare providers worldwide to meet their current challenges and to excel in their respective environments. A leader in medical technology, Siemens Healthineers is constantly innovating its portfolio of products and services in its core areas of diagnostic and therapeutic imaging and in laboratory diagnostics and molecular medicine. Siemens Healthineers is also actively developing its digital health services and enterprise services. To help customers succeed in today's dynamic healthcare marketplace, Siemens Healthineers is championing new business models that maximize opportunity and minimize risk for healthcare providers.
Meet the Author
Cassling strengthens community healthcare through customer-centric imaging and therapeutic technology, services and solutions. From critical access hospitals and diagnostic imaging centers to large health systems and IDNs, Cassling is committed to helping healthcare organizations improve access and outcomes, create efficiencies and lower costs.