The patient experience train has more than left the station. It's zigzagged thousands of miles across the country. Are you on board?
If not, it's time to call your nearest survey vendor.

Since 2002, CMS has mandated that hospitals measure and report inpatient survey scores through the Hospital Consumer Assessment of Healthcare Providers and Systems, or HCAHPS. Such reporting is likely the future for clinics and doctors' offices, too—starting as early as 2014.
The system was designed to serve patients and providers alike – allowing health-care organizations to assess patients' perceptions of care and allowing consumers to evaluate a provider's patient-centeredness of care.
The patient experience movement has gained momentum with the Affordable Care Act and a push to tie payments increasingly to value and quality of care. Hospitals with less-than-stellar survey scores forfeit 1 percent of their Medicare payments, a number that doubles by 2017—to the tune of $1 billion.
In addition to survey results being tied to reimbursement, surveys deliver information that physicians can use to reduce wait times, improve patient communication, enhance the appearance of a practice and manage the courtesy and friendliness of staff. Survey results also provide an opportunity to decrease risk of malpractice and improve market share, patient loyalty and referrals.
Consider these tips to impact the patient experience: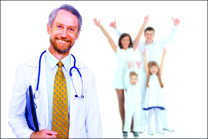 Prioritize convenience. Patients generally prefer quick and efficient care. Improve the patient experience by offering extended hours, email communications with patients, online medical consultations, online appointment scheduling, wellness brochures, and a website with hours, doctor biographies and contact information.
Be grateful. Thank the community for choosing you. Promote your achievements on banners and table tents throughout your facility, and on billboards, movie theater ads or radio spots to spread the word outside your doors. Don't just toot your own horn, though. Messaging should focus on how quality, safety and the overall experience of patients and families are your chief concerns.
Vow to improve. If your survey results aren't as high as you'd like, communicate your improvement efforts to patients and staff, especially as you roll out new processes and programs. When you use your survey results to help drive targeted, operational performance improvement – you'll be making good on your promise. And that improves patient safety and loyalty.
Ask for help. If you have a low survey response rate, train patient navigators, discharge nurses and other staff to educate patients about the importance of completing the surveys. Hang educational posters and have staff wear buttons to let your patients know that you're listening. And don't be afraid to push back on your survey vendor for additional resources.

// return //