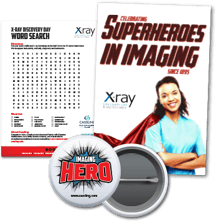 Healthcare organizations across the country will celebrate the many contributions that X-rays have made to the field of medicine during 2016 National Radiologic Technology Week, Nov. 6-12. The weeklong event acknowledges the work of radiologic technologists and other imaging professionals who play an integral role in the medical process.
As it has each year since 2008, Cassling – an Advanced Partner of Siemens Healthineers – provides hospitals and radiology professionals with complimentary resources to help them celebrate. According to Mike Cassling, president and CEO of Cassling, the work of rad techs is critical to the delivery of quality healthcare in our country.
"It's so important to take time to recognize radiology staff for the vital work that they do," Cassling said. "Like all medical professionals, imaging staff are superheroes in the eyes of patients. Imaging staff in particular play an essential role in our ability to diagnose injury and illness, and, ultimately, enhance patient outcomes." He added that Cassling is proud to provide free materials to hundreds of healthcare facilities nationwide as they celebrate and support their imaging departments.
The X-ray's birthday is celebrated annually on Nov. 8, the date when German physicist Wilhelm Roentgen discovered the X-ray in 1895. Today, X-rays continue to be used in many types of imaging exams.
"From mammograms to CT scans to MRIs, imaging is vital to the delivery of healthcare, allowing radiologists to more accurately pinpoint illnesses and injuries so that patients can be treated with the most efficient care," Cassling said.
"In fact, low-dose CT scans—which utilize special X-ray technology—are now being used for the detection of lung cancer. This can help save thousands of lives, and it wouldn't be possible without X-rays or the nearly 200,000 experienced imaging professionals in the United States."
Click here for a variety of complimentary Rad Tech Week resources and to learn more about the importance of X-rays in healthcare.
---

About Cassling
Cassling is an Advanced Partner and authorized sales and service dealer for Siemens Healthineers. Founded in 1984 and headquartered in Omaha, Neb, we are committed to offering comprehensive support to our customers—including world-renowned imaging equipment, 24/7 service, project management, marketing, continuing education and everything in between.

We help organizations of every size, from critical access hospitals and diagnostic imaging centers to large health systems and IDNs, to increase efficiency, decrease costs and enhance patient care. Learn more.
Meet the Author
Cassling strengthens community healthcare through customer-centric imaging and therapeutic technology, services and solutions. From critical access hospitals and diagnostic imaging centers to large health systems and IDNs, Cassling is committed to helping healthcare organizations improve access and outcomes, create efficiencies and lower costs.