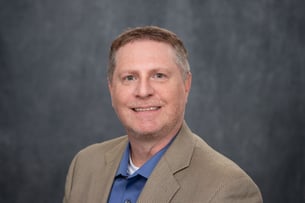 With more than two decades of experience on the Cassling service team, Shawn stands ready to lead the organization in delivering unmatched OEM service and response times on Siemens Healthineers systems while expanding the company's ability to provide vendor-agnostic service across the Midwest.

Omaha, Neb. (August 11, 2023) – A long-time Cassling team member now has a crucial leadership position within the organization.

Shawn Pew has held various senior management roles within the Cassling service team, including Director of Clinical Information Management, Regional Service Manager and Senior Director of Service. Now, he has officially taken on the role of Vice President of Service, dedicated to leading the entire equipment implementation and service teams while working with customers to develop customized service solutions.

Before coming to Cassling, Shawn worked in patient care as a radiologic technologist for many years. This provided him with crucial insight into the operations of imaging departments and health systems, knowledge which he brought to Cassling more than 20 years ago. Since then, he has worked his way up through the ranks of the service team, earning his new position as the leader of the service team.

"I'm honored and humbled to accept this role," said Shawn. "I look forward to working together with the rest of our team to figure out how to provide the absolute best value to our customers without ever sacrificing the reliability and service they rightfully expect from our organization."

He takes over the role from Joe Matthews, another long-serving Cassling team member who took his much-deserved retirement in July 2023. Shawn inherits a service operation renowned for industry-leading response times and unwavering dedication to ensuring maximum uptime of systems.

"Shawn has proven time and time again his ingenuity and how much he cares about our customers," said Dr. Kyle Salem, Ph.D., president and chief executive officer of Cassling. "As we look ahead to what more we can offer our customers in a service partnership, Shawn has already brought many forward-thinking ideas and strategic initiatives to the table. He is an asset to Cassling and I can't wait to see everything he'll achieve as our Vice President of Service."

Shawn is set to lead a service organization that offers award-winning Original Equipment Manufacturer (OEM) and third-party equipment service and support, from installation through the lifecycle of an imaging system. An Advanced Partner of Siemens Healthineers, Cassling provides access to OEM parts plus streamlined upgrades and software updates. In addition, Cassling also services select Hologic, GE Healthcare and other imaging equipment.

To learn more, visit https://www.cassling.com/services/equipment-service.

About Cassling
Cassling strengthens community healthcare through customer-centric imaging and therapeutic technology, services and solutions. From critical access hospitals and diagnostic imaging centers to large health systems and IDNs, Cassling is committed to helping healthcare organizations improve access and outcomes, create efficiencies and lower costs.

Cassling serves as a partner and strategic advisor to healthcare organizations—helping them navigate the challenges of the fast-paced, ever-changing healthcare industry. Through our partnerships, including Siemens Healthineers, Cassling offers the best of both worlds—an unprecedented level of service and local support in combination with world-class imaging technology. Our goal is to impact 350 million patient lives by 2030.

Headquartered in Omaha, Nebraska, and founded in 1984, Cassling is proud to be a family-owned company and have Midwestern values and integrity at the heart of what we do. To learn more, visit www.Cassling.com.
Meet the Author
As Cassling's Marketing Manager, Veronica Sapp is responsible for leading Cassling's marketing strategy through multimedia campaigns and overseeing the day-to-day operations of Cassling's in-house marketing department. Prior to joining Cassling, Veronica served the healthcare community for nearly 10 years in a marketing career focused on medical staffing and long-term care. She earned her degree in Public Relations from the College of the Ozarks in Missouri.