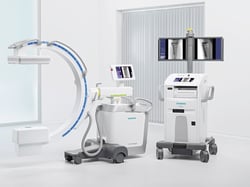 With new Cios Fusion, Cios Connect and Cios Select, Siemens' expanded Cios family now offers mobile C-arms for every facility and budget protocols.



(March 10, 2016) – Siemens Healthcare has announced that the U.S. Food and Drug Administration (FDA) has cleared three brand-new system models – Cios Fusion, Cios Connect, and Cios Select – in the company's Cios family of mobile C-arms. These new systems join a newly upgraded version of Siemens' established, ultra-premium Cios Alpha mobile C-arm that cements Siemens' leadership in flat-panel detector technology.

"With the addition of these three new mobile C-arms to the Cios family, Siemens Healthcare is proud to build on our tradition of C-arm leadership," said Martin B. Silverman, Vice President of X-ray Products at Siemens Healthcare. "Our Cios family offers customers a complete product portfolio that meets their needs, regardless of facility type or budget. These expanded mobile C-arm offerings represent another example of how Siemens innovates to solve the daily real-world challenges facing hospitals and surgical centers."

Offering the state-of-the-art flat panel detectors of the Cios Alpha in the medium price segment, the new Cios Fusion mobile C-arm has two detector sizes – 30 cm x 30 cm and 20 cm x 20 cm. It offers most of the same software and hardware features of the Cios Alpha, including a touchscreen remote that can be positioned at the operating table to control the C-arm from within the sterile work area.

The new Cios Connect mobile C-arm weighs just 547 lbs. and enables surgeons to perform a broad area of applications. Software options allow physicians to display individual images simultaneously in subtracted and X-ray views, to optimize the presentation of contrast and bone, and support a broad range of surgical needs.

The new entry-level, user-friendly Cios Select mobile C-arm boasts an easy-to-use push button interface for fast workflow. It uses the image processing algorithm IDEAL (Intelligent Dose Efficiency Algorithm) to provide continuous contrast and brightness adjustments as well as the automatic dose-performance adjustment that is available across the entire Cios family.

The new version of Siemens' established Cios Alpha mobile C-arm features a square flat-panel detector that helps users reach optimum levels of minimally invasive intervention in the modern surgical environment. Revised software delivers a large preview image that allows operating room staff to select appropriate image settings more easily. A new one-touch metal correction function compensates for metal image components to enable representation of surrounding tissue with greater contrast. And to mark anatomical structures, the Cios Alpha's Live Graphical Overlay function – which formerly had been available exclusively to vascular surgery users – now can be used in all operating modes.
---
Siemens contact for journalists: Jeff Bell, Siemens Healthcare; Phone: 610-448-1477; E-mail: jeffrey.t.bell@siemens.com
Siemens AG (Berlin and Munich) is a global technology powerhouse that has stood for engineering excellence, innovation, quality, reliability and internationality for more than 165 years. The company is active in more than 200 countries, focusing on the areas of electrification, automation and digitalization. One of the world's largest producers of energy-efficient, resource-saving technologies, Siemens is No. 1 in offshore wind turbine construction, a leading supplier of gas and steam turbines for power generation, a major provider of power transmission solutions and a pioneer in infrastructure solutions as well as automation, drive and software solutions for industry. The company is also a leading provider of medical imaging equipment – such as computed tomography and magnetic resonance imaging systems – and a leader in laboratory diagnostics as well as clinical IT. In fiscal 2015, which ended on September 30, 2015, Siemens generated revenue of €75.6 billion and net income of €7.4 billion. At the end of September 2015, the company had around 348,000 employees worldwide. Further information is available on the Internet at www.siemens.com.
Meet the Author
Cassling strengthens community healthcare through customer-centric imaging and therapeutic technology, services and solutions. From critical access hospitals and diagnostic imaging centers to large health systems and IDNs, Cassling is committed to helping healthcare organizations improve access and outcomes, create efficiencies and lower costs.