Company's smallest, most lightweight scanner uses less than 1 liter of helium and no quench pipe
Combines 0.55 field strength with deep learning technologies
Siemens Healthineers announces the Food and Drug Administration (FDA) clearance of the MAGNETOM Free.Max, a new High-V magnetic resonance (MR) scanner that combines a 0.55 Tesla (0.55T) field strength with deep learning technologies and advanced image processing. By doing so, the scanner broadens the range of MR clinical applications and provides customers with the inherent clinical benefits of a mid-field MR scanner. The first and only 80 cm wide-bore system available, the MAGNETOM Free.Max also facilitates MR scanning for extremely obese and claustrophobic patients, enhancing the patient experience.
At less than 3.5 tons and less than 80 inches high, the MAGNETOM Free.Max is the most lightweight, compact whole-body scanner ever offered by Siemens Healthineers. Its reduced size permits installation with minimal structural modifications. And where MR scanners typically require several hundred liters of helium and a quench pipe for cooling purposes, the new magnet of the MAGNETOM Free.Max uses less than 1 liter of helium, reducing lifecycle and infrastructure costs. For these reasons, the customer can install the MAGNETOM Free.Max in areas where an MR scanner could not be housed previously.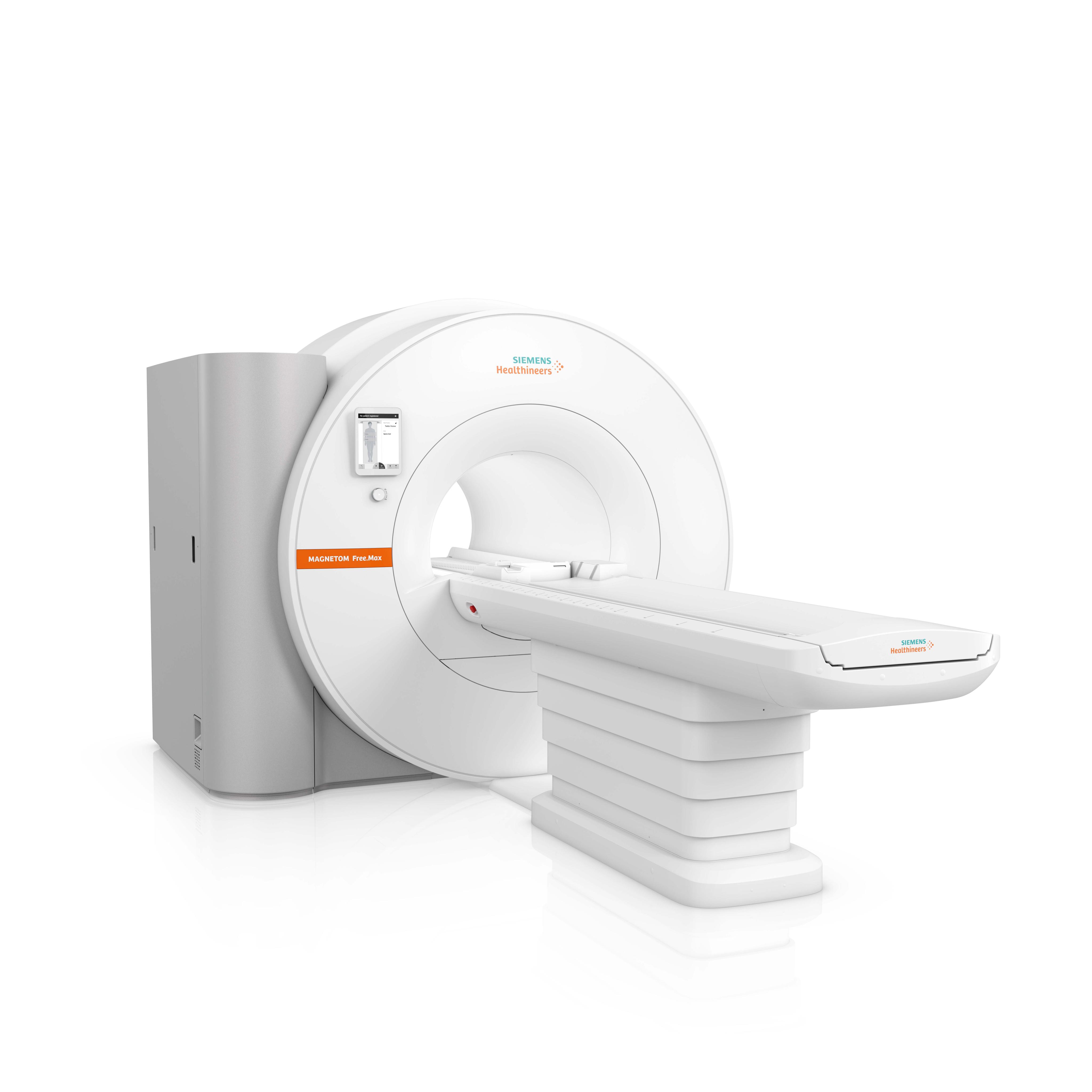 The MAGNETOM Free.Max leverages the company's latest image processing and artificial intelligence workflow innovations. Deep Resolve is a set of algorithms that performs targeted denoising and uses deep learning to deliver sharper, higher-resolution images. myExam Companion, a comprehensive workflow solution that incorporates elements of artificial intelligence, helps the user navigate the examination to efficiently achieve consistent, high-quality results, regardless of user experience level, patient, or throughput.
"Siemens Healthineers is proud to offer the MAGNETOM Free.Max, which brings MR to new clinical fields with innovative digital technology, new siting features, and image quality that was once realized only at higher field strengths," said Jane Kilkenny, Vice President of Magnetic Resonance at Siemens Healthineers North America. "The scanner's comparatively low weight and size can open the door to MR utilization in orthopedic centers, emergency rooms, outpatient centers, and even intensive care units."
Read more on the MAGNETOM Free.Max
.
---
Siemens Healthineers Media Contact
Jeff Bell
Phone: +484-868-8346; Email: jeffrey.t.bell@siemens-healthineers.com
Siemens Healthineers AG (listed in Frankfurt, Germany: SHL) is shaping the future of Healthcare. As a leading medical technology company headquartered in Erlangen, Germany, Siemens Healthineers enables healthcare providers worldwide through its regional companies to increase value by empowering them on their journey towards expanding precision medicine, transforming care delivery, improving the patient experience, and digitalizing healthcare.
Siemens Healthineers is continuously developing its product and service portfolio, with AI-supported applications and digital offerings that play an increasingly important role in the next generation of medical technology. These new applications will enhance the company's foundation in in-vitro diagnostics, image-guided therapy, and in-vivo diagnostics. Siemens Healthineers also provides a range of services and solutions to enhance healthcare providers' ability to provide high-quality, efficient care to patients.
In fiscal 2020, which ended on September 30, 2020, Siemens Healthineers, which has approximately 54,000 employees worldwide, generated revenue of €14.5 billion and adjusted EBIT of €2.2 billion. Further information is available at www.siemens-healthineers.com.
Meet the Author
Cassling strengthens community healthcare through customer-centric imaging and therapeutic technology, services and solutions. From critical access hospitals and diagnostic imaging centers to large health systems and IDNs, Cassling is committed to helping healthcare organizations improve access and outcomes, create efficiencies and lower costs.