June 29, 2016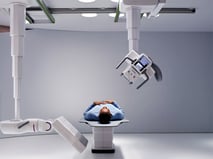 Patients benefit from this new system because it allows physicians to perform a broad array of clinical imaging applications in a single imaging room without ever having to move the patient.
University of Utah Health Care installs world's first Twin Robotic X-ray system, with uses in radiography, fluoroscopy and angiography.

Siemens Healthineers has announced that University of Utah Health Care in Salt Lake City is the first facility in the United States to install the company's Multitom Rax Twin Robotic X-ray system, a universal diagnostic imaging system that enables a wide range of examinations in multiple clinical areas in one room using a single X-ray system. With the Multitom Rax, users can perform exams pertaining to everything from emergency medicine and interventional to pain management and orthopedics, and from conventional 2D radiography to fluoroscopy exams and angiography applications. The world's first Twin Robotic X-ray system, the Multitom Rax features a unique design that allows, for the first time, the acquisition of 3D natural weight-bearing images.¹
"Patients are expected to benefit the most from this new Multitom Rax system because it allows our physicians to perform a much broader array of clinical imaging applications in a single imaging room without ever having to move the patient," says Satoshi Minoshima, MD, PhD, professor and chair of the Department of Radiology and Imaging Sciences at the University of Utah. "We are very excited to be the first facility in the U.S. to explore the Multitom Rax's potential for efficiency and productivity."
The unique open design of the Multitom Rax Twin Robotic X-ray system features a height-adjustable patient table and two independent, ceiling-mounted robotic arms for the X-ray tube head and the flat-panel detector for almost unlimited positioning freedom anywhere in the room. Both robotic arms can be moved into position automatically or manually with servo motor support to make fine adjustments. While one robotic arm moves the X-ray tube, the other arm carries the 17" x 17" flat panel detector, which can acquire static, dynamic, and Real 3D sequences.
The Multitom Rax Twin Robotic X-ray system enables, for the first time, the acquisition of 3D images¹ under the patient's natural weight-bearing condition – whether the patient is seated, lying down, or standing. Images acquired in the natural standing position are essential because the knees, pelvis and spinal column appear differently when the patient's body weight is applied compared to when the patient is lying down.
¹ Currently 3D imaging on the Multitom Rax is only possible with 3D-capable post-processing software.
The statements by Siemens' Healthineers customers described herein are based on results that were achieved in the customer's unique setting. Since there is no "typical" hospital and many variables exist (e.g., hospital size, case mix, level of IT adoption) there can be no guarantee that other customers will achieve the same results.
---
Contact for journalists
Jeff Bell
Siemens Healthineers
Phone: 610-448-6348; E-mail: jeffrey.t.bell@siemens.com
Follow us on Twitter: www.twitter.com/SiemensHealth
Siemens AG (Berlin and Munich) is a global technology powerhouse that has stood for engineering excellence, innovation, quality, reliability and internationality for more than 165 years. The company is active in more than 200 countries, focusing on the areas of electrification, automation and digitalization. One of the world's largest producers of energy-efficient, resource-saving technologies, Siemens is No. 1 in offshore wind turbine construction, a leading supplier of gas and steam turbines for power generation, a major provider of power transmission solutions and a pioneer in infrastructure solutions as well as automation, drive and software solutions for industry. The company is also a leading provider of medical imaging equipment – such as computed tomography and magnetic resonance imaging systems – and a leader in laboratory diagnostics as well as clinical IT. In fiscal 2015, which ended on September 30, 2015, Siemens generated revenue of €75.6 billion and net income of €7.4 billion. At the end of September 2015, the company had around 348,000 employees worldwide. Further information is available on the Internet at www.siemens.com.
Meet the Author
Cassling strengthens community healthcare through customer-centric imaging and therapeutic technology, services and solutions. From critical access hospitals and diagnostic imaging centers to large health systems and IDNs, Cassling is committed to helping healthcare organizations improve access and outcomes, create efficiencies and lower costs.