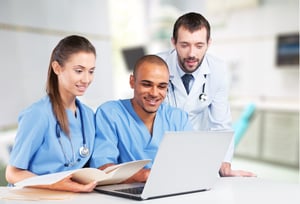 (Jul. 19, 2018) —
Siemens Healthineers is debuting the FlexForce Coach performance consulting and FlexForce Tech staffing solutions, which are designed to educate and improve the workflow of radiologic and laboratory technologists. FlexForce Coach and FlexForce Tech can help a health care organization transform its delivery of care and improve the patient experience.
With FlexForce Coach, a Siemens Healthineers performance consultant works with the health care organization to standardize and optimize the care protocols of its imaging systems across multiple technologist work shifts and geographic locations, while also ensuring that those technologists are fully trained on – and confident with – the equipment and its advanced applications. The goal of FlexForce Coach is for technologists at the organization's main campus and satellite locations to follow the same set of operational protocols when creating images for radiologists, thereby optimizing clinical outcomes for patients and operational outcomes for the organization.

The FlexForce Tech staffing solution addresses workforce shortages and helps to drive increased organizational efficiency by providing licensed, fully vetted, vendor-trained radiologic and laboratory technologists. These technologists have access to ongoing clinical and professional training from Siemens Healthineers to maintain industry relevance.
"Siemens Healthineers proudly introduces FlexForce Coach and FlexForce Tech as part of its expanding portfolio of education and workflow solutions," said Nanci Wozniak, Vice President of Education and Workforce Solutions at Siemens Healthineers. "FlexForce Coach enables customers to get the most out of their imaging systems by helping to increase system performance and drive outcomes-based improvements across the organization. FlexForce Tech delivers best-in-class radiologic and laboratory technologists who are armed with the skills and training necessary to hit the ground running, avoiding prolonged ramp-up periods and better ensuring their ability to meet performance expectations."

FlexForce Coach and FlexForce Tech contracts range from three months to several years.
For more information on FlexForce Coach and FlexForce Tech, please see siemens-healthineers.us/flexforcecoach and siemens-healthineers.us/flexforcetech
View original article on Siemens Healthineers website.
---
Contact for Journalists

Theresa Gombar
Siemens Healthineers
Phone: (610) 448-6370; Email: Theresa.Gombar@siemens-healthineers.com
Siemens Healthineers is the separately managed healthcare business of Siemens AG enabling healthcare providers worldwide to achieve better outcomes at lower costs by empowering them on their journey towards expanding precision medicine, transforming care delivery, improving patient experience and digitalizing healthcare. A leader in medical technology, Siemens Healthineers is constantly innovating its portfolio of products and services in its core areas of diagnostic and therapeutic imaging and in laboratory diagnostics and molecular medicine. Siemens Healthineers is also actively developing its digital health services and enterprise services.

In fiscal 2017, which ended on September 30, 2017, Siemens Healthineers generated revenue of €13.8 billion and profit of €2.5 billion and has about 48,000 employees worldwide. Further information is available at www.siemens.com/healthineers.
Meet the Author
Cassling strengthens community healthcare through customer-centric imaging and therapeutic technology, services and solutions. From critical access hospitals and diagnostic imaging centers to large health systems and IDNs, Cassling is committed to helping healthcare organizations improve access and outcomes, create efficiencies and lower costs.