Two disciplines. One workflow.
The 2-in-1 LUMINOS Lotus Max from Siemens Healthineers is a remote-controlled fluoroscopy and radiography system that gives you and your patients high-quality imaging results and lets you experience the value of true integration in all aspects1 .
Experience seamless workflows for fluoroscopy and radiography examinations.
Get the clinical versatility to cover a wide range of examinations and diverse patient types, from pediatrics and bariatrics to geriatrics.
Achieve low dose imaging without compromising clinical outcomes.
The result? Perfect workflows across two disciplines in one remote-controlled fluoroscopy system.
Get in the flow with LUMINOS Lotus Max
Experience ideal workflows, rich selection of clinical examinations and patient types, plus comprehensive dose management.1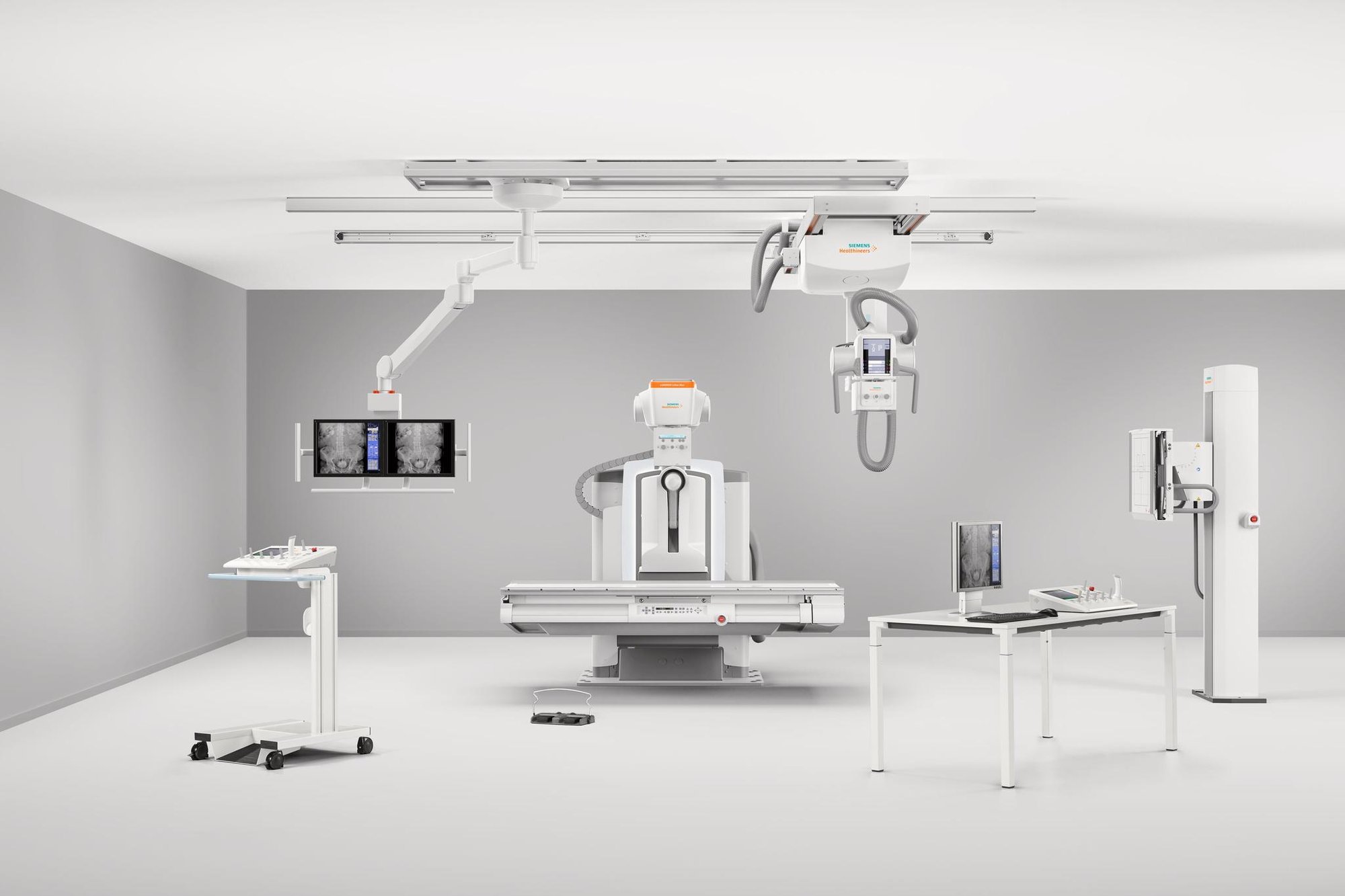 System operation
Benefit from seamless integration of two disciplines (fluoroscopy and radiography) in one system and user-friendly system operation via SMART solutions.
Achieve your ideal workflow
Experience operational excellence with a truly integrated system. One single control element gives you the freedom to be where you need to be — from the control room to the examination room. One imaging system, one pipeline, one generator, and one wireless footswitch 2 mean there's no need for delays or interruptions.
SMART solutions for flawless imaging
Benefit from intuitive, friendly, and efficient SMART solutions that enable faster, easier and more consistent imaging.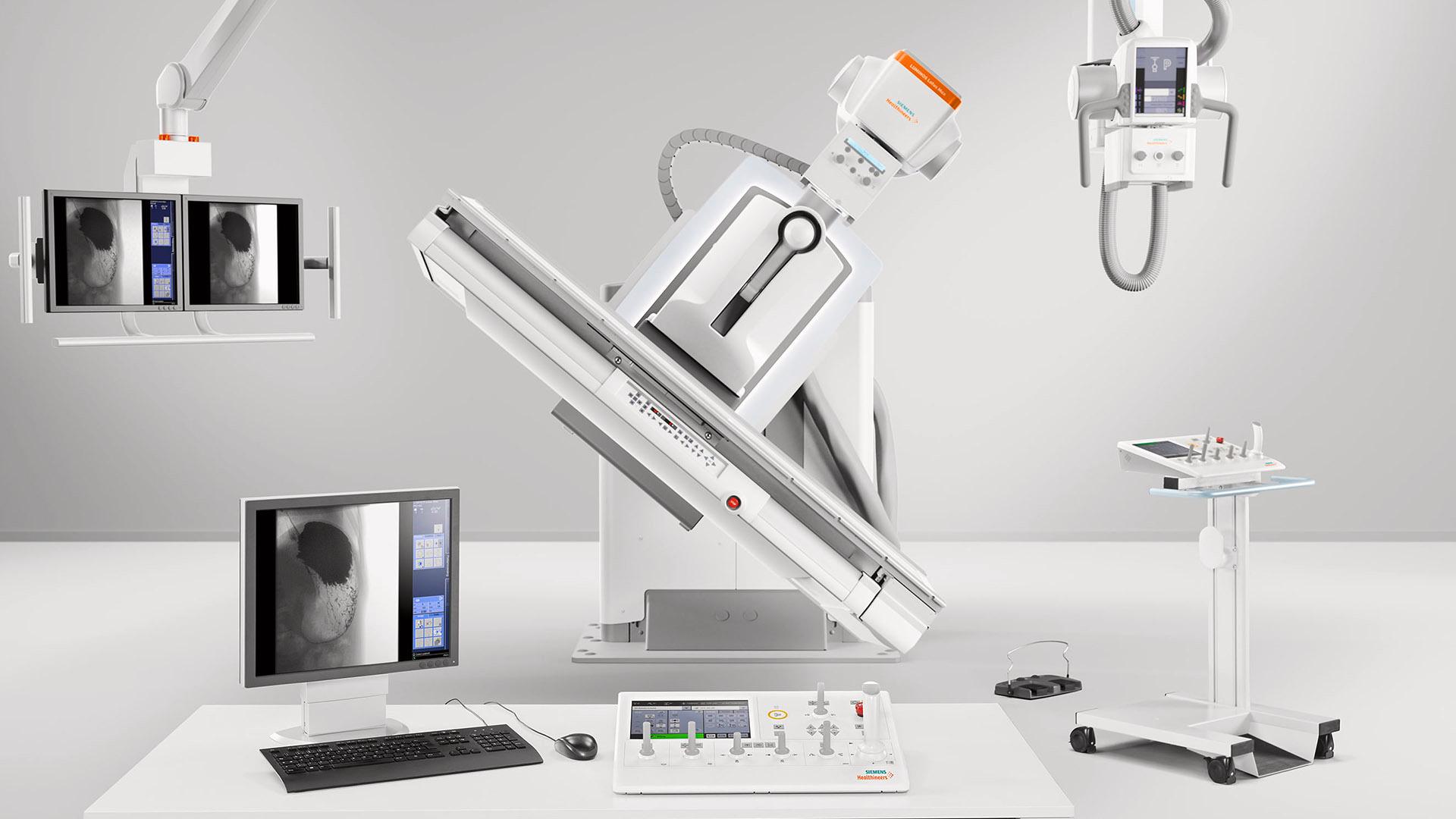 Clinical versatility
Redefine care delivery. Just one system covers a wide range of examinations and diverse patient types, including pediatrics, geriatrics and bariatrics.
Safe and comfortable imaging for all patient types
All patient types can be examined with one system, including special patient groups. Safe and comfortable pediatric imaging is enabled through dose-optimized organ programs, a low minimum table height of 48 cm and a MAX mini detector 2 . Bariatric patients can remain relaxed as well with a 300 kg maximum table capacity and an 80 cm table width. And safety collision bumpers and SmartTouch ensure a safe examination for those who need safety the most: less mobile geriatric patients.
Gain full clinical versatility in a wide range of examinations
Cover a full fluoroscopy clinical mix without any limitations — the LUMINOS Lotus Max offers all necessary fluoroscopic functionalities. Conduct digital subtraction angiography 2 and Endoscopic retrograde cholangiopancreatography exams with the help of SMART solutions and semitransparent filters 2 . Provide the full scope of radiography examinations, including long-leg 2 and full-spine 2 exams, without the need to reposition a patient.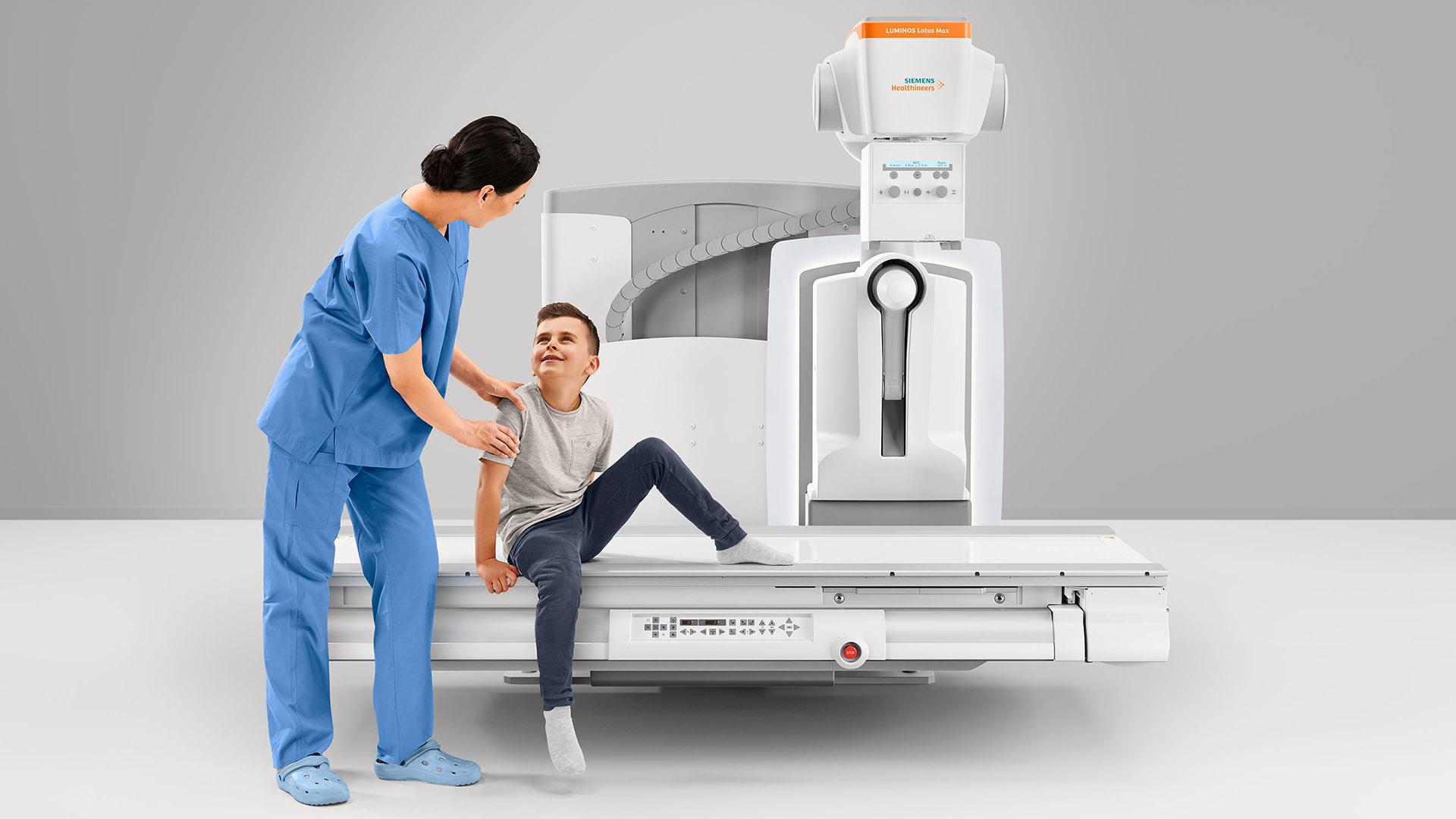 Dose management
Experience comprehensive dose management with the proven CARE program, unique image processing engine DiamondView MAX, and pre-defined organ programs that reduce dose without compromising clinical outcomes, all for improved staff and patient experience.
Get CARE for low dose
The Basic CARE package reduces the radiation dose for patients and staff by using dose-free applications such as dose-free patient repositioning and dose-free image collimation. The Enhanced CARE package2 lets you focus on your patients by ensuring seamless workflows, allowing you to avoid additional radiation dose thanks to features such as Digital Zoom2 and Snapshot Mode2 .
Low dose and brilliant images with DiamondView MAX
DiamondView MAX is Siemens Healthineers's unique image processing engine that delivers, for both static and dynamic images, exceptionally sharp quality with enhanced contrast, a high level of detail visibility, and optimized noise reduction — all at a low dose for adult and pediatric patients alike. If a copper filter is used or gridless imaging is performed, DiamondView MAX high delivers image quality at low dose for both static and dynamic images.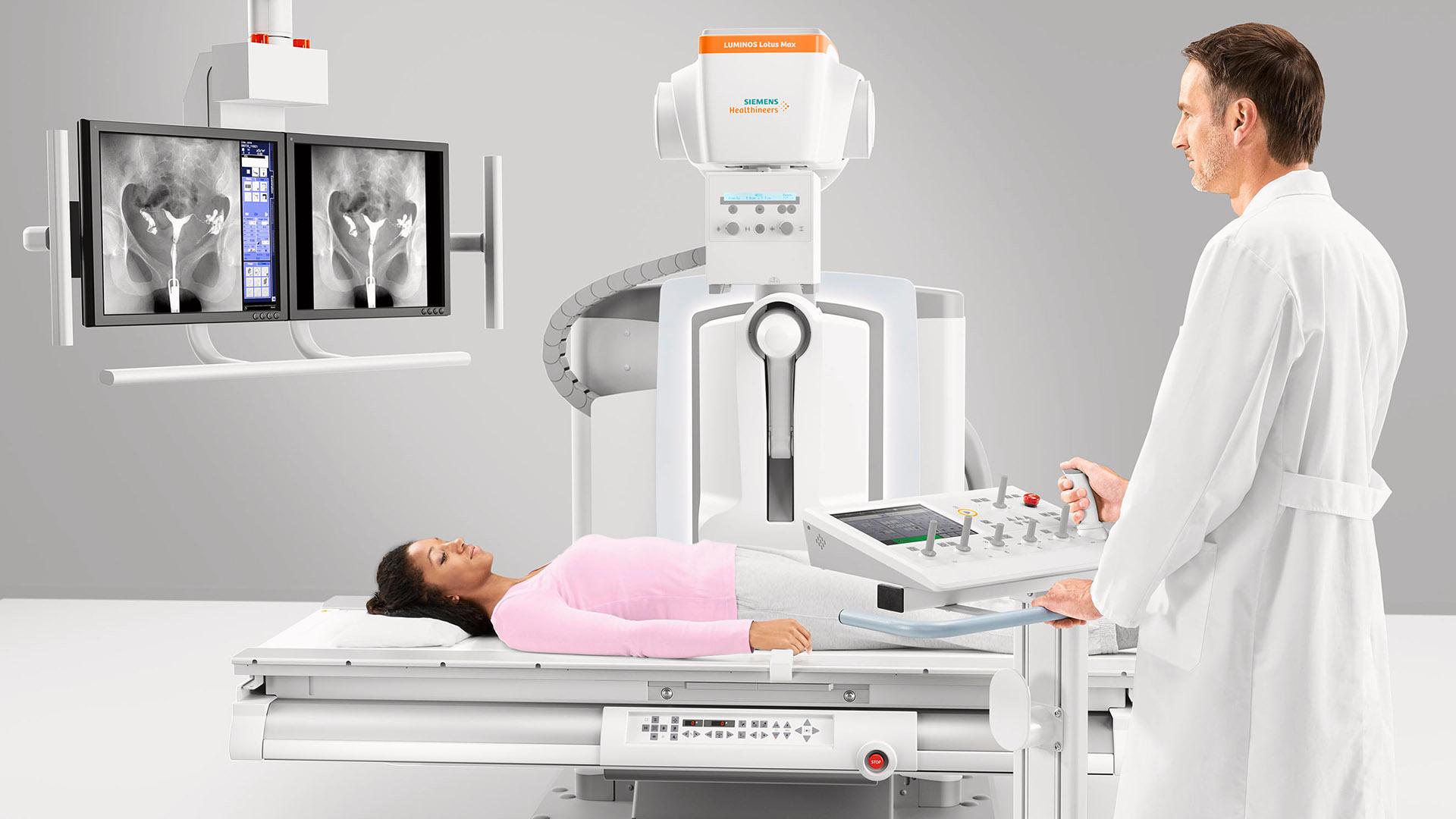 Support by Design
Built with usability in mind, the LUMINOS Lotus Max is designed to support your needs, including fleet- level benefits and a high level of cybersecurity.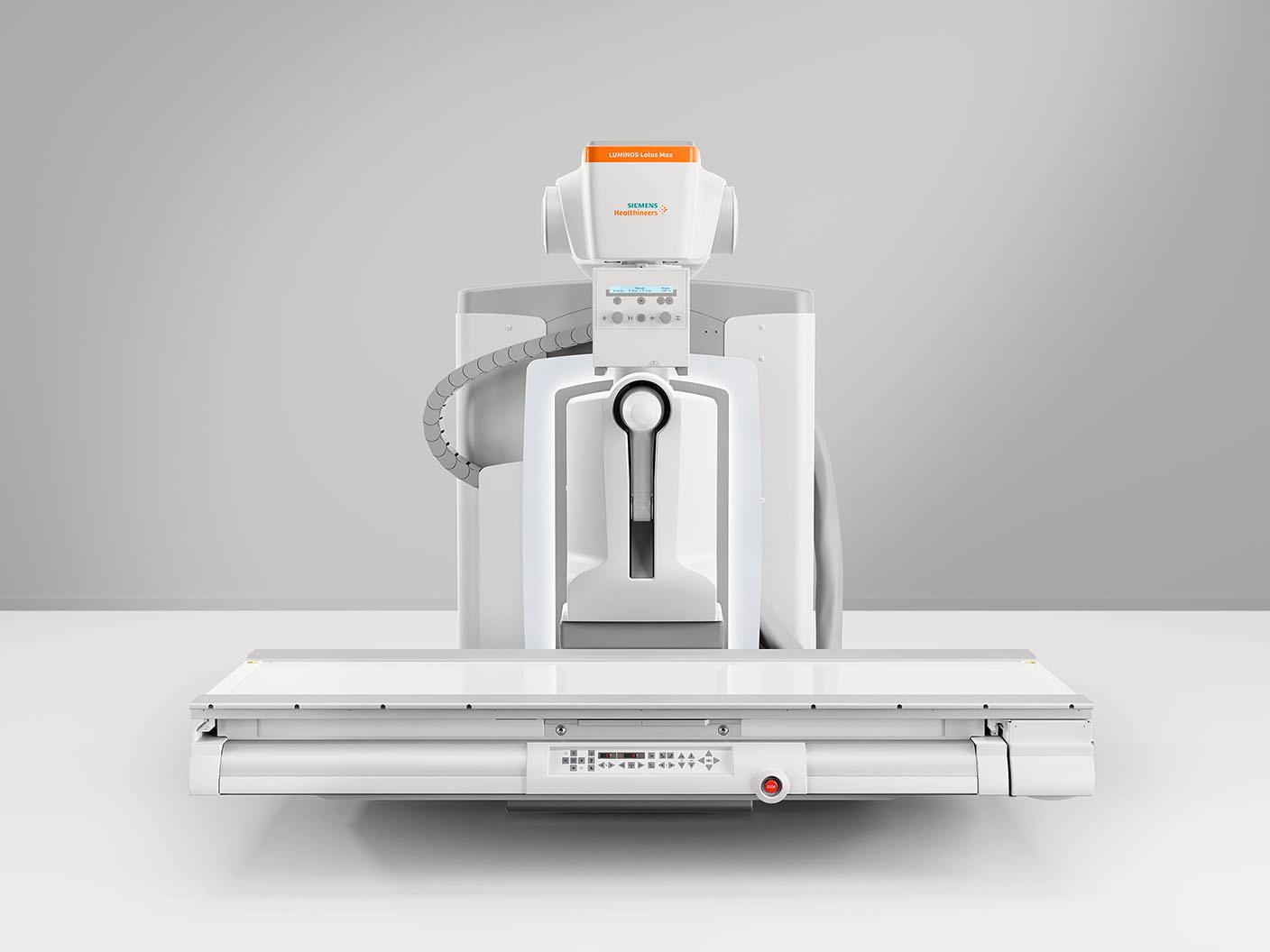 The MAX effect — where gains multiply
High-performance MAX systems like the LUMINOS Lotus Max all share the same usability concept and imaging technology over the broadest range of clinical applications on the market. Experience the MAX effect when you combine two or more MAX systems: with unique standardization across your fleet, you can save both time and costs and ultimately boost the satisfaction levels of you and your team.
Defend against cyberattacks.
The LUMINOS Lotus Max system features a comprehensive update of cybersecurity options to keep your medical equipment protected throughout its entire lifecycle. The system is delivered with standard cybersecurity offerings and, if necessary, you can add advanced security solutions 2 for an even higher level of security.
All offerings comply with the strictest DoD regulations.
GET IN TOUCH
Contact us today to learn more about how we can help you solve your most pressing challenges.
1 All aspects in the scope of the respective system configuration.
2 Option