See a whole new world of precision.
The Biograph Vision™ 1 from Siemens Healthineers is the next-generation of PET/CT, empowering you to see a whole new world of precision.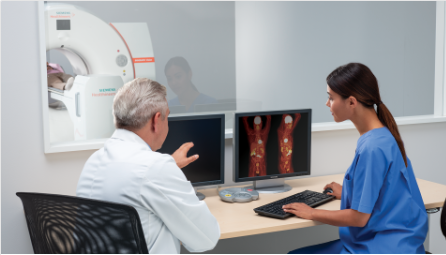 Reveal the bigger picture
The Biograph Vision is specifically designed to break through the limits of spatial and temporal resolution. With 3.2-mm crystals, the Biograph Vision delivers high spatial resolution to reduce the impact of partial volume effect (PVE). Along with higher spatial resolution, a faster time of flight makes it easier to see small lesions.2 This helps you quantify more accurately and more confidently understand disease progression.
Maximize efficiency
Optimize your clinical operations with high-quality images and efficient workflow. With the market's highest effective sensitivity at 100 cps/kBq3 and the fastest time of flight in the industry,4 the Biograph Vision can reduce scan time and injected dose, boost productivity and improve image quality. Combined with FlowMotion, you can potentially reduce unnecessary exposure to CT radiation, provide greater patient comfort and decrease examination times.2
Understand disease progression
Reduce unwarranted variations to maximize patient care. The zero-differential-deflection patient bed of the Biograph Vision provides perfect registration between the CT and PET fields of view, ensuring accurate attenuation correction for more precise quantification. QualityGuard5 automates daily and weekly quality control without a radioactive source to help produce consistent and accurate results. And FlowMotion Multiparametric PET Suite makes it easier and faster to perform parametric imaging in daily clinical routine. It is completely automated and integrated into the PET/CT workflow, leading to more reproducible images.
Experience the bigger picture with the Biograph Vision.
Technical Details
Transcend digital with the Optiso UDR detector
Optiso UDR's proprietary 3.2-mm LSO crystals move silicon photomultiplier (SiPM) technology beyond digital to a new level of precision to help you detect small lesions, devise accurate treatment strategies\, and achieve optimal performance in a wide range of count rates.
| | |
| --- | --- |
| Gantry | |
| Bore diameter | 78 cm |
| Tunnel length | 136 cm |
| Table capacity | 227 kg (500 lb) |
| CT | |
| Generator power | 80 kW (100 kW optional) |
| Rotation times | 0.33, 0.305 , 0.28 5 s |
| Tube voltages | 70, 80, 100, 120, 140 kV |
| Iterative reconstruction | SAFIRE 5 |
| Metal artifact reduction | iMAR 5 |
| Slices | 64, 128 |
| PET | |
| Axial field of view | 26.3 cm |
| Crystal size | 3.2 x 3.2 x 20 mm |
| SiPM coverage of crystal array | 100% |
| Effective sensitivity | 100 cps/kBq |
| Effective NEC | 1870 kcps |
| Time of flight performance | 214 ps |
GET IN TOUCH
Contact us today to learn more about how we can help you solve your most pressing challenges.
1 Biograph Vision is not commercially available in all countries. Due to regulatory reasons, its future availability cannot be guaranteed. Please contact your local Siemens organization for further details.
2 Compared to current state-of-the-art technologies. Data on file with Siemens Healthineers.
3 Based on internal measurements available at time of publication. Data on file with Siemens Healthineers.
4 Based on competitive literature available at time of publication. Data on file with Siemens Healthineers.
5 Optional.