More CT for your SPECT/CT
The Symbia Intevo Bold™ from Siemens Healthineers combines high-performance CT with advanced SPECT imaging to accommodate even the most challenging situations. For those who want more from their system, Symbia Intevo Bold offers the flexibility to take your capabilities even further with a range of unique and powerful SPECT and CT options.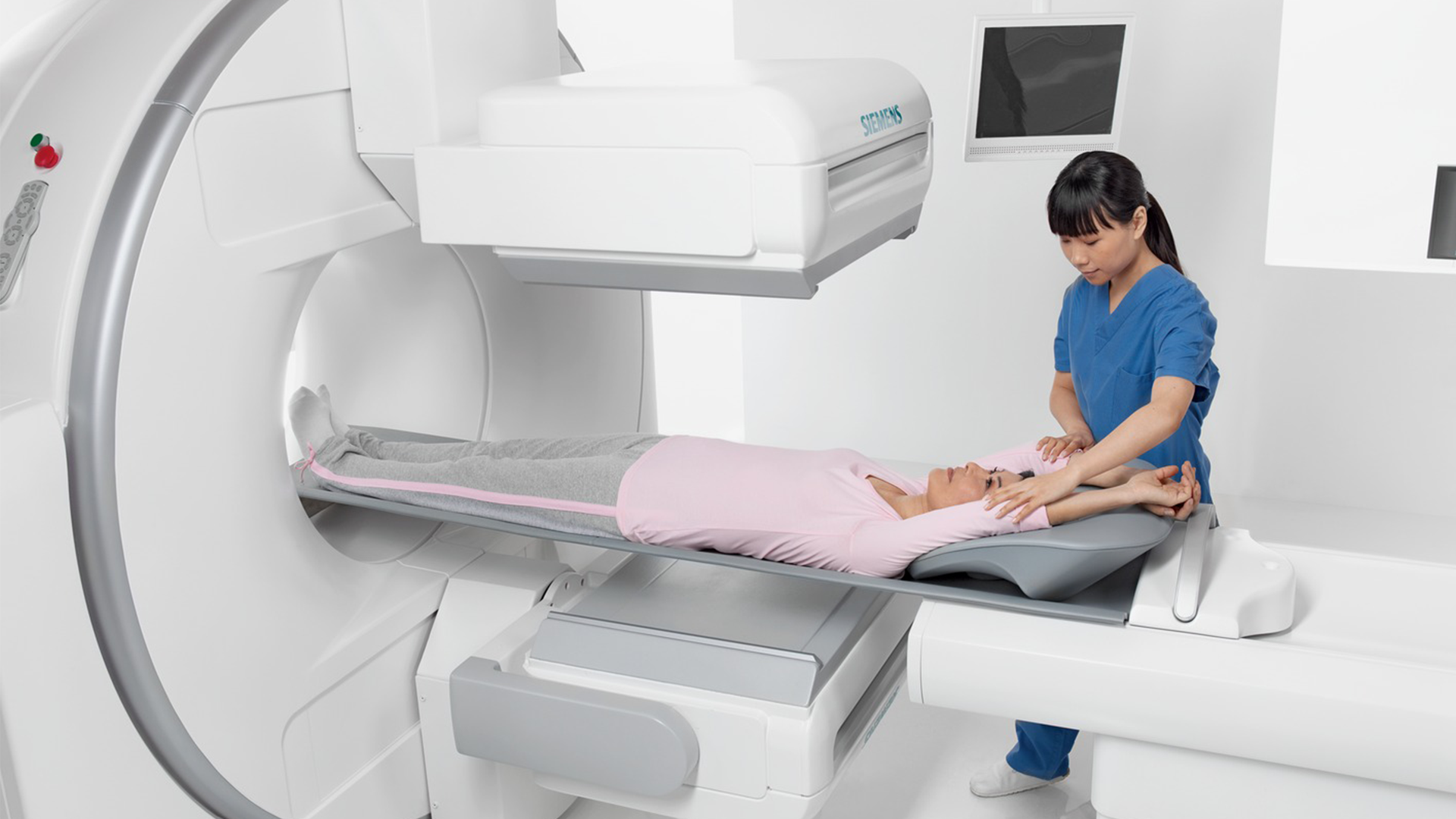 More clarity for more patients
SPECT/CT bone imaging has been re-engineered to use CT as the frame of reference during image reconstruction. The higher image resolution achieved from xSPECT Bone™ technology enables you to better localize and characterize disease for a more accurate representation of each patient's condition.
As patient populations continue to age, the growing presence of metal implants and pacemakers adds complexity to imaging. iMAR, a CT metal-artifact-reduction technique, helps improve both CT and SPECT attenuation correction in these cases. 1 xSPECT Bone and iMAR can easily be combined for even greater image clarity.
Dose reduction without compromise
Striking the right balance between image quality and radiation dose can be a challenge, particularly given today's diverse patient population. SAFIRE CT image reconstruction software and hardware lets you accomplish this quickly and easily. 2
The right care at the right time
Adding reliable quantification to your clinical routine can facilitate quicker consensus and generate greater consistency across your organization. xSPECT Quant™ and Broad Quantification™ technologies generate highly accurate and reliable measurements to support early diagnoses and optimal therapeutic strategies for a wide array of clinical indications.
Technical Details
Gantry
Tunnel opening
70 cm
Tunnel length
89 cm
CT
Generator power
50 kW
Rotation time
up to 0.5 s
Tube voltage
80, 110, 130 kv
Iterative reconstruction
SAFIRE3, 4
Metal artifact reduction
iMAR 2, 4
Slices
16/321
SPECT
Crystal thickness
3/8" or 5/8"
Detector dimension (FOV)
53.3 x 38.7 cm
Energy range
35-588 keV
System Sensitivity (LEHR at 10 cm)
202 cpm/μCi
Acquisition modes
Static, dynamic, gated, SPECT, gated SPECT,
dynamic SPECT, whole-body, whole-body SPECT,
SPECT/CT, xSPECT™
Quantitative accuracy
≤ 5% 4, 5
GET IN TOUCH
Contact us today to learn more about how we can help you solve your most pressing challenges.
1 The amount of metal artifact reduction and corresponding improvement in image quality depends on a number of factors including: composition and size of the metal object, patient size, anatomical location, and clinical practice. It is recommended to perform reconstructions with iMAR enabled in addition to conventional reconstruction without iMAR.
2 In clinical practice, the use of SAFIRE may reduce CT patient dose depending on the clinical task, patient size, anatomical location, and clinical practice. A consultation with a radiologist and physicist should be made to determine the appropriate dose to obtain diagnostic image quality for the particular clinical task.