Confidence to deliver
The MAGNETOM Lumina from Siemens Healthineers is a 3T Open Bore MRI system that gives you full confidence to deliver the productivity, reproducibility and patient satisfaction you demand. The MAGNETOM Lumina combines unique BioMatrix technology, the syngo MR XA software platform and exclusive Turbo Suite acceleration packages to fundamentally transform care delivery.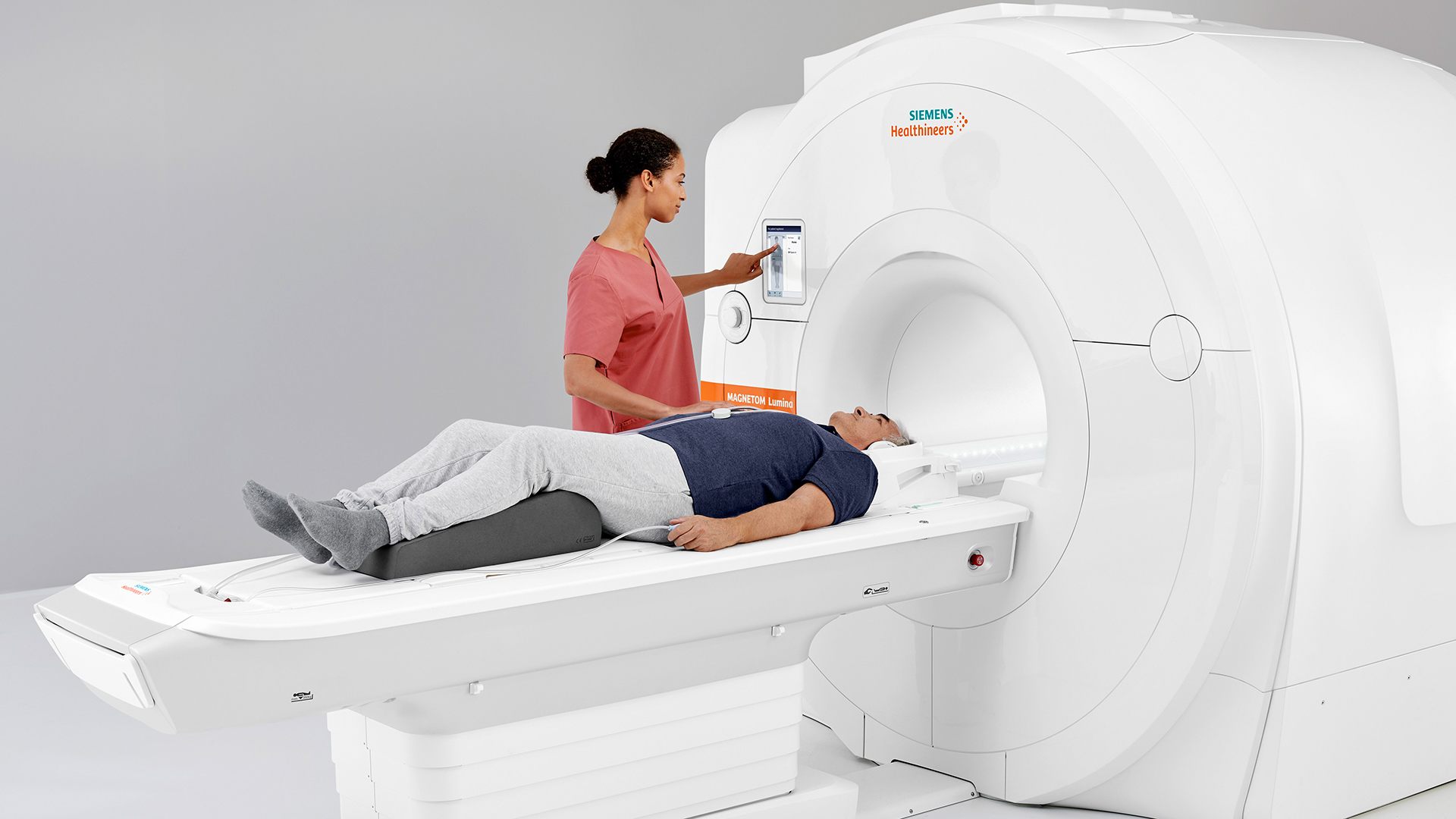 Deliver productivity gains
Productivity is written into the DNA of the MAGNETOM Lumina. Deep Resolve is a groundbreaking AI-powered image reconstruction application that takes advantage of convolutional neural networks to accelerate MR scans, making them faster than ever before. Together with Turbo Suite and its own acceleration techniques, the MAGNETOM Lumina can offer overall patient slot times and offer remarkable innovations to boost workflow efficiency. Powered by GO technologies and supported by Deep Resolve and BioMatrix Technology, you can reduce numerous time-consuming workflow steps via automation, making important gains in productivity.
Deliver reproducible results
The MAGNETOM Lumina is the key to a superior standard of consistent diagnostic results across your organization. With the unique myExam Assist for ten body regions3 and innovative BioMatrix Tuners, you can consistently achieve highly standardized and reproducible scan results. Strive for consistency and reproducibility across your entire MR system fleet with the unified syngo MR XA software platform and the game-changing syngo Virtual Cockpit2. With the MAGNETOM Lumina, you can realize your full potential as a preferred MRI provider.
Deliver patient satisfaction
Put patients at greater ease. With Innovision, a revolutionary in-bore infotainment and noise cancellation solution, patient anxiety is replaced by confidence and comfort. And with a unique patient-centered coil portfolio powered by BioMatrix and Tim 4G technology, preparation and scanning are considerably simplified and shortened, helping you deliver unmatched patient satisfaction.
Technical Details
| | |
| --- | --- |
| Magnet System : | |
| Field strength | 3 Tesla |
| Bore size | 70 cm Open Bore design |
| Helium consumption | Zero Helium boil-off technology |
| Gradient strength | XK gradients 36/200 simultaneously [1.7 MVA] |
| RF technology : | |
| Maximum number of channels4 | 180 |
| Number of independent receiver channels that can be used simultaneously in one single scan and in one single FoV, each generating an independent partial image | 32 |
| Power consumption | Eco-Power technology |
| Siting and Installation : | |
| System length from cover to cover | 1.86 m |
| System weight (in operation) | 8.1 tons |
| Minimum room size5 | 31 m² |
GET IN TOUCH
Contact us today to learn more about how we can help you solve your most pressing challenges.
1 Data on file.
2 syngo Virtual Cockpit is not commercially available yet in all countries. Its future availability cannot be guaranteed.
3 This term will only be used starting with SW version syngo MR XA50A which is currently under development. It is not commercially available yet. Its future availability cannot be ensured."
4 Channels (coil elements) that can be connected simultaneously.
5 Minimum total space requirements for magnet, electronics, and console room.
6 Still under development for MAGNETOM Lumina and not yet commercially available. Its future availability cannot be guaranteed.
7 Achieved on MAGNETOM Lumina with Tx/Rx Knee 18.