Embrace Human Nature at 1.5T
The MAGNETOM Sola from Siemens Healthineers is the first 1.5T MRI system with BioMatrix Technology. It automatically adjusts to each patient to overcome unwarranted variations in MRI examinations. The outcome: fewer rescans, predictable scheduling and consistent, high-quality personalized exams with increased productivity.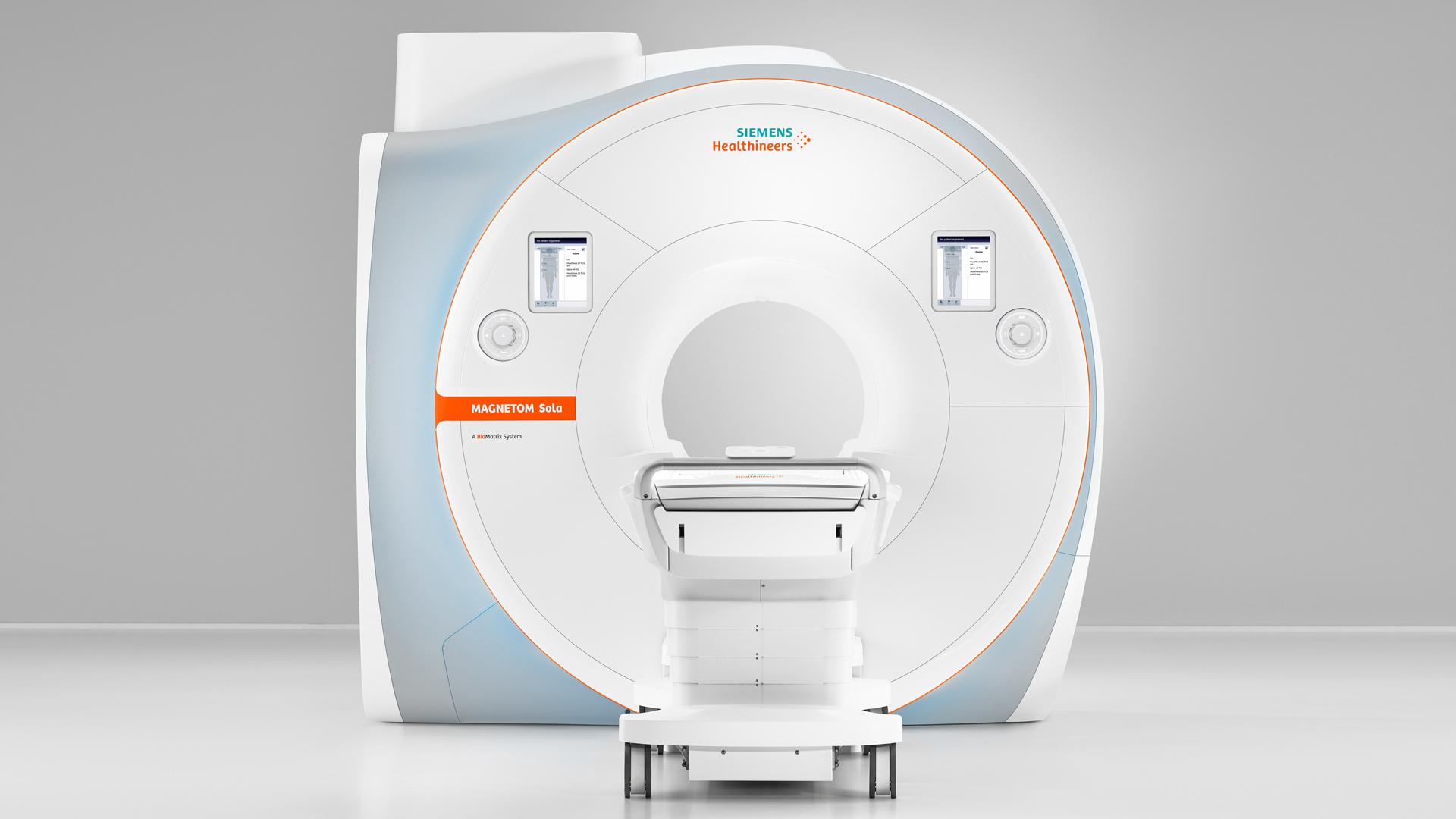 Embrace consistency at 1.5T with BioMatrix technology
Being at the core of clinical routine, a 1.5T MR system must provide fast and reliable results for every patient, every time. MAGNETOM Sola achieves a new level of consistency with
BioMatrix technology
and meets throughput demands with high efficiency and higher diagnostic confidence.
Embrace efficiency at 1.5T with GO technologies and Simultaneous Multi-Slice
For routine MR examinations, reimbursements are falling and referrals are increasing due to changing demographics. MAGNETOM Sola with syngo MR XA11 embraces efficiency at 1.5T and makes push-button examinations a clinical reality. GO technologies powered by artificial intelligence help you accelerate your entire workflow from patient positioning to result distribution.
Enhance your efficiency to optimize clinical operations with new speed technology Simultaneous Multi-Slice TSE.
Simultaneous Multi-Slice
, which was first introduced for DWI in brain, body, breast, and pelvis, is now also available for MSK imaging with TSE. With Simultaneous Multi-Slice TSE, you can now reduce scan times by up to 46%1 for an entire MSK exam.
Embrace new clinical capabilities at 1.5T with Inline Compressed Sensing
With MAGNETOM Sola, MRI can be provided to patients who previously had to be excluded because of their medical condition or due to the exam's complexity. Free-breathing Compressed Sensing applications help improve the patient experience while extending your range of services. Simplified procedures with automated workflows can help you grow clinical fields such as whole-body MRI.
Technical Details
Magnet System :
Field strength
1.5 Tesla
Bore size
70 cm Open Bore design
Helium consumption
Zero Helium boil-off technology
Gradient strength
XQ gradients 45/200 simultaneously [2.03 MVA]
XJ gradients 33/125 simultaneously [1.25 MVA]
RF technology :
Maximum number of channels2
204
Number of independent receiver channels that can be used simultaneously in one single scan and in one single FoV, each generating an independent partial image
32, 48, 64
Power consumption
Eco-Power technology
Siting and Installation :
System length
157 cm cover to cover
System weight (in operation)
4.2 tons
Minimum room size3
28 m2 / 302 sq ft
GET IN TOUCH
Contact us today to learn more about how we can help you solve your most pressing challenges.
1 Data on file.
2 Channels (coil elements) that can be connected simultaneously.
3 Minimum total space requirement for magnet, electronics, and console room.