Experience the Power of Portability
Open up your OR with the Smart-C Portable C-arm.
The Smart-C provides today's clinicians with flexible options that fit their workspace and imaging needs. The Turner Imaging Systems Smart-C is a mini C-arm X-ray system designed to provide physicians with real-time general fluoroscopic visualization of adult and pediatric patients: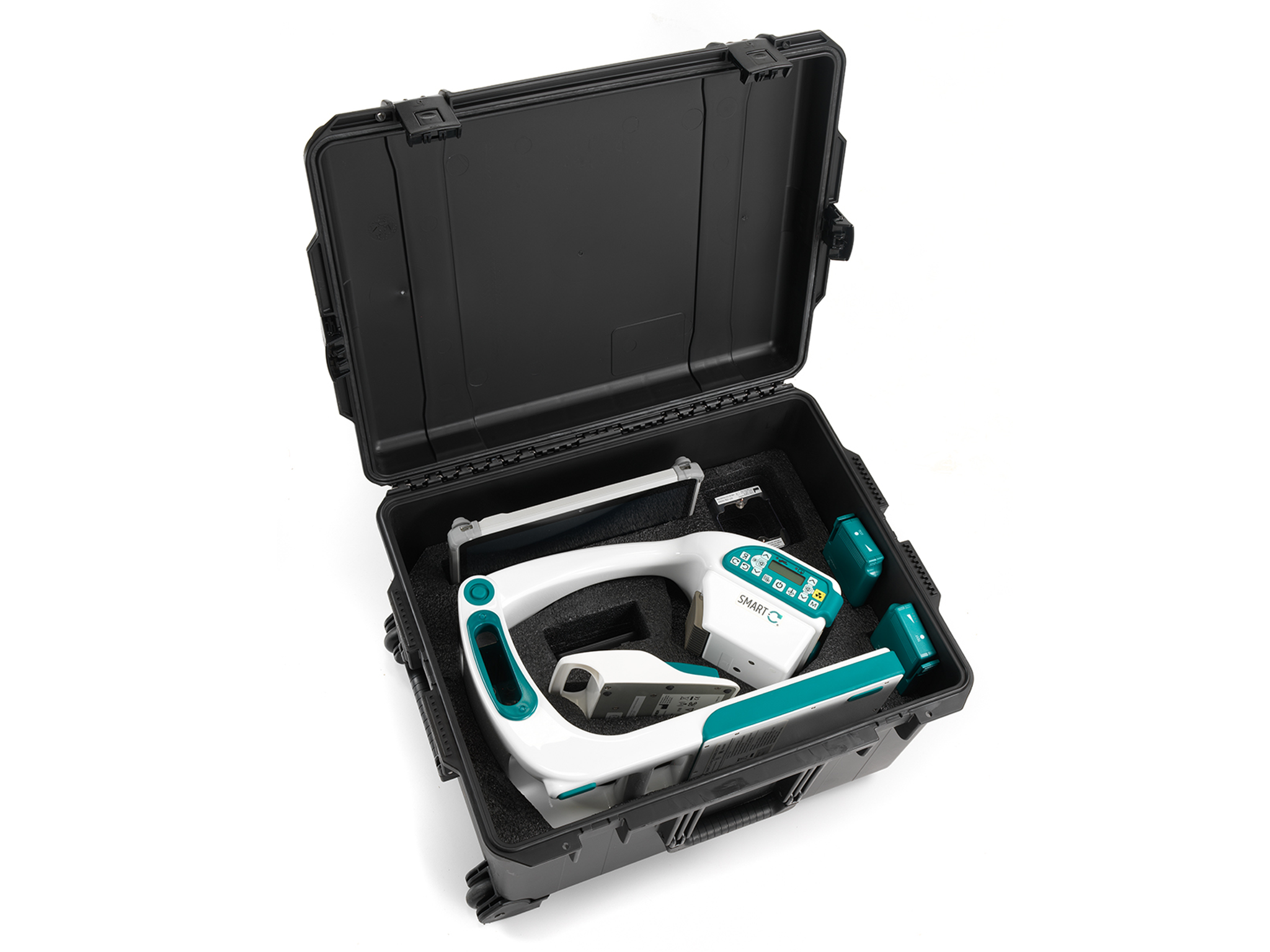 Lightweight, cordless, battery-powered system for portability
Sophisticated imaging algorithm for improved visualization
Wireless, high-definition fluoroscopic imaging for radiological use
Independent articulating arm for optimal positioning
Ability to conserve space with a compact footprint
Collapsible design for transportation and storage
Independent monitor cart for clear field-of-view positioning
Detaches from articulating arm for independent tabletop use
Custom drapes available for all surgical applications
Packages
Multiple packages available depending on your needs:
Surgical Suite Package
Get a Mini C-arm with separate components that increase functionality in today's OR. Surgeons have unique flexibility to place the monitor and support stand anywhere. Components fit together easily so the system is easy to move, with a small storage footprint.
Components: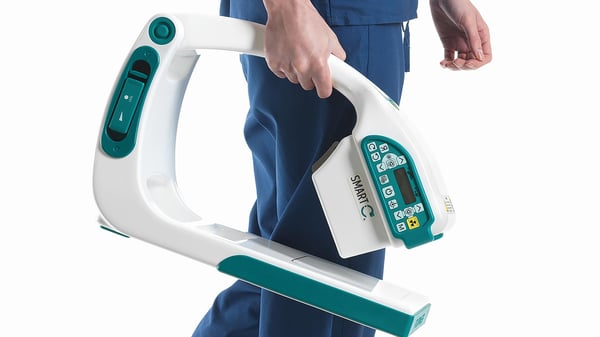 Smart-C system
Smart-C monitor cart
Smart-C support stand*
Support stand drapes (25)
C-arm drapes (25)
*available with tablet mounting arm
Positioning Package
Get full capability with a small footprint. Connecting the Tablet Mounting Arm to the Support Stand makes for a compact system that accommodates smaller clinical spaces. Close proximity of the tables allows greater tableside control and visualization of images.
Components:
Smart-C system
Smart-C support stand with tablet mounting arm
Support stand drapes (25)
C-arm drapes (25)
Visualization Package
This package makes sense when the Mini C-arm is routinely used tabletop. The independent Monitor Cart provides a docking station for the tablet and a large field of view for image visualization. It's battery powered for flexible monitor placement.
Components:
Smart-C system
Smart-C monitor cart
C-arm drapes (25)
Portability Package
This package delivers complete portability. The system is battery-operated and connects wirelessly to the tablet and foot pedal. The collapsible design of the Mini C-arm allows easy transport between offices, field use and storage. The durable transport case is suited for airline travel and shipping.
Components:
Smart-C system
Transport case
C-arm drapes (25)
Orthopedics
Immediate and accurate diagnosis of injuries can be a difference-maker in recovery. The Smart-C arm provides you with a portable and accurate imaging tool for diagnosis. The mini C-arm delivers the full functionality of full-sized solutions. Its strength lies in its size and mobility, so you can quickly diagnose an injury:
Privately image fractures, sprains, separations and dislocations
Image foot and ankle issues without removing the shoe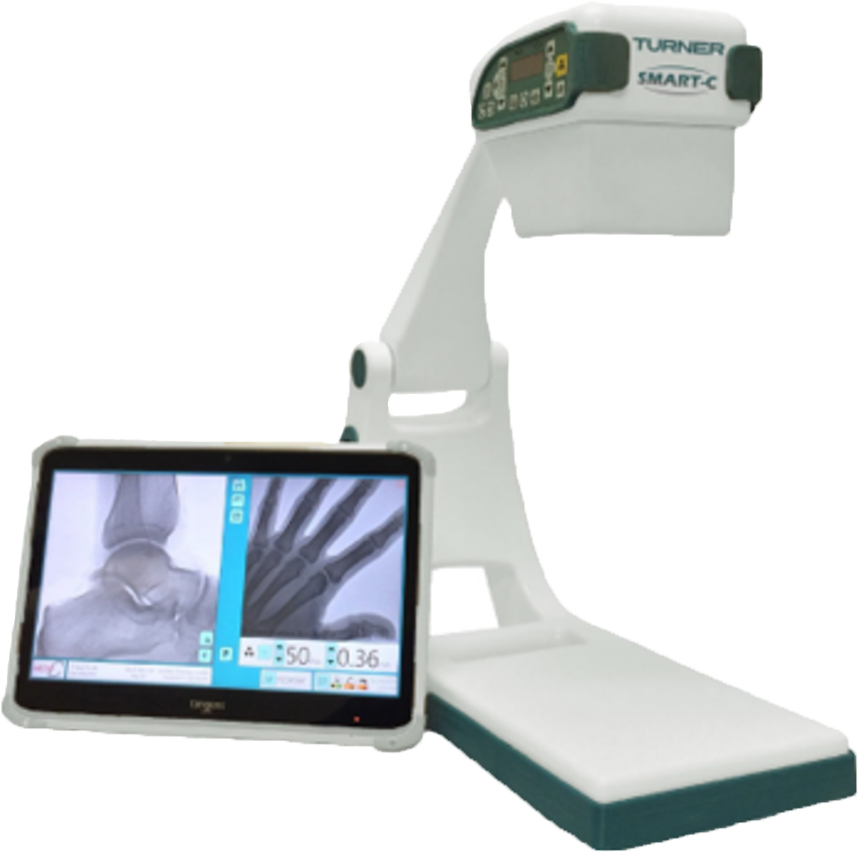 Technical Details
Reduce Downtime with the Smart-C
C-arms are sophisticated pieces of equipment that contain both complex assemblies and components. With the Smart-C, there is no need to wait for an onsite technician in the event a repair is required.
| | |
| --- | --- |
| Smart-C mini C-arm : | |
| Uptime guarantee | 99% |
| System weight | < 50 lbs. |
| Repair location | At the factory |
| System downtime | < 24 hours |
| Travel expenses | No |
| Other mini C-arms : | |
| Uptime guarantee | N/A |
| System weight | > 400 lbs. |
| Repair location | On-site |
| System downtime | Days - weeks |
| Travel expenses | Yes |
GET IN TOUCH
Contact us today to learn more about how we can help you solve your most pressing challenges.