Access Redefined
The ACUSON Freestyle Series from Siemens Healthineers is the world's first wireless ultrasound solution, redefining ultrasound access in the interventional suite and at the point of care. The system offers clear visualization, cross-modality synchronization, scalable configurations to promote automated workflows, and faster access to the procedure using cable-free and wireless technologies.
Discover the freedom of the ACUSON Freestyle Series
Get free of movement restrictions and limiting controls. Reach your full potential in patient care by addressing your true clinical challenges.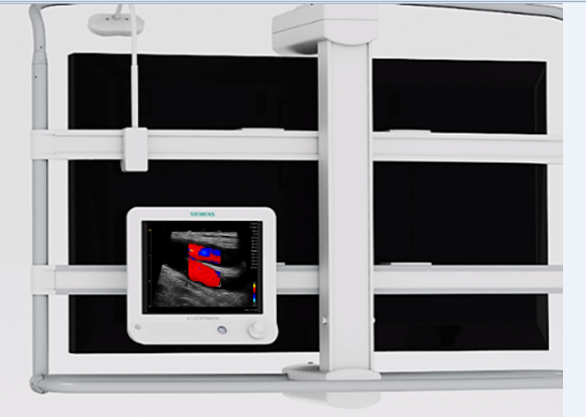 Pixelformer Image Processing Architecture
The ACUSON Freestyle system uses computational focusing to bring each individual pixel into focus for a uniformly sharp view of the entire image — without the need to manually set or adjust focal zones. This imaging architecture helps eliminate focal banding and decrease noise throughout the image, resulting in excellent detail resolution and image clarity for visualizing targeted anatomy.
Enhanced Needle Visualization
The ACUSON Freestyle system delivers exceptional needle visibility to empower procedural guidance. It employs a sophisticated synthetic focusing technique designed to sharpen the display of needles without reducing the frame rate. Using diverse spatial compounding and steering, this technology helps deliver enhanced confidence during ultrasound-guided interventions.
Anesthesiology
The ACUSON Freestyle system lets you perform ultrasound-guided nerve blocks and dynamic imaging, enhancing efficiency and effectiveness across your regional anesthesia procedures.
Interventional Radiology
With cable-free mobility and tools such as enhanced needle visualization, the ACUSON Freestyle system provides a pathway to vascular access for line placements and procedural guidance at the point of care.
MSK
Designed to bring maximized, high-quality visualization to MSK and pain management, the ACUSON Freestyle system promotes precise, needle-guided injections and quick diagnosis of soft tissue structures.
Transducer Technology
The ACUSON Freestyle is the world's first ultrasound system with wireless transducers. Using proprietary ultra-wideband radio technology, the transducers can send images back to the system at a high sustainable data rate while maintaining excellent image quality and high frame rates. The freedom of wireless transducers provides improved flexibility and ease of use in a variety of Point-of-Care environments. The ACUSON Freestyle system includes several innovative workflow features:
Integrated controls on the transducers allow operation of all imaging parameters up to 10 feet away from the system.
Transducers are powered by a removable battery offering up to 90 minutes of continuous scan time between charges.
Multiple options for configurable probe and system alerts help ensure the transducers remain in the care environment.
GET IN TOUCH
Contact us today to learn more about how we can help you solve your most pressing challenges.