Ultrasound Anytime, Anywhere
The compact and powerful ACUSON P500™ from Siemens Healthineers is a portable ultrasound system that equips you with a powerful lineup of clinical applications right at the bedside. It is your go-to platform for evaluating clinical manifestations, facilitating accurate diagnoses and providing assistance to emergency and critical care procedures.
Plus, it offers an IntraCardiac Echocardiography (ICE) Edition that integrates the imaging capabilities of the ACUSON AcuNav™ family of catheters to the ACUSON P500 system.
See Better: Improve image quality with exclusive motion correction and a diverse range of applications and features designed specifically for you.
Scan Faster: Gain a wide range of innovative applications that make diagnostic and therapeutic exams less complicated and more standardized.
Go Further: Work more efficiently, consistently and clearly with powerful applications that enable you to increase patient throughput.
The ACUSON P500 enables reliable and fast imaging by offering new and pioneering high-end imaging technology. It provides standardized, high-quality images with more depth, clearer border definition and more tissue variation.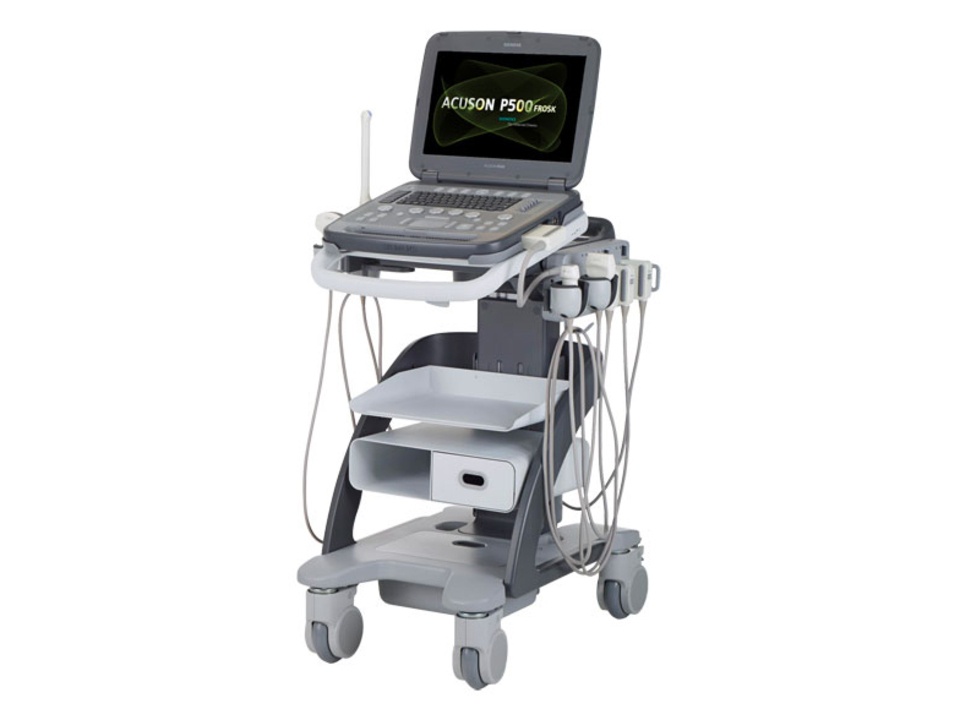 Dynamic Persistence
Dynamic Persistence prevents ghosting when probe or patient motion is detected. It enhances color sensitivity and reduces B-mode noise when no motion is detected.

Auto Flash Color Artifact Suppression
This proprietary and ground-breaking technology detects and prevents motion artifacts associated with probe and patient movement. It enhances color imaging sensitivity when no motion is detected.
Enhanced Needle Visualization
Enhanced needle visualization allows for advanced image formation to improve the display of the needle. It utilizes unique Pixel former architecture for multiple needle interrogation angles without reducing frame rate. A proprietary blending algorithm and speckle filters deliver optimal needle visualization while maintaining image quality.

Clarify Vascular Enhancement (VE) Technology
Clarify™ VE technology is a real-time, adaptive, pixel-by-pixel analysis implemented through a simple, time-saving user interface that provides multiple levels of clarification, optimized tissue contrast resolution and definition of both tissue and vessel walls according to user preference. Clarify VE technology is available on all curved and linear transducers.

syngo Arterial Health Package (AHP)
The syngo® Arterial Health Package lets you measure Carotid Intima-Media Thickness (CIMT) with the option to reference normative tables that have been validated and published in peer-reviewed studies. The information is intended to provide a straightforward tool for communicating with patients about the relative state of their cardiovascular system.

eSie Measure Workflow Acceleration Package
The eSie Measure™ workflow acceleration package is the first innovative application that provides semi-automated measurements for routine echo exams, improving efficiency and consistency for end users. Based on a knowledge base of over a thousand expert-traced data sets, the eSie Measure package improves accuracy and reproducibility.
Go portable with the ACUSON P500.
GET IN TOUCH
Contact us today to learn more about how we can help you solve your most pressing challenges.