True Value in Imaging
SHARP FM is a state-of-the-art X-ray system built for smaller facilities, where high-quality imaging meets enormous value. SHARP FM is your answer to highly advanced single-phase floor-mounted radiography.


Robust reliability
Simple user interface
Single-phase generator
Integrated detector
Delivered at an attractive price
The Sum of Its Parts: Transform Care Delivery with SHARP FM
Four-way Floating Table
The heavy-duty electric table is a steel structure supporting patients up to 700 pounds, with a welded base for maximum strength and durability.
The four-way floating top guides effortlessly in all directions, while effortless foot action and treadle release lock the table in place and release it with ease.
120/230-240VAC power is ideal for single-phase electric.
Elevating Table Upgrade
Four-way float top functionality is available in an elevating table.
A four-point lift system depends on a quiet rack and pinion motor to distribute lifting power equally to four precise locations and deliver strength to support patients up to 800 pounds.
The table lowers to 22 inches off the floor for easy transfers.
Versatility in the Bucky Wall Stand
The stand travels vertically up to 84 inches, with a low central beam height of 15.5 inches. Vertical movements are manual. Fail Safe locks make patient safety a priority. The Bucky includes side-mounted and overhead patient hand grips for support. Grip options are available.
An ergonomic release handle makes system operation easy, and the cable concealment system makes for a safe and aesthetically pleasing room.
The 17" x 17" cabinet houses the system's powerful Max Slim digital detector.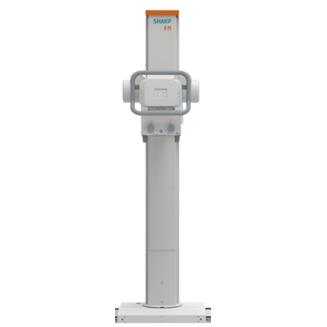 Tilting Wall Stand Upgrade
The receptor tilts to a range of +90°/-20°, with smooth counterbalanced movements to manage angles with ease. Patient grips are optional.

The Bucky stand has a vertical travel range of 15.5 inches to 71.1 inches, with ergonomic locks to assure safety.

Cabinet options include a standard cassette tray or a rotating cassette tray. You can even have a 17" x 17" fixed detector mounted inside the cabinet.
to make informed clinical decisions
Floor-mounted Tube Stand
The tube mounts to the floor with a standard 10-foot floor plate. Optional 8-foot and 12-foot plates are available.

It travels along 10-foot rails and has full 11-inch transverse travel that delivers full coverage of the system's tabletop. Minimum focal spot positioning at 11 inches is ideal for weight-bearing exams. The tube stand travels vertically up to 64.5 inches, longitudinally up to 94 inches and transversally up to 11 inches. Electromagnetic braking assures safe vertical and longitudinal travel.

Column rotation of +/- 180 degrees delivers the versatility you're looking for over a wide range of imaging needs. Collimation is manual.
X-ray tube and Collimator
The floor-mounted tube stand is the ideal foundation for the Siemens Healthineers 230 kHU tube and collimator.


High-frequency Generator
The single-phase 40 kW generator delivers high frequency performance in excess of 400 kHz. Anatomical programs are available in multiple languages. Featured is a membrane console pedestal and exposure hand switch for simple system operation and navigation.

MAX Image Quality Delivered
Count on the Max Slim digital detector for consistently reliable performance.
It combines secure and efficient handling with state-of-the-art Csi technology to achieve high image quality at lower patient dose than GoS technology. It is an extremely thin and lightweight detector that can be shared between multiple SHARP FM systems.
The detector delivers a 14" x 17" active area and weighs just 6.2 pounds. A two-hour charge gets you up to eight hours of battery operational time.
Learn more about SHARP FM today.
GET IN TOUCH
Contact us today to learn more about how we can help you solve your most pressing challenges.