A Leap Forward in Intelligent X-ray Imaging
Experience intuitive, consistent and future-ready radiography. The YSIO X.pree with myExam Companion from Siemens Healthineers introduces next-generation intelligence to your radiology practice, redefining the way you manage your workload.

This ceiling-mounted digital X-ray system transforms care delivery with a streamlined and easy-to-use interface, 3D camera and smart image processing. It helps you shape the future today and prepare for the developments of tomorrow.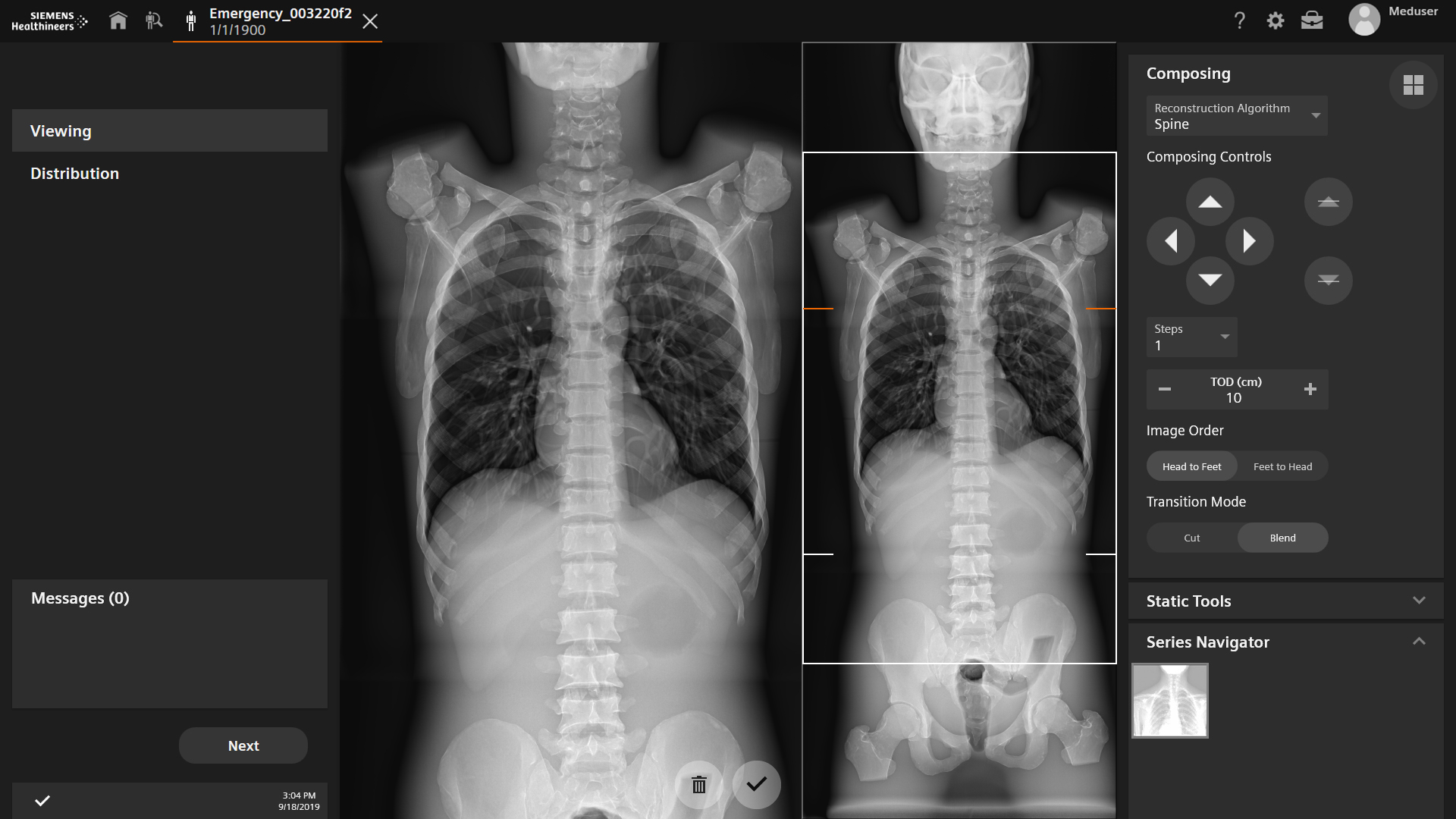 Join Us on the Way to the Future
The world of radiology is changing, and it's time to embrace the future. Profit from intelligent technology and multi-system benefits that will assist you and your team for years to come.

myExam Companion uses the new possibilities of digitalization to turn data into built-in expertise for consistent results every time. And AI-Rad Companion1 is a family of vendor-neutral, cloud-based augmented workflows that help you reduce the burden of basic repetitive tasks and may increase your diagnostic precision when interpreting medical images.
Intuitive, Easy Operation
The YSIO X.pree brings user-assisting system intelligence to your X-ray examinations. Its supportive, intuitive and ergonomic features benefit both users and patients.
Enable easy and undisrupted operation
Thanks to a new user interface and intelligent workflow concept, your team benefits from unprecedented simplicity and can define the ideal workflow for its needs.
Provide optimal support during examinations
The myExam 3D Camera revolutionizes collimation by enabling myExam Collimate,2 allowing you to keep your patients in focus at all times.
Ease the physical burden on your staff
The tube touchscreen monitor is positioned lower than usual, reducing the need to bend your neck. You can also tilt it to choose the most comfortable position for your needs.
Consistency for excellent outcomes
Reduce unwarranted variations thanks to a smart imaging concept that delivers an excellent level of consistency.
Achieve consistent images with noticeably less dose
myExam IQ is a brand-new imaging concept that uses smart technologies to deliver consistent images. With Dose Adaptions, you can tailor dose to individual patients.
Reduce user-dependent variations
With its live patient image, the myExam 3D Camera helps you avoid mistakes in X-ray exposure, while the Positioning Guide2 provides individualized guidance and improves standardization.
Customize to your standards
Your team can adapt the YSIO X.pree to fit its needs using the myExam Cockpit for fast, easy adjustments of user-assisting tools, while the Patient Size Adaptor helps tailor imaging to each patient.
Dynamic enough to meet your evolving needs
The YSIO X.pree dynamically adapts to your current situation and evolves with your needs. Stay up to date and benefit from the latest technological innovations beyond your initial investment.
A system that fits into your space
The YSIO X.pree needs just 2.5 meters of ceiling height and offers flexible configurability to suit your clinical requirements, throughput and patients.
Take advantage of outstanding service and efficient training
Onsite preventive maintenance maximizes system availability, while remote access to updates improves efficiency. Online and onsite training is a smarter, faster way to learn.
Stay up to date and grow with an upgradable system
With the YSIO X.pree, you can buy additional detectors or add clinical capabilities. You will also have access to the latest myExam Companion functionalities as they become available.3
Clinical Use
The YSIO X.pree is designed for excellent image quality. Virtual Collimation2, Auto Thorax Collimation2 and Smart Virtual Ortho2 enable precise collimation for every exam. And with features such as the new imaging concept from myExam IQ, the Positioning Guide3 and Dose Adaptions, you can produce consistent results with noticeably less patient dose
Revolutionize thorax exam preparation with Auto Thorax Collimation2
Auto Thorax Collimation2 speeds up thorax workflows and redefines the way you interact with your patients.
Revolutionize collimation in X-ray imaging with Virtual Collimation2
Unnecessary retakes can be avoided by keeping the patient in focus, even from outside the examination room.
Simplify orthopedic X-ray exams with Smart Virtual Ortho2
Smart Virtual Ortho2 can smooth preparation for long-leg and full-spine exams, plus enhance conditions for patients.
Technical Details
System specification :
Patient table and tabletop2
Automatic tube tracking for smooth exam preparation
Flexible and comfortable patient positioning
Table height: from 52 to 95 cm / 21" to 37"
Max. patient weight: 450 kg / 992 lbs
Longitudinal tabletop travel: ± 48 cm / ± 18.9"
Flat tabletop or standard tabletop
Optional with MAX static or MAX wi-D
Ceiling-mounted tube
10.4 inch touch user interface
Easily reachable touchscreen
X-ray tube: Max. exposure voltage (IEC 60613): 150 kV
Anode heat storage capacity: 580,000 J (783,000 HU)
X-ray generator
65 kW, 80 kW2
Bucky wall stand2
Automatic tube tracking for smooth exam preparation
Vertical travel range: up to 145 cm / 57.1''
Low central beam height: 27 cm / 10.6"
Tilting: +90° / -20°
Optional with MAX static or MAX wi-D
Cybersecurity features
Whitelisting, 90 days patches, HD data encryption, Advanced User Management including role-based access, centrally managed and audit trail1
Key features for clinical workflows :
The new user interface
Enables simple, smooth exam preparation. It emphasizes visual logic and provides guidance for everyone on your team.
The intelligent workflow concept
Makes it possible to define a preferred workflow. The system then follows these preferences (such as when postprocessing should be done) for each clinical protocol.
The barcode reader license2
Allows easy patient registration in the examination room.
myExam Collimate2
Revolutionizes collimation with Virtual Collimation2, Auto Thorax Collimation2, and Smart Virtual Ortho2
myExam Cockpit
Offers functions to adjust patient registration fields, switch features on and off, choose a workflow, and define most-used tools.
Tracking & motorization2
Provide full flexibility over how users work with the system.
Smart driving concept :
Automation2
System positioning at the touch of a button for up to 10 positions in the room.
Full automation2
System positioning at the touch of a button.
Use virtually unlimited system positions at the touch of a button for a convenient and smooth workflow in your exam room.
Ready-to-go image impressions :
myExam IQ
Is the new imaging concept that deploys smart technologies to produce superb, consistent images at low dose.
Image Flavors
Offer easy adaptions for aligning and standardizing image impressions in individual clinical protocols.
Dose Adaptions
Enable tailored dose settings and use of the patient-size brackets defined in the Patient Size Adapter.
Dedicated clinical protocols
Can be set according department-defined patient age brackets.
Detector options :
MAX static detector2
43 cm x 43 cm / 17" x 17"
MAX wi-D detector2
35 cm x 43 cm x 1.9 cm (14" x 17" x 0.7"); 3 kg (6.6 lbs); cesium iodide scintillator; maximum weight capacity: 300 kg (661.4 lbs)
MAX mini detector2
24 cm x 30 cm x 1.6 cm (10" x 12" x 0.6"); 1.6 kg (3.5 lbs); cesium iodide scintillator
Room planning :
Room height
min. 250 cm / 98", with limitationsmin. 265 cm / 104", without limitations
GET IN TOUCH
Contact us today to learn more about how we can help you solve your most pressing challenges.
1 The products and/or features (mentioned herein) are not commercially available in all countries and/or for all modalities. Their future availability cannot be guaranteed.
2 Option
3 Please note that possible hardware limitations may mean that some functionalities cannot be upgraded.