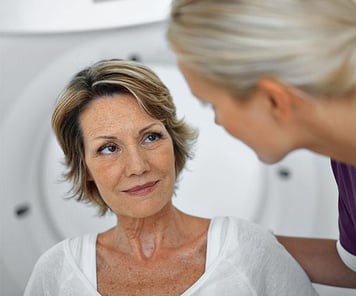 For many patients, hospital visits bring a lot of fear and uncertainty. Patients are thrown into an unfamiliar environment with minimal knowledge and lack the confidence to ask the questions they want to, leaving them feeling overwhelmed and lost. When providers don't take the time to center the care and communication around their patient, it can lead to poor health outcomes.

As imaging professionals, you are familiar with CTs, MRIs, etc. but patients aren't, which can cause more nerves, fear and anxiety. A patient may already feel a sense of stress having to rely on results to learn about their health status, and on top of that, their imaging systems can be intimidating despite the best efforts of engineers and clinical specialists.

According to a study done by the AHIMA, "76% of Americans don't leave their doctor's office on a positive note" and "1 in 4 Americans confess they do not feel comfortable asking their doctor certain health questions."

But by focusing on patient-centered care and communication, the fear patients feel can be controlled and ultimately result in a better health outcome.

What Are Patient-Centered Care and Communication?

Patient-centered care, at its simplest definition, is a form of care provision that hinges on putting each individual patient's needs front and center in every interaction.

Patient-centered communication allows the patient to guide what you talk about while keeping them in the forefront of your mind. It focuses on open-ended questions and not interrupting the patient. The medical environment is one of highly technical jargon and situations out of their control, which can induce a lot of anxiety, as the patient doesn't know what comes next or what to expect.

Listening to a patient can make all the difference by both making them feel heard in a situation where they have little control and also opening the door to learn more about their situation, which can help the provider with a diagnosis.

By allowing patients to have a sense of control over their situation through communication guided by them, that anxiety can subside. Their questions are answered, and they feel they've regained some control over what they know.

The 3 Cs of Patient-Centered Care and Communication
Comfort- You have many ways to ease a patient's mind, from taking the extra time to explain the process to physical changes that are made to the room.

Fear often comes from an unfamiliar environment or process. It can be combated through laying out the process in terms the patient will understand. You can also make adjustments to the imaging suite itself, transforming it from a highly clinical environment into something completely different and far more comforting. Both options provide some sort of familiarity with the situation, whether it is what the patient sees around them or the process that was explained to them.



Capability- Being in the healthcare field, in constant communication with others who have a similar professional background, it is easy to take for granted that not everyone is on the same level of understanding when it comes to how a machine works or what will be done during the actual scan. Yet patients will judge the

competency, to some degree, of their provider based on their relational communication skills.

Knowing how to perform and read a scan is very different from trying to communicate the process to a patient. Having the ability to explain the process of a scan in layman's terms shows the patient that you know exactly what you are talking about instead of leaning on jargon they don't understand. It eases their mind and allows for mutual understanding.


Conversation- Understanding where a patient is at through patient-led conversation is the most important step. As a provider, this is how to best understand where your patient is at in terms of stress and their knowledge about what is going on.

Allow lots of questions and provide a discussion-based environment to give the patient the confidence to tell you about their physical state as well as their mental state. While you can learn more information about your patient through what they say explicitly, you can also gain knowledge through what they talk about implicitly. For example, a patient complaining of foot pain could mention that they are very active in competitive gymnastics.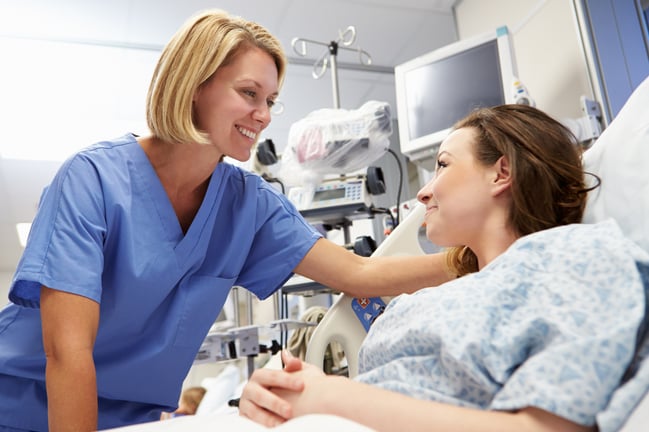 That may give you insight on what to look for specifically on scans or the potential cause of stress fractures found on a scan. It is important to actively listen to what your patient says and provide feedback when prompted, while still keeping the dialogue open and easily digestible.

Humans crave "real communication." We feel the most supported when someone actively listens to us. People tend to share more with those who actively listen and give "real answers" back as opposed to those who use "small talk" and are more transactional. As a provider, this insight can be used to understand how to best communicate with a patient.

Taking active steps to make sure your patient is heard and cared for can change their outcome drastically. Even spending 15 minutes listening to a patient can provide insight that changes the way you interpret their diagnosis, how you treat them, or the way they receive care. Taking the time to listen to a patient can change their life. And that, ultimately, is what patient-centered care and communication are all about.