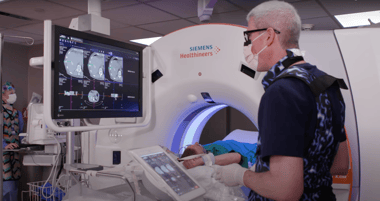 Dr. David Lacey, Interventional Radiologist at Iowa Methodist Medical Center, a Cassling customer, details how myNeedle Companion on the SOMATOM X.cite helps simplify CT-guided interventions from start to finish.

Dedicated in-room control options offer the flexibility to work as you prefer – with or without an assistant.

Dr. Lacey shares his methodical and personal strategy for using the system.

"I'll do the scan myself. It's just pushing a button," he states. "Then, I'll review the images to figure out the best approach."

Dr. Lacey highlights the advantage of the adaptive 3D interventional suite, particularly "if it [the biopsy] is a complex oblique to reach the lesion, then I'll use the 3D tools." The adaptive 3D interventional suite allows for fast and accurate instrument positioning in the most complex anatomies.

"They're [the 3D tools] very easy to use" he admits. "Like any 3D workstation, you just move the crosshairs to the lesion and then you can move the lines to adjust your obliquities until you can find a safe way into the lesion, and then...it's just two clicks to plan your needle placement."



The patient-side system control includes an in-room tablet, i-joystick, and footswitch, which Dr. Lacey leverages constantly throughout his procedures.

"Siemens has provided, on the X.cite, a really excellent tool, table-side, to interact with the system," says Dr. Lacey. "I can zoom, pan and change window levels. All the things you'd want to do to make it easier to see a lesion or your needle."

With myNeedle Guide 3D, you can easily plan multiple needle pathways in different cross-sections. This advanced feature eliminates tedious manual insertions, streamlining operational flow.

myNeedle Companion is Siemens Healthineers's first ever solution for intervention planning and guidance that offers a harmonized user interface across modalities. It can help simplify workflows, easily switch between modalities and reduce unwarranted variations.

Discover the innovative features of SOMATOM X.cite and learn how it empowers excellence in CT: https://www.cassling.com/products-and-solutions/imaging/computed-tomography/somatom-xcite.

To learn more about myNeedle Companion, visit https://www.siemens-healthineers.com/en-us/computed-tomography/single-source-ct-scanner/iowa-methodist-xcite.