There's one thing we take very seriously at Cassling. Even more than our love for Husker football or passion for community involvement, we believe in values and ethics and taking care of our customers.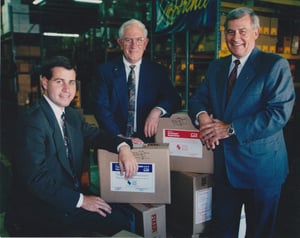 A snapshot from the company's early days, Mike Cassling, president and CEO (left), poses with founders Ken Vetter (center) and the late Bob Cassling (1930-2014).
In fact, we were founded in 1984 on that very principle. My late father and company founder, Bob Cassling, was 54 at the time and fed up with big business. Instead of planning his retirement, he had the guts to start his own diagnostic imaging firm where he could put the customer first.
Since then, we've made it our mission to provide you with innovative imaging solutions to help you improve care delivery and patient outcomes. We began our partnership with Siemens Healthcare as an Advanced Partner in 2001, and I am truly proud to partner with an organization that values innovation and customer service as much as we do.
There is a saying at Cassling that we wouldn't provide imaging equipment to a customer unless one of our employees or one of our employee's family members was willing to get on the table themself. I think that says a lot about our passion for serving our customers.
We're so passionate about it, in fact, that we're extending the philosophy to this blog. Here is where our team will provide you with news, tips and trends to help you navigate the constantly changing healthcare industry. From implementing low-dose CT lung cancer screenings to catering to healthcare consumers – this will be a resource to help you stay-up-to-date and even get a few tips to make your job a little easier.
So there you have it—a little bit about Cassling and our Cassling blog. We hope you'll stay tuned and join in the conversation.