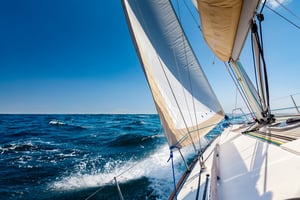 Our values, ethics and especially our organizational culture fill our sails and propel us forward.
I consistently tell my students and organizations this when it comes to leadership. These three things are what fill us up. They literally push us forward like a wind-filled sail.
But what does that look like? How do we know if we are leading with our values and ethics? What happens when we don't?
First off, it's important to remember the definitions of both values and ethics. What are values? What are ethics? These are actually pretty tough questions to ask, and the answer is going to vary among each of us.
Values are our internal drivers. Values are what we see as important and how we try to live our lives. Ethics, on the other hand, may be considered the outward expression of our values.
When it comes to leadership, this is how we lead. If we value honesty, we lead honestly. If we value communication, we lead in a manner where communication is critically important to achieving outcomes.
But there's a catch. We might value integrity, for example. But at the end of the month, when we have all of those reports that we have to do and it's crunch time and the clock is ticking, we may, perhaps, cut a corner or two. That may not have a detrimental effect on the reports we are working on, but you can be sure our employees have their eyes on us. They look to us, as leaders, to exemplify what it means to be a good leader. If they see us cutting those corners, then they assume that's how leaders behave. You can therefore start to see the link between values, ethics and effective leadership.
As leaders in our organizations, we are advocates. We are advocates for our employees and we are advocates for the organization. But what does that mean?
Well, we stick up for employees. We've got their backs. We support them, encourage them and challenge them. But we always stick up for them.
The same goes for the organization. Our values might not be 100% in line with those of the organization, but they are generally pretty close. It's when our values start to differ from the organization that we find ourselves on the fringe.
You've heard the cliché that employees don't leave organizations, they leave managers. I think that is maybe half-true. Because we also leave when our values become different than those of the organization.
One thing I've noticed in the last several years of working with Cassling is that they wear their values on their sleeves. If you've ever been to their offices, you know exactly what I mean. In every room is a list of what they value as an organization. I think this helps drive a positive organizational culture and demonstrates to others what it means to be a Cassling employee. I don't just say that because I've been working with them. I say that because I use Cassling as a textbook example of how organizations should behave when it comes to values and ethics.
As we finish up this year's Cassling Leadership Institute, we find ourselves at a jumping-off point. We've discussed leadership styles, conflict, strategy and many other topics throughout our sessions together. But I think it's important that we wrap up with values and ethics. Values and ethics determine our culture. They determine our leadership styles. This is how we lead.
What are your values? What are the things your employees value? How are those reflected in the organization? Those are the things I want to leave you with. Those are the things that are going to set your organization apart from others who want to be like you, and I can't wait to talk about them with you.