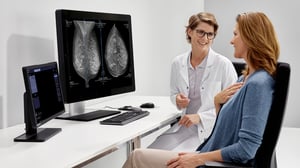 Planned software designed to sort and score cases automatically
SmartSort technology designed to reduce workload
During the 104th Scientific Assembly and Annual Meeting of the Radiological Society of North America (RSNA), Nov. 25-30 at Chicago's McCormick Place, Siemens Healthineers showcased the new planned AI-based features with its mammography reading and reporting solution, syngo.Breast Care.1 These features are designed to provide physicians with interactive decision support.
AI features can help assist clinicians, particularly in cancer screening. A large number of mammograms are performed each day to screen for breast cancer, which means radiologists must accurately interpret hundreds of images daily. Additionally, the increased use of 3D breast tomosynthesis adds to the number of images to be read. The new version of syngo.Breast Care is designed to give radiologists interactive clinical decision support.
AI-based algorithms are designed to help evaluate individual lesions and provide a system evaluation for 2D mammograms or tomosynthesis. A peer-reviewed scientific study2 demonstrated increased sensitivity and specificity with the use of AI-based support.
Also, the planned software is designed to sort cases automatically and score those cases with a numerical value between 1 and 10. The case score is designed to take into account any existing lesions, microcalcifications, and other abnormalities.
syngo.Breast Care's planned new SmartSort technology is designed for radiologists to rank exams according to their preferences based on these case scores. For example, critical cases can be moved immediately to the top to receive priority.
Siemens Healthineers collaborated with ScreenPoint Medical and plans to integrate interactive decision support in syngo.Breast Care. The company's mammography reading software, Transpara,³ is based on deep learning and has been trained with over 1 million images.
¹ Syngo.Breast Care VB40 - powered by Transpara™, ScreenPoint Medical - is currently under development. It is not for sale in the U.S. Its future availability cannot be guaranteed.
2 Rodriguez-Ruiz A., Gubern-Merida A., Lang K., et al.: Detecting breast cancer in mammography: a deep learning-based computer system versus 101 radiologists (RSNA abstract 2018).
³ Transpara is currently 510(k) pending for 2D reading.
---
Contact for Journalists

Jeff Bell
Siemens Healthineers
Phone: (484) 868-8346; Email: jeffrey.t.bell@siemens-healthineers.com
Siemens Healthineers enables healthcare providers worldwide to increase value by empowering them on their journey towards expanding precision medicine, transforming care delivery, improving patient experience and digitalizing healthcare. A leader in medical technology, Siemens Healthineers is constantly innovating its portfolio of products and services in its core areas of diagnostic and therapeutic imaging and in laboratory diagnostics and molecular medicine. Siemens Healthineers is also actively developing its digital health services and enterprise services.
In fiscal 2018, which ended on September 30, 2018, Siemens Healthineers generated revenue of €13.4 billion and adjusted profit of €2.3 billion and has about 50,000 employees worldwide. Further information is available at www.siemens-healthineers.com.
Meet the Author
Cassling strengthens community healthcare through customer-centric imaging and therapeutic technology, services and solutions. From critical access hospitals and diagnostic imaging centers to large health systems and IDNs, Cassling is committed to helping healthcare organizations improve access and outcomes, create efficiencies and lower costs.