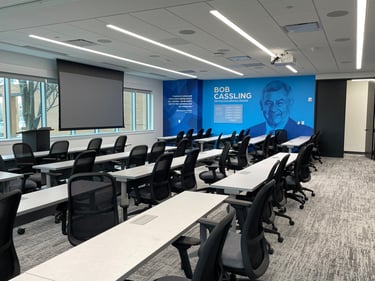 The new office, located in Omaha, was designed to provide an exceptional employee experience in a hybrid work environment that enables team members to best serve healthcare organizations around the country.
Omaha, Neb. — March 6, 2023 — After nearly 40 years, Cassling is making a move that will allow the innovative healthcare company to provide an unmatched experience to employees and support them in their journey to serve healthcare customers.

The new office, located at 13810 FNB Parkway, has approximately 35,000 square feet of finished space and will house more than 75 employees. The space incorporates a flexible floorplan to allow for scalability as the organization grows to serve all kinds of healthcare customers, from critical access hospitals to diagnostic imaging centers, large health systems, IDNs and more.

"I'm thrilled by the possibilities offered by a state-of-the-art headquarters in Omaha, a place we've called home for nearly four decades," said Kyle Salem, PhD, president and CEO of Cassling. "This move is a living representation of our ongoing mission to strengthen community healthcare."

"As we've grown to provide innovative solutions to customers in the Midwest and around the country, we recognized the need to provide a best-in-class employee experience so we can serve those who provide a best-in-class healthcare experience," said Salem. "The modern design of our new office matches the hybrid work culture we foster for our employees. We intentionally created an environment where our team members can do their best work and be the best versions of themselves."

The new space was designed to be welcoming, flexible and collaborative, with many employee-focused amenities, including sit-to-stand desks, wellness rooms for stepping away from work, a café, and a shared on-site gym offering state-of-the-art exercise equipment. Warmer tones, modern furniture, live botanicals, and glass to let in natural light are just a few of the new elements that will allow for a better, whole-person experience for employees. Air purification and sound-masking systems have also been installed to improve air quality and minimize noise.

In addition, technology-enabled conference rooms allow teams to collaborate seamlessly with Omaha colleagues, remote employees and customers all around the country. Meanwhile, smaller focus rooms enable private phone calls and quiet, independent work.

"The new office meets the needs of our evolving hybrid workforce," said Bruce Stec, vice president of People & Culture. "The flexibility allows employees to make the most of their day no matter where or how they're working. At the same time, it reinforces our culture so we can maximize our impact on patient lives."
---
About Cassling
Cassling strengthens community healthcare through customer-centric imaging and therapeutic technology, services and solutions. From critical access hospitals and diagnostic imaging centers to large health systems and IDNs, Cassling is committed to helping healthcare organizations improve access and outcomes, create efficiencies and lower costs.

Cassling serves as a partner and strategic advisor to healthcare organizations—helping them navigate the challenges of the fast-paced, ever-changing healthcare industry. Through our partnerships, including Siemens Healthineers, Cassling offers the best of both worlds—an unprecedented level of service and local support in combination with world-class imaging technology. Our goal is to impact 350 million patient lives by 2030.

Headquartered in Omaha, Nebraska, and founded in 1984, Cassling is proud to be a family-owned company and have Midwestern values and integrity at the heart of what we do. To learn more, visit www.Cassling.com.