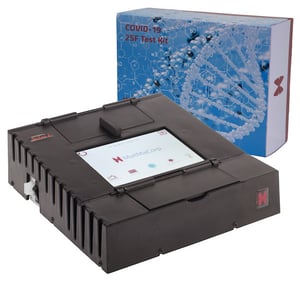 Through a partnership with the Lincoln, Nebraska-based MatMaCorp, Cassling is offering hospitals in five states an in-house, 2-hour COVID-19 batch testing solution that has been granted Emergency Use Authorization by the Food and Drug Administration (FDA).
Omaha, Neb. – January 19, 2021 – Lengthy waits for COVID-19 test results could be a thing of the past for Cassling customers.
In a move designed to help hospitals, particularly rural facilities, sharply reduce the time it takes to attain COVID-19 test results, Cassling is thrilled to begin selling the Solas8® device and its associated testing kits to hospitals in Nebraska, Iowa, Kansas, South Dakota and North Dakota. A product of the Lincoln, Nebraska-based MatMaCorp, the Solas8® enables CLIA-certified laboratories to rapidly detect SARS-CoV-2 RNA for the diagnosis of COVID-19, with results in as little as 90 minutes.
"We kept hearing from hospitals just how difficult it was to access sufficient COVID testing supplies in a timely manner, not only for the community as a whole, but for those trying to continue with elective procedures," said Dr. Kyle Salem, Ph.D., president of Cassling. "Our friends at MatMaCorp have come up with an affordable solution, and our team is uniquely positioned to let hospitals know about this option and help get the Solas8® into their facilities quickly to help staff and patients."
CLIA-certified high complexity laboratories are eligible to purchase the Solas8® alongside its associated testing kit, the MatMaCorp COVID-19 2SF Test. The product offers numerous benefits for providers:
Run up to six tests at a time with positive results in as little as 90 minutes and negative results in about two hours

The device is small enough to fit in a space designed for a laptop

Easy-to-navigate instructions on the touch screen

Reagents are lyophilized for a long shelf life (no refrigeration)

Affordable pricing for the device and tests

Extraction, reaction and detection all performed on same device

No additional capital equipment, reagents or kits required

4 hours of free, on-site training with purchase

One-year warranty

Ships within two days
"Critical access hospitals play a pivotal role in serving our rural communities, but they are currently hindered by lack of onsite testing, limited allocation of tests and high costs of current devices," said Phil Kozera, CEO at MatMaCorp. "Cassling is the perfect partner to provide our COVID-19 tests and platform to high-complexity labs at select critical access hospitals in the central United States. Their decades-long relationships with providers and reputation in the healthcare space make them ideally suited to introduce local clinical experts to the Solas8®, which provides reliable results for surveillance and routine testing."
The U.S. Food and Drug Administration (FDA) has granted Emergency Use Authorization (EUA) of MatMaCorp's COVID-19 2SF RNA test for the detection of SARS-CoV-2 on the company's Solas8® portable detection system.
"Most healthcare professionals in the Midwest probably know Cassling from our work providing and servicing imaging systems to hospitals and clinics around the country," continued Dr. Salem. "Yet we always strive to do more to help our customers, and COVID in particular has caused us to really think hard about how we can better serve our communities. Connecting clinical teams with fast, in-house COVID testing meets that goal. It's our ultimate hope that these tests will help eliminate the testing backlog, get results into the hands of providers quickly, and ultimately enable healthcare teams to provide optimum care and service to their patients."
Facilities in Nebraska, Iowa, Kansas, South Dakota and North Dakota with a CLIA-certified high-complexity laboratory can visit https://www.cassling.com/covid-19-order-form-lp to place their order. And for more information, including product details, pricing, and other considerations, visit https://www.cassling.com/covid-19-tests.
About Cassling
Cassling is an Advanced Partner and authorized sales and service organization for Siemens Healthineers. Founded in 1984 by Bob Cassling and headquartered in Omaha, Nebraska, the company is committed to offering comprehensive support to healthcare providers—including world-renowned diagnostic imaging equipment, 24/7 service, project management, marketing, continuing education and everything in between. Cassling is a strong supporter of the imaging profession and believes professional development and ongoing education are essential to creating a vibrant healthcare community. Cassling helps organizations of every size, from critical access hospitals and diagnostic imaging centers to large health systems and IDNs, to increase efficiency, decrease costs and enhance patient care. Learn more at www.cassling.com.
About MatMaCorp
MatMaCorp (Materials and Machines Corporation) is a developer of comprehensive solutions for science, medicine, and agriculture. By combining engineering, life science, and information technology, MatMaCorp has developed a portable, easy-to-use, and affordable suite of products to power human diagnostics, animal conservation, and agriculture applications, including food safety and breeding. Commercially available tests include: A2, African swine fever, bovine congestive heart failure (BCHF), and porcine reproductive and respiratory syndrome virus (PRRS). For more information, please visit www.matmacorp.com.
Meet the Author
Cassling strengthens community healthcare through customer-centric imaging and therapeutic technology, services and solutions. From critical access hospitals and diagnostic imaging centers to large health systems and IDNs, Cassling is committed to helping healthcare organizations improve access and outcomes, create efficiencies and lower costs.