Employees set new record with donations equal to 4,955 cans of food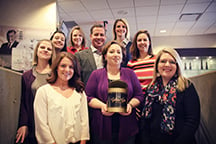 Omaha, Neb. (March 3, 2015) – Employees of CQuence Health Group collected monetary and food donations equivalent to 4,955 cans of food during the company's annual food drive—that equals an average of 25 items per employee.
For the past six years, CQuence has held food drives in the regions it serves across the United States. This year, employees heeded the challenge by management to break their 2014 record of collecting 4,000 cans of food.
Donations are given to local food banks within each territory.
"At CQuence, we place great emphasis on giving back to the communities we serve," said Chairman and CEO Mike Cassling. "Our team is located across the U.S., so I am very proud that we come together each year to provide food donations to those in need throughout the country."
This food drive is part of a larger organizational effort dedicated to giving back to the community. The company's corporate citizenship program, CQuence Cares, provides opportunities for employees to volunteer throughout the year. Employees have volunteered in programs for the Salvation Army, Ronald McDonald House and Habitat for Humanity.
---
About CQuence Health Group
Based in Omaha, Neb., CQuence Health Group is the parent company to a growing portfolio of healthcare organizations. While all of its companies are diverse, they share the common goal of taking care of the patient through diagnostic equipment, care coordination software and other healthcare products and services.
CQuence and its partner companies are dedicated to improving patients' lives and outcomes. This goal is engrained in its company culture of accountability, engagement, wellness and social responsibility.
CQuence's current partner companies are Cassling, a full-line Siemens dealer and advanced partner, and Ensocare, which provides care coordination solutions that help manage patient care transitions, reduce length of stay and decrease readmissions.
###
CONTACT: Jill Reeves, Marketing Manager
402-334-5000 ext. 1117
jreeves@cquencehealth.com