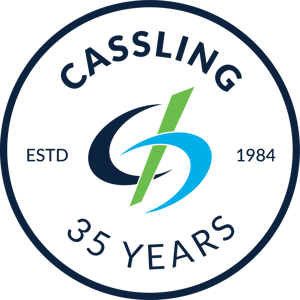 As it celebrates three and a half decades of doing business, Cassling, the Omaha-based imaging provider and advanced partner of Siemens Healthineers, continues to expand its footprint throughout the country, give back to the community and support its team members to do their best work for hospitals, health systems and, ultimately, patients.
Omaha, Neb. (July 26) – One of the Midwest's best places to work in healthcare turns 35 this year.
Cassling, an authorized sales and service dealer for Siemens Healthineers, celebrates its 35th anniversary this summer. Founded in 1984 by Bob Cassling, Cassling has experienced remarkable growth while remaining committed to its customers and employees.
"I'm honored and privileged to continue the work my father started so many years ago," said Mike Cassling, chairman and CEO of Cassling. "His legacy looms large over this company, as this month also marks the five-year anniversary of his passing. The things he taught all of us about business, customer service and what it means to be a leader continue to resonate with our company. I know he would be quite proud of what we've accomplished at Cassling and looking forward, as I am, to the next 35 years."
Timed to the 35-year anniversary, Cassling will soon launch the Bob Cassling Memorial Scholarship for a radiology professional to continue his/her education. That's in addition to its ongoing charitable projects, including support of the Salvation Army, the American Red Cross, the Ronald McDonald House and more.
The company has also continued to invest in a number of forward-thinking initiatives designed to further the employee experience. Among its more exciting benefits that have helped to attract some of the top talent in healthcare are paid parental leave, time off for volunteering, wellness incentives, an on-site gym and more.
"I'm a firm believer that the support you give your team will directly benefit your business," said Kyle Salem, PhD, president of Cassling. "By enabling team members to do their best work, we continue to strengthen community healthcare, tirelessly supporting hospitals as they themselves work tirelessly to provide the best possible care for patients. This employee-centric approach to doing business has distinguished Cassling in a challenging marketplace and allowed us to expand from our roots in the Midwest to offering our services throughout the country."
In fact, Cassling is on track to have its highest revenue year ever in 2019. Salem attributes this to a reaffirmation of the ways every team member, no matter his/her role, shapes the business, as well as the dedication of the sales and service teams and the multitude of people and departments who are instrumental in supporting Cassling's goals.
"It seems fitting that such a milestone anniversary also has such a milestone business result," said Salem. "But this is only the beginning. We look forward to continuing this momentum with even more exciting announcements and business breakthroughs for the remainder of the year and beyond."
About Cassling
Cassling is an Advanced Partner and authorized sales and service dealer for Siemens Healthineers. Founded in 1984 and headquartered in Omaha, Nebraska, the company is committed to offering comprehensive support to its customers—including world-renowned imaging equipment, 24/7 service, project management, marketing, continuing education and everything in between.
Cassling helps organizations of every size, from critical access hospitals and diagnostic imaging centers to large health systems and IDNs, to increase efficiency, decrease costs and enhance patient care. Learn more at www.cassling.com.
Meet the Author
Cassling strengthens community healthcare through customer-centric imaging and therapeutic technology, services and solutions. From critical access hospitals and diagnostic imaging centers to large health systems and IDNs, Cassling is committed to helping healthcare organizations improve access and outcomes, create efficiencies and lower costs.