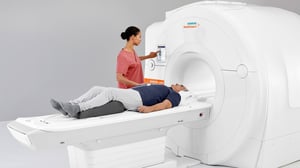 70-cm Open Bore system with BioMatrix technology expands clinical application by delivering productivity gains and reproducible results
Innovision™ in-bore infotainment system designed to allow patients to enjoy various forms of media¹
The Food and Drug Administration (FDA) has cleared the MAGNETOM Lumina 3 Tesla (3T) magnetic resonance imaging (MRI) scanner from Siemens Healthineers.
The MAGNETOM Lumina features BioMatrix patient personalization technology, which significantly improves productivity while ensuring consistent quality. The system has a wide, 70-cm bore and GO technologies powered by artificial intelligence (AI), which accelerate the entire MRI workflow. For example, a whole spine exam can be performed up to 20 percent faster compared to a conventional system. Tim 4G and Dot (Day Optimizing Throughput) engines support standardized, highly reproducible scan procedures. To further facilitate workflow efficiency, the system features an optional dockable table. Additionally, new Turbo Suite acceleration packages can further reduce scan time on routine musculoskeletal (MSK) examinations of various parts of the body by up to 50 percent.
The MAGNETOM Lumina will also offer the optional Innovision in-bore infotainment system, which is designed to move with the scanner table to not only create the illusion of an enlarged bore, but also to provide a unique video experience with excellent sound quality.
"With the MAGNETOM Lumina, Siemens Healthineers is transforming care delivery by providing high performance with a strong return on investment," said Jane Kilkenny, Vice President of Magnetic Resonance at Siemens Healthineers North America. "The patient experience is enhanced with a state-of-the-art infotainment system, lightweight and flexible coils, and new speed applications that enable the provider to get the patient on and off the table faster."
1 The in-bore Infotainment system Innovision is still under development and not yet commercially available. Its future availability cannot be guaranteed.
---
Contact for Journalists

Jeff Bell
Siemens Healthineers
Phone: (484) 868-8346; Email: jeffrey.t.bell@siemens-healthineers.com
Siemens Healthineers enables healthcare providers worldwide to increase value by empowering them on their journey towards expanding precision medicine, transforming care delivery, improving patient experience and digitalizing healthcare. A leader in medical technology, Siemens Healthineers is constantly innovating its portfolio of products and services in its core areas of diagnostic and therapeutic imaging and in laboratory diagnostics and molecular medicine. Siemens Healthineers is also actively developing its digital health services and enterprise services.
In fiscal 2018, which ended on September 30, 2018, Siemens Healthineers generated revenue of €13.4 billion and adjusted profit of €2.3 billion and has about 50,000 employees worldwide. Further information is available at www.siemens-healthineers.com.
Meet the Author
Cassling strengthens community healthcare through customer-centric imaging and therapeutic technology, services and solutions. From critical access hospitals and diagnostic imaging centers to large health systems and IDNs, Cassling is committed to helping healthcare organizations improve access and outcomes, create efficiencies and lower costs.