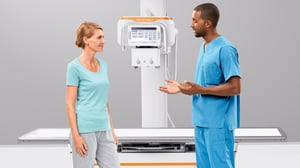 Floor-mounted digital radiography system features welcoming design and innovative technology for enhanced patient experience
Intuitive user interface and graphical program selection can ease technologist workflow
The U.S. Food and Drug Administration (FDA) has cleared the Multix Impact, an affordably priced, floor-mounted digital radiography (DR) system from Siemens Healthineers that expands access to high-quality imaging and enhances the patient experience.
In addition to an intuitive operating system and versatile wireless detectors, the Multix Impact has a free-floating, flat tabletop for easy patient access. The touch user interface on the X-ray tube allows the technologist to remain at the patient's side for longer periods of time, and when in the control room, the technologist can use the patient positioning camera to continuously monitor the patient, potentially reducing repeat imaging and avoiding excessive patient dose. The system also has an intuitive user interface with graphical program selection as well as a patient positioning guide on the in-room touchscreen and control room workstation. Additionally, motorization and tracking features help to reduce the physical exertion of staff members.
"The Multix Impact offers healthcare providers advanced new technology in floor-mounted digital radiography," said Scott Watson, Vice President of X-ray Products at Siemens Healthineers North America. "The system provides patients with greater access to state-of-the-art imaging and makes X-ray exams more comfortable, to transform care delivery while enhancing the patient experience. And the system's highly competitive price allows more providers to deliver high-quality results and strengthen their reputation as reliable imaging partners."
---
Contact for Journalists

Jeff Bell
Siemens Healthineers
Phone: (484) 868-8346; Email: jeffrey.t.bell@siemens-healthineers.com
Siemens Healthineers enables healthcare providers worldwide to increase value by empowering them on their journey towards expanding precision medicine, transforming care delivery, improving patient experience and digitalizing healthcare. A leader in medical technology, Siemens Healthineers is constantly innovating its portfolio of products and services in its core areas of diagnostic and therapeutic imaging and in laboratory diagnostics and molecular medicine. Siemens Healthineers is also actively developing its digital health services and enterprise services.
In fiscal 2018, which ended on September 30, 2018, Siemens Healthineers generated revenue of €13.4 billion and adjusted profit of €2.3 billion and has about 50,000 employees worldwide. Further information is available at www.siemens-healthineers.com.
Meet the Author
Cassling strengthens community healthcare through customer-centric imaging and therapeutic technology, services and solutions. From critical access hospitals and diagnostic imaging centers to large health systems and IDNs, Cassling is committed to helping healthcare organizations improve access and outcomes, create efficiencies and lower costs.