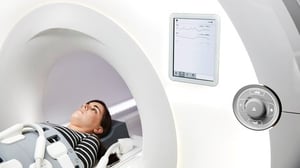 New MAGNETOM Lumina¹ 3T 70-cm open-bore MR scanner extends BioMatrix portfolio
New software release for MAGNETOM Amira expands clinical applications
New Innovision™ in-bore infotainment system for MAGNETOM Sola 1.5T and MAGNETOM Vida 3T revolutionizes patient experience
Turbo Suite package of MR acceleration technologies expands Compressed Sensing and Simultaneous Multi-Slice capabilities
During the 104th Scientific Assembly and Annual Meeting of the Radiological Society of North America (RSNA), Nov. 25-30 at Chicago's McCormick Place, Siemens Healthineers presented a series of innovations to its magnetic resonance imaging (MRI) portfolio, many of which expand the availability of the portfolio's BioMatrix patient personalization technology. With these innovations, Siemens Healthineers is transforming care delivery in radiology and improving productivity while ensuring consistent high quality. At the same time, it is enhancing patient satisfaction during examinations.
MAGNETOM Lumina 3T MR scanner debuts
The new MAGNETOM Lumina is the latest addition to the company's 3T 70-cm BioMatrix MR scanner portfolio. In clinical use, the scanner supports standardization and acceleration of examination workflows. The MAGNETOM Lumina also employs Tim 4G and Dot (Day Optimizing Throughput) automation supported by artificial intelligence to generate scan results that are both standardized and highly reproducible. The optional dockable table can help enhance workflow and improve patient safety.
New capabilities for MAGNETOM Amira
In the 60-cm bore product segment, Siemens Healthineers expands the clinical capabilities of the MAGNETOM Amira 1.5T MR scanner. These new clinical capabilities are intended to contribute greater consistency in scan results and enhance financial sustainability due to productivity-boosting technologies. For example, the latest updates to the MAGNETOM Amira will offer access to Compressed Sensing applications that permit certain forms of dynamic imaging for patients who have difficulty holding their breath.
Higher productivity with Turbo Suite
With its new Turbo Suite packages, Siemens Healthineers introduces game-changing MR acceleration techniques for its scanner portfolio. Comprised of customized applications tailored to the clinical questions within musculoskeletal, spine, neurovascular, abdominal, breast and cardiac imaging, Turbo Suite can reduce scan times for complete examinations by up to 50 percent with no compromise in image quality. Turbo Suite further expands existing Simultaneous Multi-Slice (SMS) and Compressed Sensing acceleration applications to cover more types of exams. By dramatically undersampling data randomly and employing iterative reconstruction with Compressed Sensing, MRCP (Magnetic Resonance Cholangiopancreatography) exams can be accelerated by a factor of up to 23, enabling completion in a single patient breath-hold of just 16 seconds.
¹ MAGNETOM Lumina is 510(k) pending. It is not for sale in the U.S. Its future availability cannot be guaranteed.
---
Contact for Journalists

Jeff Bell
Siemens Healthineers
Phone: (484) 868-8346; Email: jeffrey.t.bell@siemens-healthineers.com
Siemens Healthineers enables healthcare providers worldwide to increase value by empowering them on their journey towards expanding precision medicine, transforming care delivery, improving patient experience and digitalizing healthcare. A leader in medical technology, Siemens Healthineers is constantly innovating its portfolio of products and services in its core areas of diagnostic and therapeutic imaging and in laboratory diagnostics and molecular medicine. Siemens Healthineers is also actively developing its digital health services and enterprise services.
In fiscal 2018, which ended on September 30, 2018, Siemens Healthineers generated revenue of €13.4 billion and adjusted profit of €2.3 billion and has about 50,000 employees worldwide. Further information is available at www.siemens-healthineers.com.
Meet the Author
Cassling strengthens community healthcare through customer-centric imaging and therapeutic technology, services and solutions. From critical access hospitals and diagnostic imaging centers to large health systems and IDNs, Cassling is committed to helping healthcare organizations improve access and outcomes, create efficiencies and lower costs.