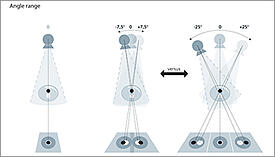 Omaha, Neb. (May 19, 2015) – Siemens Healthcare received FDA approval on its three-dimensional (3D) digital breast mammography system with tomosynthesis. The state-of-the-art technology provides improved detection of breast cancer, a leading type of cancer for women with more than 230,000 new cases expected in the U.S. this year alone.

Mammography—a type of imaging that uses a low-dose X-ray system to produce images of inside the breast—has long been a screening tool to help spot breast cancer. Tomosynthesis, also called 3D mammography, can improve cancer detection and diagnosis by producing high-resolution 3D images to arm physicians and patients with the most-accurate information

According to Mike Cassling, president and CEO of Cassling, Siemens has opened up a new chapter in mammography diagnostics. "Imaging has always been a core competence at Siemens, and now we're taking the diagnostic approach for breast cancer to a new level," he said. "Studies have proven the diagnostic efficiency of tomosynthesis, and it shows high potential to become a routine screening in the near future."
Compared to a standard mammogram, which produces images in the two-dimensional space, digital breast tomosynthesis is a mammography system where the X-ray tube moves in an arc over the breast during the exposure. It creates a series of thin image "slices" through the breast that reviewing physicians can scroll through for a comprehensive image overview.
This is important because a 3D object like the breast displayed as a 2D X-ray image forcibly leads to a loss of image depth information. Due to image superimposition with a standard mammogram, lesions may be masked by the tissue above or underneath, or normal structures may mimic a lesion. In addition, 2D mammography's sensitivity decreases as tissue density increases. Tomosynthesis helps reduce these challenges.
The innovative solution leverages wide-angle technology to acquire 25 projections across an overall angle of 50°, allowing for improved diagnostics to detect malignant tumors better than standard 2D digital mammography alone. Plus, the MAMMOMAT Inspiration PRIME system combines tomosynthesis with PRIME technology for up to 30 percent less radiation dose. Studies show the technology can reduce unnecessary recalls and improves the early stage detection rate.
"One in eight women in the United States is diagnosed with breast cancer each year. That's a new diagnosis every two minutes," Cassling said. "We are proud to join Siemens in the fight against breast cancer by offering True Breast Tomosynthesis to help healthcare providers spot cancer at its earliest, most treatable stage."
Cassling continued, saying that the company is proud to represent Siemens, an organization recognized for its groundbreaking advances impacting the quality of patient care. "Our passion to strengthen community healthcare was instilled by my father when he founded Cassling Diagnostic Imaging 30 years ago," he said. "This announcement provides us with innovative technology to offer our customers in their pursuit of excellence in women's health and overall patient care."
Learn more about Siemens True Breast Tomosynthesis.
---

About Cassling
Cassling is an Advanced Partner and authorized sales and service dealer for Siemens Healthineers. Founded in 1984 and headquartered in Omaha, Neb, we are committed to offering comprehensive support to our customers—including world-renowned imaging equipment, 24/7 service, project management, marketing, continuing education and everything in between.

We help organizations of every size, from critical access hospitals and diagnostic imaging centers to large health systems and IDNs, to increase efficiency, decrease costs and enhance patient care. Learn more.
###
CONTACT: Jill Reeves, Marketing Manager
402-334-5000 ext. 1117
jreeves@cquencehealth.com
Meet the Author
Cassling strengthens community healthcare through customer-centric imaging and therapeutic technology, services and solutions. From critical access hospitals and diagnostic imaging centers to large health systems and IDNs, Cassling is committed to helping healthcare organizations improve access and outcomes, create efficiencies and lower costs.