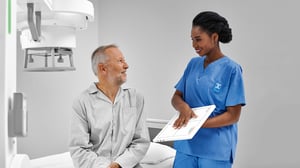 Comprehensive IT infrastructure offers advanced security and virtual workstation integration
Integrated cable design enables easy cleaning
Smooth maneuverability and flexible positioning facilitate patient access and boost efficiency
At the 104th Scientific Assembly and Annual Meeting of the Radiological Society of North America (RSNA), Nov. 25-30 at Chicago's McCormick Place, Siemens Healthineers introduced the Mobilett Elara Max,¹ which sets new standards in mobile X-ray imaging with features that include comprehensive IT security, secure system integration into the hospital's IT environment for anytime access to all relevant data, and easy-to-clean system surfaces.
Since mobile X-ray systems are used in a variety of settings, they require seamless, secure integration into the hospital's existing IT infrastructure. The comprehensive security package of the Mobilett Elara Max helps withstand digital threats. Furthermore, virtual workstation technology enables installation of additional hospital software to permit access to necessary information directly at the patient's bedside without impacting system safety.
Additionally, system cleaning of the Mobilett Elara Max has been simplified through an innovative design of closed surfaces, reduced gap dimensions, and fully integrated cables.
"When we developed the Mobilett Elara Max, patient safety was of primary importance to us," said Carsten Bertram, Head of X-Ray Products at Siemens Healthineers. "And because protecting patient data is also becoming more important, we equipped the system with comprehensive IT security technology."
Thanks to the smooth maneuverability and flexible positioning of the X-ray arm, the system facilitates easy patient access and optimizes radiology workflows, thus increasing efficiency. Through its consistently high image quality, it provides diagnostic confidence directly at the patient's bedside.
As a member of the Max product family, Mobilett Elara Max benefits from the advantages provided by a standardized technology platform, ranging from radiography to fluoroscopy to mobile X-ray imaging. This permits the standardization of workflows across diverse examinations. Through the common use of detectors for different platform systems, customers can achieve considerable savings using systems with the MAX Effect. Identical user interfaces shorten the training period, reduce errors, and increase efficiency.
¹ The Mobilett Elara Max is pending 510(k) clearance and is not yet commercially available in the United States.
The products/features (here mentioned) are not commercially available in all countries. Due to regulatory reasons their future availability cannot be guaranteed. Further details are available from the local Siemens Healthineers organizations.
---
Contact for Journalists

Jeff Bell
Siemens Healthineers
Phone: (484) 868-8346; Email: jeffrey.t.bell@siemens-healthineers.com
Siemens Healthineers enables healthcare providers worldwide to increase value by empowering them on their journey towards expanding precision medicine, transforming care delivery, improving patient experience and digitalizing healthcare. A leader in medical technology, Siemens Healthineers is constantly innovating its portfolio of products and services in its core areas of diagnostic and therapeutic imaging and in laboratory diagnostics and molecular medicine. Siemens Healthineers is also actively developing its digital health services and enterprise services.
In fiscal 2018, which ended on September 30, 2018, Siemens Healthineers generated revenue of €13.4 billion and adjusted profit of €2.3 billion and has about 50,000 employees worldwide. Further information is available at www.siemens-healthineers.com.
Meet the Author
Cassling strengthens community healthcare through customer-centric imaging and therapeutic technology, services and solutions. From critical access hospitals and diagnostic imaging centers to large health systems and IDNs, Cassling is committed to helping healthcare organizations improve access and outcomes, create efficiencies and lower costs.