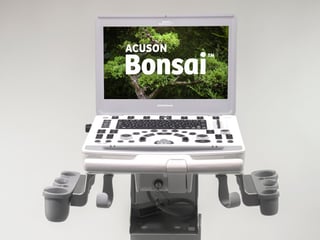 (Mar. 8, 2018) — At the American College of Cardiology's 67
th
Annual Scientific Session and Expo, Siemens Healthineers launched its new portable cardiovascular ultrasound solution, the
ACUSON Bonsai
. According to a recent study, 34 million echo exams were performed in the U.S. in 2017.
1
The ACUSON Bonsai addresses the challenge of these increased clinician workloads by providing a portable and quick system, while maintaining high-quality imaging and diagnostic confidence through user-friendly applications. Together with Mindray Medical International Limited, Siemens Healthineers created a cardiovascular-dedicated, maneuverable system to transform the care delivery of routine echo exams.
"We are pleased to debut this new offering which will help clinicians meet the growing demands for echocardiography in their practices," says Peter Pellerito, SVP Ultrasound, Siemens Healthineers North America. "By adding the ACUSON Bonsai to our portfolio, we've responded to the needs of our customers by implementing clinical optimization, offering standard cardiology presets, and creating a design that provides the flexibility to scan virtually anywhere, making the ACUSON Bonsai ideal for transforming the care delivery of routine echo exams in fast-paced environments."
High-Quality Imaging in a Touch
In one portable system, the ACUSON Bonsai provides one-touch image optimization and advanced imaging. The system automatically optimizes the ultrasound image with the touch of a button, eliminating the need for manual optimization on the part of the sonographer for improved workflow and image quality consistency. The ACUSON Bonsai also utilizes advanced imaging to optimize specific to routine echocardiograms and cardiovascular workflows. The ACUSON Bonsai is compatible with a comprehensive set of 14 TTE and TEE transducers.
Comprehensive Clinical Applications
The ACUSON Bonsai comes fully loaded with a complete set of user-friendly cardiology applications for fast and easy handling of routine echo exams. Included applications such as "Auto EF" for semi-automatic ejection fraction measurements and "Auto IMT" for automatic intima-media thickness measurements help clinicians acquire measurements in one click, which enables quicker exams and consistent and reproducible results.
Ultra-portable with Improved Workflow
The ultra-portable and ergonomic user design of the ACUSON Bonsai's laptop and mobile cart system offers flexibility in scanning locations. The laptop is over 1.7 cm thinner than the industrial average, and its companion cart has a slim design and small footprint for maneuverability. Automated protocols reduce scan times up to 43%2 and reduce keystrokes up to 75%2, improving workflows and patient throughput. Raw Data capabilities on the system can also improve scan times and allow for flexibility with image optimization and measurements after the acquisition.
1 Arlington Medical Research, Echo monitor report 2017
2The Role of a Protocol Management Feature in Improving Ultrasound Lab Efficiency, 2016
View original article on Siemens Healthineers website.
---
Contact for Journalists

Theresa Gombar
Siemens Healthineers
Phone: (610) 448-6370; Email: Theresa.Gombar@siemens-healthineers.com
Siemens Healthineers is the separately managed healthcare business of Siemens AG enabling healthcare providers worldwide to achieve better outcomes at lower costs by empowering them on their journey towards expanding precision medicine, transforming care delivery, improving patient experience and digitalizing healthcare. A leader in medical technology, Siemens Healthineers is constantly innovating its portfolio of products and services in its core areas of diagnostic and therapeutic imaging and in laboratory diagnostics and molecular medicine. Siemens Healthineers is also actively developing its digital health services and enterprise services.

In fiscal 2017, which ended on September 30, 2017, Siemens Healthineers generated revenue of €13.8 billion and profit of €2.5 billion and has about 48,000 employees worldwide. Further information is available at www.siemens.com/healthineers.
Meet the Author
Cassling strengthens community healthcare through customer-centric imaging and therapeutic technology, services and solutions. From critical access hospitals and diagnostic imaging centers to large health systems and IDNs, Cassling is committed to helping healthcare organizations improve access and outcomes, create efficiencies and lower costs.