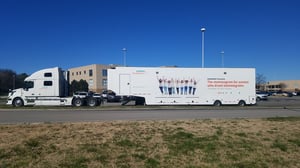 Cassling and Siemens Healthineers have partnered to bring the mobile women's health experience to a handful of Midwest cities and events, including the October 6 Susan G. Komen MORE THAN PINK walk at Omaha's Baxter Arena.
Omaha, Neb. (September 5) – An opportunity to learn about exciting new innovations in women's health and mammography is coming to the Midwest.
The Mobile Mammography Truck from Siemens Healthineers is coming to a handful of cities as part of a "Women's Health Road Show." Cassling, an Omaha-based imaging equipment vendor, is working together with Siemens to bring this experience to healthcare providers and the general public.
The Road Show kicks off on October 1 in Omaha, Nebraska, as part of a continuing education (CE) event for radiology professionals known as "Investing in Her," with CE credits available to attendees. From there, the mammography truck will travel to Lincoln, Des Moines, Cedar Rapids and Coralville as a part of a series of educational presentations.
The public is also invited to visit the Mammography Truck as part of the Susan G. Komen MORE THAN PINK Walk at the Baxter Arena on Sunday, October 6.
The truck will be on hand to provide an unprecedented look at the technology that's reshaping the conversation around women's health. Visitors will see how technical advances and an increased emphasis on providing an exceptional patient experience are making mammograms more accurate, comfortable and convenient than ever.
"I'm excited to share this one-of-a-kind experience," said Mike Cassling, CEO of Cassling. "The mobile mammography truck provides a hands-on look at the state-of-the-art technology that's revolutionizing how we talk about screenings and preventive care. I can't wait for people to see some of the developments Siemens has been working on."
The technology onboard points to the future of women's health, emphasizing the recent focus on 3D mammography, otherwise known as Breast Tomosynthesis. Systems such as the MAMMOMAT Revelation help to provide sharper images and aid the physician in a confident diagnosis.
In addition to the MAMMOMAT Revelation, the mammography truck will showcase 3D Breast Ultrasound—also called Automated Breast Volume Scanner (ABVS)—an important diagnostic tool for imaging women with dense breasts, which are notoriously difficult to capture accurately using traditional 2D or even 3D tools. The truck will also feature ultrasound equipment, modern mammography workstations and more.
Registration for the Road Show is available via the Cassling website. Attendees of the MORE THAN PINK event can visit the Mammography truck at any time prior to the start of the walk or after it concludes.
About Cassling
Cassling is an Advanced Partner and authorized sales and service dealer for Siemens Healthineers. Founded in 1984 and headquartered in Omaha, Nebraska, the company is committed to offering comprehensive support to its customers—including world-renowned imaging equipment, 24/7 service, project management, marketing, continuing education and everything in between.
Cassling helps organizations of every size, from critical access hospitals and diagnostic imaging centers to large health systems and IDNs, to increase efficiency, decrease costs and enhance patient care. Learn more at www.cassling.com.
Meet the Author
Cassling strengthens community healthcare through customer-centric imaging and therapeutic technology, services and solutions. From critical access hospitals and diagnostic imaging centers to large health systems and IDNs, Cassling is committed to helping healthcare organizations improve access and outcomes, create efficiencies and lower costs.