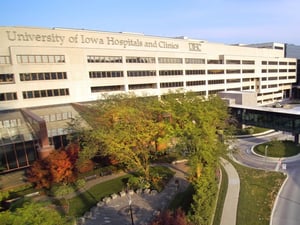 The ten-year partnership will help expand access to imaging technology, artificial intelligence tools, research and workforce development opportunities.
Omaha, Neb. – November 11, 2020 – Cassling, Siemens Healthineers and University of Iowa Health Care (UIHC) have established a 10-year Value Partnership that builds on a long-standing relationship and will help advance healthcare in Iowa.
Cassling, an Advanced Partner of Siemens Healthineers, worked closely with university officials to ensure UI Health Care would have the right solutions to build even further upon their record of excellence. The partnership will provide Iowans with access to cutting-edge imaging technology; use artificial intelligence and data analytics to improve performance and efficiency; expand research opportunities; and invest in workforce training and development for staff and students.
"This partnership with Siemens Healthineers is a win not only for our patients, who will have access to state-of-the art technology and more advanced care, but also the college and the students who will reap the benefits from new research and educational opportunities, " says Colin Derdeyn, MD, FACR, Krabbenhoft Professor and Chair, Department of Radiology and Director, Iowa Institute of Biomedical Imaging at UI Health Care. "Medical technology is changing fast. Take imaging scanners, for example. They are like cars—the engineering and technology gets better every year, and every now and then something radical and new comes along. Partnering with Siemens Healthineers will help us stay on the forefront of these advances that will span across the entire enterprise, benefiting faculty from Holden Comprehensive Cancer Center, Neurosciences, Orthopedics, Cardiology and the College of Engineering."
This new relationship between Siemens Healthineers and UI Health Care will enhance the college's education and training program to help grow and retain technical and professional best-in-class talent in the state. The University of Iowa Bachelors program is the major pipeline for radiology technologists and sonographers working at University of Iowa Hospitals & Clinics and throughout the state.
"This program attracts some of the brightest students at the University of Iowa, some of whom come to the University just for this program," says Derdeyn. "Investing in this program through strategic partnerships such as this one is an investment in the quality of Iowa's healthcare and future workforce."
By implementing workforce solutions such as the Siemens Technologist Education Program, the PEPconnections digital learning platform, and a Healthcare Workforce Development Series, UI Health Care staff and students will have an improved ability to continually develop advanced skillsets that will enhance patient care for Iowans.
"Expanding our work with UI Health Care will not only improve care for patients within the health system, but will increase Iowans' access to the latest technology and help build out a pipeline of technologist talent to meet the state's workforce needs over the next decade," says David Pacitti, President and Head of Americas, Siemens Healthineers.
"UI Health Care is highly respected within so many different fields of research and treatment," said Dr. Kyle Salem, president of Cassling. "We knew going in that the imaging technology and software we provide must do justice to the exciting and life-changing work taking place there. With the 10-year partnership with Cassling & Siemens Healthineers, UI Health Care is empowered to expand the possibilities of patient care and roll out innovations that shape the lives of doctors, researchers and, ultimately, patients, for the next decade."
A key element of the agreement is innovation improvements for UIHC to stay at the forefront of a changing technology landscape. Specifically, the two institutions will continue their joint emphasis on improving stroke care in the state of Iowa. The organizations will also focus on improving operational processes by implementing innovative technologies such as Corindus CorPath® GRX for robotic-assisted vascular interventions, and syngo Virtual Cockpit for remote scanning assistance.
Cassling is an Advanced Partner and authorized sales and service organization for Siemens Healthineers. Founded in 1984 by Bob Cassling and headquartered in Omaha, Nebraska, the company is committed to offering comprehensive support to healthcare providers—including world-renowned diagnostic imaging equipment, 24/7 service, project management, marketing, continuing education and everything in between. Cassling is a strong supporter of the imaging profession and believes professional development and ongoing education are essential to creating a vibrant healthcare community. Cassling helps organizations of every size, from critical access hospitals and diagnostic imaging centers to large health systems and IDNs, to increase efficiency, decrease costs and enhance patient care. Learn more at www.cassling.com.
Meet the Author
Cassling strengthens community healthcare through customer-centric imaging and therapeutic technology, services and solutions. From critical access hospitals and diagnostic imaging centers to large health systems and IDNs, Cassling is committed to helping healthcare organizations improve access and outcomes, create efficiencies and lower costs.