Cassling, an Advanced Siemens Partner, Tapped for Installation and Service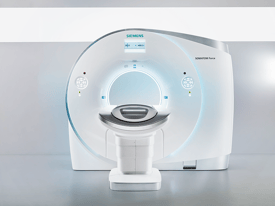 (Omaha, Neb., July 20, 2015) - Just arrived at the University of Iowa is the first of a pair of next generation computed tomography (CT) systems designed to improve the clinical treatment and research of lung disease—a leading cause of death for Americans. The Siemens SOMATOM Force CT, which will be installed and serviced by Omaha-based Cassling, is a dual-source CT scanner that enables pioneering lung exploration at exceptionally low radiation dose—and researchers hoe—that will provide a better understanding of the physiology of pulmonary disease.
Eric Hoffman, PhD, professor of radiology, medicine and biomedical engineering at the University of Iowa Carver College of Medicine, is leading the project and has been involved in lung research for several decades. He said the primary research goal of the advanced CT lung imaging is to be able to acquire in one or two ultra low-dose, ultra high-resolution CT scans the information that will provide detailed anatomical as well as functional assessment of the lungs.
"The technology inherent to this next generation CT scanner will enable UI to continue its contribution to the progress of lung imaging and its applications to understanding and treating lung disease and associated co-morbidities," Hoffman said. "The Siemens Force CT scanner, which utilizes ultra-high scan speeds and more detailed imaging, allows us to gather more information at considerably less radiation dose by using technology called 'tin filtration,' which delivers some of the lowest dose lung imaging possible—so the images have outstanding spatial and temporal resolution and are safer for patients."
Cassling President and CEO Mike Cassling added "Cassling is proud to partner with the University of Iowa on these systems. As a longtime Siemens Advanced Partner, our team understands the far-reaching impact this type of imaging capability will have for researchers, clinicians and patients."
University of Iowa Hospital and Clinics will use one of the CTs for clinical applications; the other CT will reside within the Advanced Pulmonary Physiomic Imaging Laboratory (APPIL) associated with the new Iowa Institute of Biomedical Imaging (IIBI).
The new research CT scanner will provide the imaging instrumentation necessary to help the University of Iowa advance the medical community's understanding of COPD, lung cancer, asthma, cystic fibrosis, interstitial lung disease and even osteoporosis.
---
About Cassling
Cassling is an Advanced Partner and authorized sales and service dealer for Siemens Healthineers. Founded in 1984 and headquartered in Omaha, Neb, we are committed to offering comprehensive support to our customers—including world-renowned imaging equipment, 24/7 service, project management, marketing, continuing education and everything in between.

We help organizations of every size, from critical access hospitals and diagnostic imaging centers to large health systems and IDNs, to increase efficiency, decrease costs and enhance patient care. Learn more.
CONTACT: Cris Hay-Merchant, Senior Marketing Strategist
402-334-5000 ext. 1173
chay@cquencehealth.com
Meet the Author
Cassling strengthens community healthcare through customer-centric imaging and therapeutic technology, services and solutions. From critical access hospitals and diagnostic imaging centers to large health systems and IDNs, Cassling is committed to helping healthcare organizations improve access and outcomes, create efficiencies and lower costs.